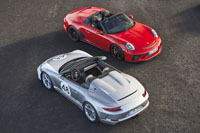 Porsche celebrated its 70th birthday by launching a sensational rendition of its first ever car, the 356 'No. 1' Roadster from 1948, which immediately sent the prognostication crowd into a flurry of future production model forecasts about the brilliant new 2018 911 Speedster Concept. Fortunately those claiming its imminent reality were proven correct in a recent announcement, and this 2019 911 Speedster is the result, now available to order for $312,500. 
To clarify, the new 911 Speedster is a 2019 model, meaning that it rides on the outgoing 991 version of the much-lauded GT3 Coupe, not the upcoming internally code-named 992, or 2020 911 that's been in the news lately.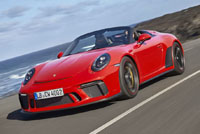 It's safe to say the 1,948 fortunate buyers who will begin receiving their limited edition Speedsters later this year won't care one iota about its rolling stock, because the 991 remains a particularly attractive variation on the 911 theme, and this new Speedster possibly the most stunning of all. 
What's more, the GT3 Coupe it's based on won't arrive in 992 guise for quite some time, and therefore the only way to get a 500 horsepower 4.0-litre six stuffed behind the rear axle, capable of a lofty 9,000 rpm redline and solid 346 lb-ft of torque, is to choose a current GT3 or opt for the immediately collectable Speedster, the latter actually good for a slight increase to 502 horsepower thanks to throttle bodies from the GT3 R race car.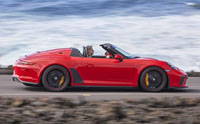 This results in a 4.0-second sprint from standstill to 100km/h, which is only 0.1 seconds off the blisteringly quick GT3's time, while its top speed is claimed to be 310 km/h, 10 km/h slower than the GT3. 
Factor in that the Speedster only gets Porsche's GT Sport six-speed manual transmission, also pulled from the GT3 and saving four kilograms when compared to the seven-speed manual found in regular 911 models, and that acceleration time is even more impressive (paddle-shift operated dual-clutch automated gearboxes are usually quicker).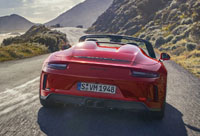 Along with the GT3 powertrain, which incidentally comes with dynamic engine mounts from the GT3, the Speedster also makes use of its agile race-spec chassis featuring a specially calibrated rear axle steering system, but that's where the similarities end, with body alterations including lower cut front and side windows, two flying buttress-style "streamliners" formed from carbon fibre composite on the rear deck totally shielding the rear seats, a carbon fibre hood and front fenders, polyurethane front and rear fascias, and a lightweight manually operated cloth top.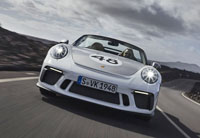 Porsche was smart to gentrify this important feature for easier daily life, because the concept had a button-down tonneau cover that probably wouldn't have gone over so well, while the Stuttgart company also removed the "X" markings on the headlights, which symbolized tape that was often used to stop potentially broken lenses from littering the racetrack with glass and puncturing tires; the deletion of the '50s-style gas cap found in the centre of the concept's hood for quick refueling from overtop the tank; and a move to stock exterior mirror housings in place of the Talbot caps that were popular back when the 356 ruled the track. Classic 356 series enthusiasts can sigh a breath of relief that Porsche kept the gold-coloured "Speedster" lettering on the thick B-pillars and rear engine cover, however, but keep in mind you'll only find them on an upgrade package (keep reading).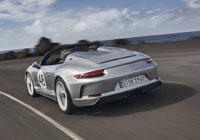 Just in case you missed all the carbon fibre noted earlier, the Speedster is as much about lightening loads as it is about power. In fact, the Speedster doesn't even have standard air conditioning or an audio system (these are optional), but with performance as its sole goal it hits the road with a standard set of stronger, lightweight carbon ceramic brakes, featuring yellow six-piston aluminum monobloc fixed calipers up front and four-piston aluminium monobloc fixed calipers in the rear, these chopping a considerable 50 percent of weight from the regular 911's cast iron discs. Circling the brakes are centre-lock Satin Black-painted 20-inch rims on UHP (Ultra High Performance) rubber.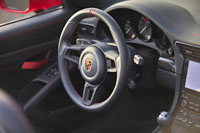 The 911 Speedster's interior gets the lightening treatment too, with new door panels featuring storage nets and door pulls instead of handles, while the standard black leather upholstery can be enhanced with red contrast stitching on the instrument panel and "Speedster" embroidered headrest badges. This upgrade also gets red door pulls, as well as a GT Sport steering wheel topped off with a red centre marker at 12 o'clock. The cabin also boasts a carbon fibre shift knob and doorsill treadplates, these latter items further improved with "Speedster" model designations.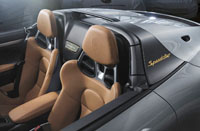 The new 911 Speedster will can also be had with a Heritage Design Package, which looks much closer to the concept, as well as original 356 Speedsters from the 1950s. The package includes white front bumper and fender "arrows" over GT Silver Metallic exterior paint, plus the gold Speedster lettering noted earlier, and classic Porsche crests. Also, the racing-style number stickers on each side are optional, so if you don't like them don't worry, but if you do you can have Porsche customize them with your favourite number. Additionally, the Heritage cabin gets a few changes too, such as two-tone leather upholstery with an historic Porsche crest embroidered onto each headrest, while key trim pieces and the seatbacks come painted in body-colour. 
If you'd like to add a Speedster to your collection, make sure to contact your local Porsche retailer quickly, and while you're waiting for it to arrive, check out the duo of videos below:
 
 
The new Porsche 911 Speedster: First Driving Footage (1:13):
 

 
The new Porsche 911 Speedster: Highlight Film (2:10):