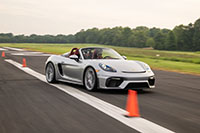 It's official, a new Guinness World Record for fastest slalom time has been set by 16-year old Chloe Chambers who managed to slice through 50 evenly placed cones in just 47.45 seconds.
Chambers, with five years of kart racing under her belt, joined up with Porsche to achieve the feat, and did so at the wheel of a 2020 Porsche 718 Spyder, smashing the previous record of 48.11 seconds set in 2018 by Jia Qiang, who was driving a Chevrolet Camaro.
"It looks easy, but it's really not – to weave between 50 cones as fast as possible, trying to beat a record time and knowing I couldn't touch a single one for the run to count – I definitely felt the pressure," said Chambers. "Everything came together on my final run; the car worked beautifully and I found the grip I needed. Thank you to my family and to Porsche for supporting and believing in me."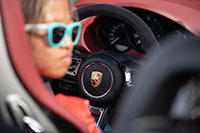 The 718 Spyder is powered by a special naturally-aspirated 414 horsepower 4.0-litre "boxer" six-cylinder engine that comes complete with a lofty 8,000-rpm capability (and 7,600-rpm redline), while it's exclusively mated up to a six-speed manual transmission. Like the 718 Boxster roadster and 718 Cayman coupe, the 718 Spyder mounts its motor just ahead of the rear wheels for an optimal mid-engine layout, making it particularly adept at high-speed handling.
The 718 Spyder, which shares mechanicals with the 718 Cayman GT4, also incorporates a "track-bred" Porsche Active Suspension Management (PASM) system including adaptive dampers, helper springs at the rear axle, plus a 30-mm (1.18-inch) ride height reduction when compared to the standard 718 Boxster or 718 Cayman.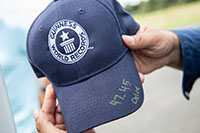 "We couldn't be more proud that Chloe set the record," said Klaus Zellmer, President and CEO of Porsche Cars North America. "From the whole Porsche family, we send our heartfelt congratulations – we're pleased to have been able to support Chloe with her ambitious record attempt and share her relief that it was successful."
Porsche is now offering the 2020 718 Spyder, 2020 718 Boxster and 2020 718 Cayman (including the GT4) with factory leasing and financing rates from zero percent according to CarCostCanada. Make sure to visit CarCostCanada to learn more, and remember that a CarCostCanada membership will also provide any available rebate information, plus dealer invoice pricing that could save you thousands on your next purchase. You can now download the free CarCostCanada app from the Apple Store or Google Store, which provides all this critical information exactly when you need it.
Story credit: Trevor Hofmann
Photo credits: Porsche