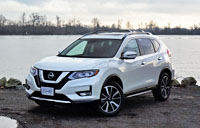 The Rogue is Nissan Canada's most popular model, and one look should make it easy to understand why. It was refreshed for the 2017 model year with Nissan's wider, more U-shaped Vmotion 2.0 grille that we think is more handsome than the original V, while its then-new quad-beam headlamps with LED daytime running lights, and its updated LED brake lights added premium-level sophistication to the look. 
That facelifted 2017 model included additional styling tweaks on the outside plus updates within, a personal favourite being its flat-bottom steering wheel that still makes a sporty statement in the otherwise elegantly appointed top-line 2019 Rogue SL Platinum trimmed model currently in our garage. So equipped, that steering wheel is leather-wrapped with a heatable rim, a much appreciated mid-winter feature, as are the Quick Comfort heated front seats that come standard across the entire Rogue line, albeit the Platinum's perforated leather upholstery is exclusive to this model.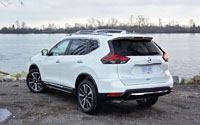 The Rogue in our garage isn't merely a regular SL Platinum, mind you, but rather includes a $500 SL Platinum Reserve Interior Package that replaces the regular Charcoal black or Almond tan leather seat surfaces with special quilted leather upholstery in an even richer looking Premium Tan hue, that comes across more like caramel or saddle brown. 
There's actually more to the seat design than that, the quilting just used for the centre inserts, whereas perforated leather gets added to the inner bolsters and contrast-stitched black leather on top of those bolsters for a little more sport mixed in with the luxury, the seats' upholstery complemented by the same Premium Tan on the door armrests, centre armrest, padded knee protectors on each side of the lower centre console, and even the dash facing, which gets a similarly classy looking stitched leather pad ahead of the front passenger. 
Icing on the proverbial cake comes in the form of Piano Black interior door inlays surrounding the usual chromed door handles, which match up nicely next to the same glossy black treatment rimming the dash vents, centre console, gear lever surround and otherwise leather-wrapped shift knob.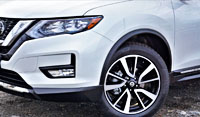 The latest Rogue SL Platinum doesn't just look like a premium ride, its standard feature set is replete with top-drawer gear that one-ups plenty of luxury brands. For instance, the official name given to this trim level is Rogue SL Platinum with ProPilot Assist, the latter technology standard with all SL Platinum models and really quite impressive. It's a semi-autonomous "hands-on-wheel" driving system, which means it has the ability to completely drive itself, but due to safety concerns only lets you remove your hands from the steering wheel for about eight seconds at a time. Still, it'll impress your friends and might be useful to those who find highway driving intimidating, as it helps keep the Rogue centered within its lane and, along with its Lane Departure Warning (LDW) and Intelligent Lane Intervention systems, may even help avoid an accident.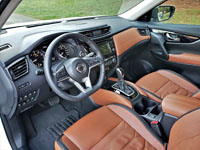 These latter two advanced driver assistance systems get pulled up to the SL Platinum from mid-range SV trim, as does Intelligent Emergency Braking (P-IEB) with Pedestrian Detection, High Beam Assist (HBA), and Intelligent Cruise Control, while a Rear Sonar System, Moving Object Detection (MOD), Backup Collision Intervention and Rear Intelligent Emergency Braking (R-IEB) join ProPilot Assist as options with the SV and come as standard equipment with the top-line model.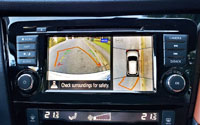 Along with all the usual active and passive safety features, some advanced tech pulled up from the base Rogue S to upper trims include Tire Pressure Monitoring System (TPMS) with a display showing individual tire pressures and an Easy-Fill Tire Alert, Intelligent Forward Collision Warning (FCW), Intelligent Emergency Braking (IEB), plus two features normally relegated to top-line trims, Blind Spot Warning (BSW) with Rear Cross Traffic Alert (RCTA), while Rear Door Alert is an oddly named albeit very welcome feature that actually warns against leaving something or someone in the back seat unattended after turning off the engine, by remembering that you opened a rear door before setting off on your drive. Smart.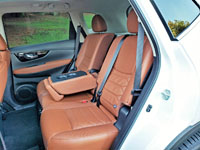 I could go on and on listing the Rogue's myriad features and talking engine, transmission, AWD tech, specifications, etcetera, but will leave such details to the upcoming road test review, at which point I'll also talk about life with the Rogue during our weeklong test, and of course my driving impressions that included cruising down the highway with ProPilot Assist turned on and my hands off the wheel for longer than the recommended duration. Until then, scroll back up to enjoy our comprehensive photo gallery…