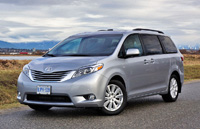 I remember when this third-generation 2011 Sienna was brand new, and in sporty SE trim it was the coolest minivan to ever hit the road.
I was on the press launch and specifically chose to focus on the SE after driving the majority of trims during the national launch program in early 2010, and soon after I tested a four-cylinder LE model at home (that engine since discontinued in the Sienna), another four-cylinder the following year in 2012 trim while visiting my daughter at her university in Sackville, New Brunswick (a comfortable and economical trip from Halifax, Nova Scotia to Moncton, where I stayed), and after that a well-equipped 2012 XLE model at home, a 2013 LE V6 likewise, a 2014 XLE Limited, the mid-cycle updated 2015 in LE AWD guise, and finally an XLE AWD version of the same vintage, so it feels good to get back in the Sienna saddle once again, this time in an XLE AWD with the Limited package (we'll just call it the Limited AWD).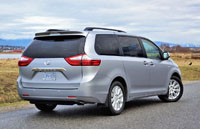 You may have noticed something about that list, of all the trims tested and reviewed I've only ever covered the top-line Limited model once before. Strange as that may be, it's good to enjoy this van with all of its many splendoured features, especially now that it's no longer the newest minivan parked on Canada's suburban cul-de-sac.
Seven years is a long time for any vehicle to remain fundamentally unchanged, even one that was as good as the Sienna when introduced. Certainly its extensive 2015 update helped breathe new life into the old gal, but compared to the new Chrysler Pacifica, introduced for 2017 to replace the aging Town and Country, the almost as impressive Kia Sedona that was updated for 2015, and the now available all-new 2018 Honda Odyssey, the Sienna is starting to show its age. Ok, it's not aging as noticeably as the Dodge Grand Caravan (the launch of which I attended in the fall of 2007), but that model sells so cheaply and is so conveniently equipped with second-row seats that fold completely into the floor that it hardly matters how old it is.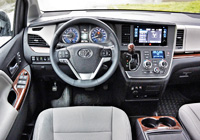 Before delving into this top-line Limited AWD model, the 2017 Sienna comes standard with a 3.5-litre V6, and can be had in either front-wheel or optional all-wheel drivetrains. In fact the Sienna is the only minivan offered with AWD, making it a favourite for cold Canadian winters.
The engine, which made a healthy 266 horsepower and 245 lb-ft of torque last year, gets bumped to 296 horsepower and 263 lb-ft of torque for 2017 thanks to a new D4-S direct-injection and port injection combination, not to mention a new lean-burn Atkinson cycle design that aids fuel efficiency. What's more, Toyota added two gears to the standard automatic for a total of eight, which improves both performance and fuel economy.
The numbers you're likely looking for are 12.5 L/100km city and 8.9 highway for the FWD model, or 13.4 L/100km city and 9.6 highway for the as-tested AWD version, making it the minivan segment's most efficient non-hybrid competitor (the plug-in Chrysler Pacifica Hybrid gets a difficult to compare rating of 2.6 Le/100km combined city/highway), and I should also add it's most powerful.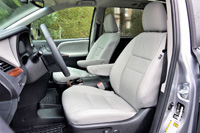 Where the modifications under the hood modernize the powertrain, the changes for 2015 gave the Sienna a more upscale cabin with much better materials quality, especially in top-tier trims, with an additional focus on enhancing its infotainment systems to surpass the best in the class for the time. Now, three years later, its newer rivals are starting to outclass the Sienna in most every respect, powertrain aside.
Still, at just $33,690 plus freight and fees in base no-name trim, the Sienna sits directly in the middle of the minivan pricing hierarchy (the Sedona and Grand Caravan still sell for less), which, along with its great reputation for reliability and high resale value (along with Toyota's overall reputation), gives it a major selling advantage.
Even that base model comes stocked with a higher level of standard features than most rivals, including heated power-adjustable side mirrors, tri-zone auto climate control, high-resolution colour touchscreen infotainment, a backup camera, Bluetooth phone connectivity with audio streaming, multiple USB ports, Siri Eyes-Free, second-row captain's chairs, and no shortage of active and passive safety equipment.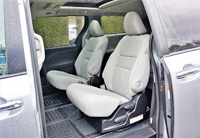 The base model can manage seven occupants, although you can optimize the second-rung LE or the sportier SE with a second-row bench seat if you need room for eight, while that LE model gets 17-inch alloy wheels, a larger infotainment display, satellite radio, eight-way powered heatable front seats, power sliding side doors, and more.
Toyota will have to loan me an SE in order to get me to spend too much time going over its details (that's a snub their way in hopes of snagging an SE tester, because it's been way too long since they've put one on the fleet and it's still amongst my favourite minivans), but suffice to say it features sporty 19-inch alloys, a specially tuned sport suspension (that's a bit firmer), recalibrated (read sharper) steering, a really attractive aero body kit, a unique primary gauge package, and plenty more.
Of note, like the base model the $40,505 SE can only be had with FWD, AWD reserved for the LE and XLE alone. This is where it gets confusing, as Toyota refers to the Limited FWD model without any mention of XLE trim, but the top-line model I'm driving is actually an XLE with a Limited package, with Limited not officially included in the name. It seems to be a lot of nothing, but needs mentioning if you plan to build it on Toyota's website.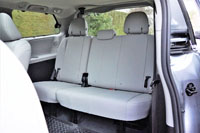 The EXL AWD without the Limited package, priced at $44,400, includes sound a unique silver painted grille, LED daytime running lamps, fog lamps, chrome door handles, deadening acoustic glass for the windshield, powered flip-out rear side windows, proximity-sensing keyless access with pushbutton ignition, a leather-wrapped steering wheel, a 4.2-inch colour multi-information display, chrome interior door handles, woodgrain inlays on the dash, doors and centre console, voice activation, SMS- and email-to-speech, navigation with detailed mapping, leather upholstery, a powered moonroof, a powered rear liftgate, rear parking sensors, blindspot monitoring with rear cross-traffic alert, and an anti-theft system.
The $7,315 Limited package, which pushes the Sienna's price up to $51,715 before freight and fees, adds HID headlamps with auto high beams, heatable, power-folding, auto-dimming side mirrors with integrated turn signals, puddle lamps, and reverse tilt, a heatable steering wheel, rain-sensing wipers, driver's seat memory, a larger 7.0-inch infotainment touchscreen, a wide-angle backup camera, a 10-speaker JBL Synthesis audio system, a large 16.4-inch widescreen Blu-Ray rear entertainment system, household-style 120-volt power outlets, upgraded premium leather upholstery, and a dual powered panoramic moonroof.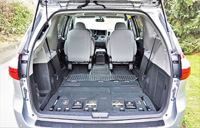 While this sounds like a ton of gear, the Sienna is missing some high-tech safety equipment like autonomous front braking, dynamic cruise control, lane keep assist, etcetera that would allow for a better IIHS rating. As it is only the Pacifica achieves Top Safety Pick Plus status, whereas the Sedona gets a Top Safety Pick rating.
It sounds like I'm knocking what is an excellent van made even better for 2017, but that's far from how I felt while at the wheel. To get my full review including a critique on the new engine and transmission, the user-friendliness of other upgrades, just how well the suspension compares to newer designs, how convenient the Sienna is to live with next to other minivans, and much more, check out these pages regularly…