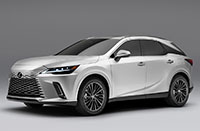 Seven years have passed since Lexus introduced its fourth-generation RX, and while a dramatic departure stylistically than the more conservative model it replaced, time always takes its toll.
The RX' continued success (it's long been its mid-size luxury crossover SUV segment's number-one seller, in both in Canada and the U.S.) means than even what once seemed daring and different can start to look commonplace and dated, but a fresh new RX will soon remedy any softening in the sales department.
Evolution of outgoing RX design makes for a fresh new look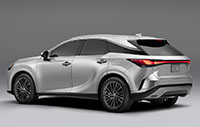 First off, Lexus' distinctive spindle grille is gone, but not entirely. As RX Project Chief Designer Jota Kusakari explains in a video (see below), it's now a "spindle body," encompassing the entire SUV.
This can clearly be seen up front, where the bulging hood forms into a body-colour nose-cap that melds almost seamlessly into the blackened grille opening below, much like Lexus' new RZ electric. The spindle shape continues to flair outward as it reaches the lower valance, similarly to the previous RX, while it's accentuated further via corner vents to each side.
Spindle grille gives way to new "spindle body-concept"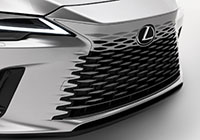 As dramatic as the frontal redesign, the spindle body-concept enhances the new RX' rear design even more than the outgoing version, where an angled crease, parallel to the rear clip cutline, slices upwards from the aft portion of each rear wheel cut-out, overtop an identically angled rear corner vent, before ending where a singular taillight element forms into its centre section, which, much like that on the smaller UX, features a light bar lamp that appears stretched between two sharply angled outer lenses.
This design increases the visual tension started by the previous RX, almost as if the new model's sides have been pinched together slightly at centre. There are plenty of other details worth noting too, some being quite creative, yet while nothing remains the same from old to new, no one will mistake this fifth-generation RX for anything other than a mid-size Lexus.
All-new RX sits on Toyota GA-K platform architecture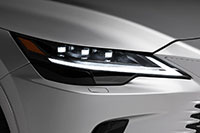 The new RX is built upon Toyota's well-proven GA-K platform, even though it might appear as if it was formed off the back of the outgoing model's Toyota K architecture. The latter is due to some carryover design elements like the lower half of the just-noted grille opening, the sharply angled LED headlamps with checkmark-style LED driving lights, forward-canted vertical corner vents with circular LED fog lamps, sweptback roofline with floating D pillars, and sharply angled wraparound LED taillights.
Even the rear reflectors, which make way for sportier vertical vents, are at the same angle in more or less the same place, while F Sport models receive much larger vents next to new rear reflectors on the bumper cap, providing a much more aggressive appearance.
Lighter and stiffer makes for better handling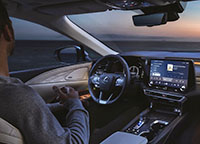 The GA-K platform is is up to 90 kg lighter in the RX than the outgoing model, thanks to new materials in the main framework, while torsional rigidity has increased as well. Along with this is a lower centre of gravity and better weight distribution, while an all-new multi-link rear suspension design, attached to a stiff high-torsion rear body frame, "facilitates more consistent suspension input/travel during acceleration, deceleration and steering moments," says Lexus.
It should all result in optimized performance, while the new model's 60-mm longer wheelbase should improve ride quality too. Additionally, a 60-mm shorter rear overhang should also aid handling as well as providing a more athletic looking stance. Lexus managed to maintain an identical overall length to the previous RX too, so those trading up should feel right at home when parking.
More rear passenger and cargo room is always welcome in the mid-size class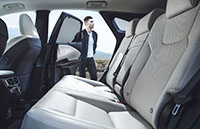 The new GA-K platform increases the "front/rear couple distance" too, which provides greater rear legroom, while cargo space is reportedly improved too, as is access to the load floor thanks to a lowered liftgate sill that decreases the lift-over height.
The GA-K platform, incidentally, also underpins the new Lexus NX, the luxury brand's latest ES, plus plenty of others from the namesake mainstream volume brand's lineup, such as the Toyota Camry, Avalon, RAV4, Venza, Highlander, and Sienna, thus it will once again be ideal for the automaker's range of hybrid powertrains.
RX powertrain options expand from two to four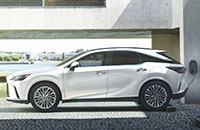 Electrifying in mind, the entry-level RX 350 (more on that in a moment) will now be complemented by three different hybrid alternatives, including a new 2.5-litre four-cylinder version dubbed RX 350h that should be quite popular due to an expected lower price point and improved fuel economy than today's RX 450h, with Lexus estimating a very thrifty 7.1 L/100km combined city/highway.
It should be more than capable of hauling a fully-laden mid-size crossover SUV too, being that it's sourced from the aforementioned Venza and Sienna, which are now dedicated hybrids, plus Toyota's Highlander Hybrid. It makes a net 246 horsepower and 233 lb-ft of torque, which is good for 7.6 seconds from zero to 100 km/h (just 0.2 seconds off of the base non-hybrid variant), plus comes mated to a continuously variable automatic transmission (CVT) plus all-wheel drive.
Lexus adds plug-in and high-performance hybrid options to RX lineup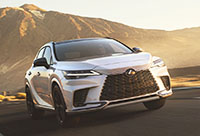 Additionally, there will be a plug-in hybrid (PHEV) using a similar name to the current V6-powered RX 450h, albeit named 450h+, but it'll arrive later and therefore Toyota hasn't provided any additional info. Due to the name, we should expect a bit more performance than the new RX 350, plus, of course, greater and more utile EV range.
Lastly, the pinnacle of RX performance will now be the all-new 500h F Sport Performance, which promises to be quite the mid-size family hauler, with the emphasis on hauling arse. This model combines the more potent 2.4-litre turbocharged four-cylinder from the base RX 350 with a different six-speed automatic, an inverter, and all-wheel drive via Lexus' eAxle unit boasting a stronger high output electric motor, inverter and reduction gearbox.
New 500h F Sport Performance puts RX in the mix with turbo-six Europeans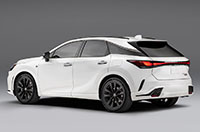 This results in a soul-stirring 367 horsepower and 406 lb-ft of torque, which is similar to what we can find under the hood of twin-turbo six-cylinder-powered competitors like the Genesis GV80 3.5T and Mercedes-Benz GLE 450 hybrid, and considerably more than what BMW's X5 provides from its 3.0-litre turbo-six. The benchmark here is Volvo's XC90 Recharge, with 400 hp and 472 lb-ft of torque from a turbocharged, supercharged and plug-in hybridized 2.0-litre four, but there will likely be a sizeable price difference between this new Lexus and the Swedish brand's flagship SUV.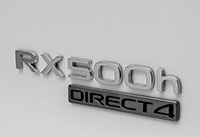 Where the XC90 Recharge can sprint from standstill to 100 km/h in 5.6 seconds, the top-tier RX 500h F Sport Performance can do so in a respectable 6.1 seconds, whereas the two competitors' city/highway combined fuel economy is rated at 8.8 L/100km for the Swede and a very similar 9.0 L/100km for the Japanese. Incidentally, the aforementioned Mercedes-Benz hybrid SUV scoots from zero to 100 km/h in 5.7 seconds while achieving a claimed city/highway rating of 10.4 L/100km at the pump, while the non-hybrid X5 xDrive40i matches the Mercedes' fuel economy while providing a sprint time of 5.5 seconds. Strangely, BMW has a pricier plug-in hybridized X5 dubbed xDrive45e that uses more fuel than the regular version, at 11.5 L/100km combined, and takes 0.1 seconds longer to hit 100 km/h.
Lexus introduces Direct4 all-wheel drive for new RX 500h F Sport Performance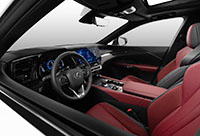 Gripping pavement under the RX 500h F Sport Performance is a new Direct4 all-wheel drive system that Lexus is touting as its "highest technology all-wheel drive" system with "maximum grip, traction and acceleration in all situations." Unfortunately, that's all we know about it thus far, so we'll just have to wait until more info comes out in order to learn what makes it better than Lexus' regular AWD.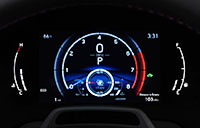 Overall, Lexus claims its RX 500h F Sport Performance provides "a sportier, more performance-driven look and feel," thanks to its straight-line performance, of course, plus that all-wheel drive system and opposed six-piston brake calipers to enhance stopping power. These are framed in a set of 21-inch aluminum wheels "that exude a wide, confident stance," and upgraded 235/50R21 rubber for enhanced traction.
Additional RX 500h F Sport Performance details include a unique mesh grille, plus special front and rear bumpers, while the cabin gets a whole host of F Sport upgrades such as a perforated leather-wrapped steering wheel rim, paddle shifters, aluminum foot pedals, additional aluminum trim, leather upholstery, microsuede-trimmed interior door panels, F Sport branded scuff plates, and more.
New RX 350 base model promises strong performance and better efficiency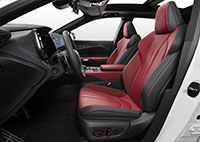 Back to the basics, the entry-level and sole non-hybrid RX 350 drops the current model's 3.5-litre V6 for a much thriftier 2.4-litre four-cylinder engine that's capable of 9.8 L/100km combined. It makes a solid 275 horsepower and 317 lb-ft of torque, and while this might seem like a downgrade of 20 horsepower compared to the outgoing model's 295, it's also an upgrade of 50 lb-ft of torque, resulting in a net positive. It also comes mated to a sporty yet efficient eight-speed automatic transmission with standard all-wheel drive, so therefore, once factoring in pricing, which has yet to be released, this will likely be Lexus' best-selling RX trim level in Canada.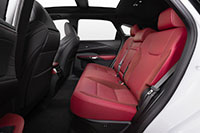 The RX 350, and all RX trim lines, come standard with a generous supply of advanced safety and convenience technologies that the luxury firm dubs Lexus Safety System+ 3.0. This suite of features includes Pre-Collision System (PCS) with Pedestrian Detection, Intersection Support and new Motorcycle Detection; as well as All-Speed Dynamic Radar Cruise Control with new Curve Speed Management (DRCC); Lane Departure Alert with Steering Assist (LDA); and Emergency Driving Stop System (EDSS).
On the high-tech options list is Advanced Park that helps out when parallel parking, or when wanting assistance for back-up parking, forward-facing parking, or forward-facing and back-up exiting.
Seven grades mean standard and optional equipment will be plentiful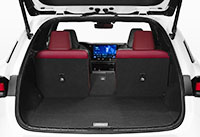 As for additional standard features, the new 2023 RX will get 19-inch alloy wheels, Lexus' e-Latch proximity sensing access, and Lexus Interface, these details garnered from the Canadian press release, whereas the few options specifically mentioned include multi-coloured illumination accents, "tasteful" door trims, a head-up display (HUD), a 14-inch Multimedia Touchscreen Display, navigation, and a panoramic glass sunroof. Of course, there will be plenty more available in the 2023 RX' seven grades, which will include Premium, Luxury, Ultra-Luxury, Executive, F SPORT 1, F SPORT 2 and F SPORT 3, but we'll need to wait until closer to launch before knowing details.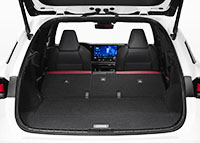 A total of 10 exterior colour choices will be available too, depending on the chosen grade, including Caviar, Copper Crest (a Lexus-first), Eminent White Pearl, Grecian Water, Iridium, Matador Red Mica, Nebula Gray Pearl, Nightfall Mica, Nori Green Pearl, and Ultra White, while inside there's a choice of four grade-dependant "ornamentation styles" including Ash Bamboo, Black Cascade, Black Open Pore, and Dark Graphite Aluminum, as well as six cabin colours including Black, Birch, Macadamia, Palomino, Peppercorn and Rioja Red.
Lexus expects the new 2023 RX to go on sale at the end of 2022, so it's probably a good idea to claim your spot in line if you want to be first.
The All-New 2023 Lexus RX – World Premier (9:50):

Introducing the All-New RX | Lexus (2:51):

The Lexus RX | Lexus (8:35):

2022 Lexus Product Showcase | Lexus (24:40):

Story credits: Trevor Hofmann
Photo credits: Lexus