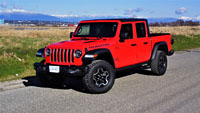 About a decade into my automotive journalism career, and a bit more than 10 years ago, in 2010, there were a grand total of nine competitors in the compact-to-mid-size pickup truck segment. Jeep's new Gladiator wasn't part of the picture back then, but Chrysler Group LLC's Dodge Dakota was, although due to a misguided DaimlerChrysler redesign that took it from one of the best-looking pickups in the class to one of the least appealing trucks ever, combined with a cheap, plasticky interior, it was struggling near the bottom of its category in sales and was phased out soon after.
Fast-forward to 2021 and there's just six rivals competing in this category, including one from the newly-minted Dutch-formed Stellantis N.V. that, via its Jeep division, is once again back to making great looking trucks. Without purposely trying to tick off Toyota Tacoma fans, I think the new Gladiator is the most alluring pickup in the mid-size segment, but I can understand why this serious off-roader only finds a narrow niche of hardcore enthusiast buyers.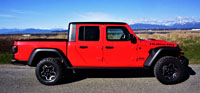 It's priced much higher than most of its rivals, after all, with a 2021 window sticker starting at $49,315 (plus freight and fees) before growing to $64,405 in top-line High Altitude trim. Incidentally, when configuring the same trim at CarCostCanada, which shows the starting price at $53,315, it comes out to an identical $64,405 when adding the requisite $9,295 CPOS PKG and $1,795 Customer Preferred Package 24N, while combining all of the most expensive options on either configurator will push the fully-loaded price well past $80k.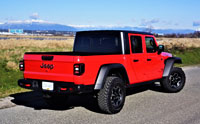 Some of these extras include the $7,395 3.0-litre EcoDiesel V6, or $345 to $445 in exterior paint options, as well as thousands more in additional equipment if you so choose, such as $1,520 for dual tops including a black Sunrider soft top and body-colour Freedom Top 3-piece modular hardtop; $1,450 for an Advanced Safety package featuring Advanced Brake Assist, Forward Collision Warning Plus with Active Braking, and automatic high beams; a $995 Cargo Management Group with a Trail Rail system, including a 240-amp alternator (up front 220 amps), a 400-watt inverter, an 115-volt auxiliary power outlet on the outside, and lockable rear under-seat storage, a $525 Trailer Tow package with a class IV receiver, heavy-duty engine cooling, and trailer hitch zoom for the backup camera, plus more.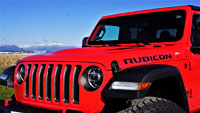 My $56,315 Rubicon trimmed tester sits in the middle from a pricing standpoint, and like the High Altitude can be had with the upgraded EcoDiesel, albeit adding this feature automatically ups the ante by $1,795 for an eight-speed TorqueFlite automatic transmission that comes standard with the top-tier Gladiator. It's the same price if replacing the standard six-speed manual attached to the as-tested gasoline-fed base 3.6-litre V6, while Jeep will also be happy to provide you with $995 worth of 17-inch polished black alloys, plus $295 for a set of 285/70 BSW M/T tires (although the standard All-Terrains should be just fine for most), not to mention $1,495 for Black or Dark Saddle/Black leather seat upholstery (with unique Rubicon and Utility Grid designs), etcetera.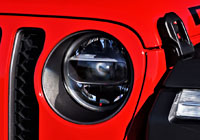 Of course, this premium price level puts the Gladiator out of reach for many pickup buyers, which up until recently (2019) could purchase a Nissan Frontier for just $24,598 (it's no longer available in its current form, nor as a redesigned 2022 model, at least not yet) and only reached $39,498 in its priciest trim (before additional options), while the Chevrolet Colorado's 2022 model-year pricing ranges from $27,948 to $48,348 before options, the 2022 GMC Canyon's from $28,648 to $49,748, the 2021 Toyota Tacoma's from $38,350 to $52,490, and finally the 2022 Honda Ridgeline's from $45,535 to $54,235, which is probably a good reason why this unibody truck's sales are at the lower end of the spectrum too.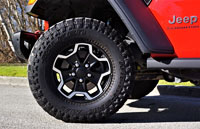 There's still no sign of a forthcoming Dakota (or 1000) from Dodge, er, Ram (the latter thanks to a separate Ram Truck Division spin-off in 2010), so the glory days of Chrysler group (or Ram) selling 12,000-plus units per year in this class, like the Dakota did in 2004, might be some ways off. As it is, Ram's most affordable 1500 Classic starts at just over $37k in base Regular Cab two-door, 4×2 Tradesman trim (plus you can get more than $10,000 off of that price in discounts at the time of writing), which is about the same as a base Tacoma, and while it's filling the same void Ford tried to with its F-150 and GM temporarily did with its Chevy Silverado and GMC Sierra, both rivals came scurrying back to the smaller, more affordable mid-size truck market so as not to lose out. Ford is even re-entering a re-emerging compact truck segment, it's new Maverick soon going up against Hyundai's Santa Cruz, so time will tell whether competitive brands take the bait, as clearly one size does not fit all.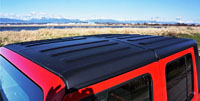 Back to sales, the Tacoma reigned supreme at the top of this segment with a grand total of 16,946 deliveries in 2020, which despite all the hardship last year was its best year ever. The combination of General Motors trucks came second with an 11,678-unit tally, the Colorado earning 6,648 new buyers and the Canyon totalng 5,030, although the Ranger is really the second-place brand at 10,840 units. The Gladiator's respectable 4,481 sales total puts it fifth on the 2020 calendar year list, just ahead of the Ridgeline's 3,369 deliveries, leaving the market dregs to the outgoing Frontier that only managed 1,355 sales.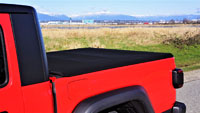 While last place is never good, at least Nissan had some mid-size pickup sales in 2020. As of Q2 this year, the Frontier found zero buyers, or more likely the Japanese brand's dealers managed to sell the last remaining examples before the new year started. The new 2022 model should remedy this problem quickly when it arrives later this year, but it will nevertheless be attempting to win back once-loyal fans that have long given up on the brand due to the previous Frontier's seemingly never-ending lifecycle.
At least the Tacoma looks to be on track with 7,349 deliveries over the first two quarters of 2021, while the two GM trucks are doing fairly well too, resulting in 6,239 sales over the same half-year period (split up into 3,295 for the Chevy Colorado and 2,944 for the GMC Canyon). As for Jeep, it sent a reasonable 2,075 Gladiators down Canadian roads (and trails) during Q1 and Q2 of this year, while the almost as pricey Ridgeline only managed 1,582 deliveries during the same six months, despite what appears to be shaping up to be a very strong year in the Canadian mid-size pickup truck sector, shown by 23,467 total sales so far (excluding any Q3 figures).
It'll need to be strong to surpass last year, however. The mid-size pickup segment sold a total of 48,669 units throughout 2020, which was not only surprising considering the tumultuous year we all experienced, but also when factoring in that the last time we saw numbers this high was back in the late aughts and early teens when Ford was blasting $15-20k-something Rangers out into the market by the bucketful (the retail on a base Ranger was $13,999 back in 2011, plus they offered zero-percent financing), and we had so many other players trying to keep up, Mazda even selling its B-Series variant, and Suzuki trying to purvey an equatorial version of GM's trucks (I actually went to the U.S.-only launch of the 2006–2009 Mitsubishi Raider too, a Dakota based truck that never made sense to bring here… or there for that matter, evidenced by its scant four-year run).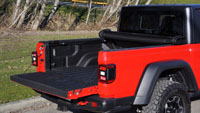 The Gladiator is all Jeep, however, and not just in name, which in fact came from the 1962-1971 Gladiator that was made famous (to us older folks) in the TV series Daktari. Even more so than that original Gladiator, and therefore more similar to the 1986–1992 Comanche that was obviously derived from the 1984-1990 Cherokee, few will make the mistake of judging Jeep's latest truck for evolving from anything other than a JL-series Wrangler. It's an assumption that's true of its powertrains, drivetrains, chassis and most everything else, despite plenty of body panels that differ.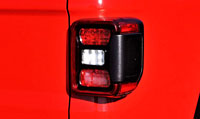 Obviously, the box is unique, and suits the classic Jeep's look perfectly, but some might not notice that the brand widened the front grille slats to better cool the engine when towing, the mid-size pickup capable of 3,469 kilos (7,650 lbs) on the hitch and 771 kg (1,700 lbs) on the bed, compared to the Wrangler Unlimited's max trailer weight of 1,587 kg (3,500 lbs) and total payload of 453 kg (1,000 lbs). Throw a short-bed truck camper on the back of that, or even better, a carbon-fibre C-Class RV-style setup from GEO-Cab or EarthRoamer, not to mention a specially equipped off-road trailer from any number of suppliers, and the Gladiator will happily take you to your new home-away-from-home off the grid.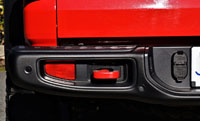 Any of the Gladiator's trims would do well for such purposes, as all are capable of getting you and your family just about anywhere. Of course, the aforementioned top trims, which also include the Mojave, are most suitable, my Rubicon-equipped version ideal for tackling all types of wilderness treks thanks to front- and rear-axle electric lockers (the wide heavy-duty axle up front from Dana) and an electronic disconnecting front sway-bar, not to mention Jeep's Command-Trac part-time, shift-on-the-fly 4×4 system, a 43.4-degree approach angle, 20.3-degree breakover angle, and 26-degree departure angle, the only one (that I could find specs for) mostly better being the Mojave that's good for 44.7, 20.9, and 25.5 degrees respectively.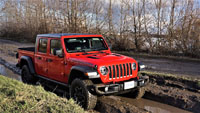 Both Gladiator trims compare well against the four-door Wrangler Unlimited Rubicon, by the way, with the latter achieving a slightly better 43.9-degree approach angle and 22.6-degree breakover angle, but then again, the SUV's 37-degree departure angle is massively better, while the two-door Wrangler Rubicon manages a 44-degree approach angle, 27.8-degree breakover angle, and (once again) a 37-degree departure angle.
Of course, I went mud wrestling to find out how the Gladiator performed in its element first-hand, and it was easily up to the task in a local 4×4 hotspot (that's sadly been closed off since). Of all the 4×4 pickups I've taken through this course, the Gladiator Rubicon was at least on par with Chevy's Colorado ZR2 and felt easier to negotiate through the rougher sections than every stock Tacoma, while it's much more capable than all others listed above. It climbed up and crawled down steep rock-strewn embankments without breaking a sweat, managed deep sand without a moment's notice, and casually waded through deep puddles that actually came up over the hood (just like the ZR2), as if it was on a lazy Sunday stroll, finding grip everywhere, while the suspension actually remained comfortable.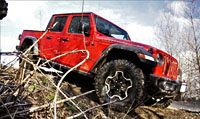 An available front camera system, dubbed TrailCam, allows visibility of obstacles in front and to the sides when off the beaten path, plus Jeep also provides an "Off-Road Pages" section within the Apps menu of the Gladiator's Uconnect infotainment system that monitors vehicle status, such as ride height, pitch and roll (if equipped), transfer case settings, and the Selec-Terrain traction management mode. Both are really useful features, and wholly unique to Jeep.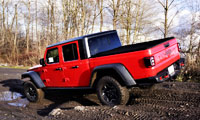 The Gladiator's 3,487-mm (137.3-in) wheelbase, which is 479 mm (18.8 in) longer than the Wrangler Unlimited's and spans 1,027 additional mm (40.4 in) over the base Wrangler, didn't pose a problem, at least where I was travelling, but probably would around some of the rock abutments I experienced when coaxing a Wrangler Unlimited down the Rubicon Trail, or winding that longer SUV through some of the massively treed forests I've negotiated locally on the West Coast, these even making the Unlimited more challenging to operate than the regular-wheelbase Wrangler. Still, as far as pickup trucks with useful beds go, the Gladiator is absolutely brilliant off-road.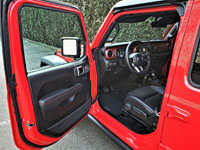 Stuffed under its classic latched hood, Chryco's 3.6-litre Pentastar V6 is plenty potent for everything I asked it to do, thanks to 285 horsepower and 260 lb-ft of torque, but I'd sooner have the 3.0-litre EcoDiesel V6 for the sake of four-wheel twist, fuel economy, and therefore, the ability to go further into the bush without worrying about bringing along as many extra Gerry cans of fuel. Still, that decision might only make sense to diehard off-roaders, because the chance of paying off more than $7k worth of engine upgrades for savings of about 10 cents per litre at the pump and maybe 10 percent more range, will take many years of ownership and an odometer spinning well into six figures.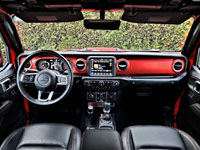 I've tested the diesel in an absolutely wonderful near-full-load Wrangler Unlimited Sahara that I'll be reviewing soon, and I must say I was impressed with its similar thrust of 260 horsepower, and much stronger 442 lb-ft of torque. The Gladiator is not available with the Wrangler's base 2.0-litre turbo-four, however, which might make a suitable companion for those not needing to haul heavy loads, and could potentially get the price down to commoner levels. The engine makes more torque than the base V6 at 295 lb-ft, while its power is a bit stronger than the diesel at 270, but Jeep obviously felt the four-banger's expected take-rate wouldn't make for a good business case, so the Gladiator's fuel economy option can't truly be considered an economical choice from a financial perspective.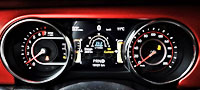 Jeep appears to be preparing a plug-in hybrid alternative for Gladiator's engine bay, however, based on the Wrangler Unlimited's new 4xe model, which will also make a difference at the pump thanks to an estimated 4.8 Le/100km combined city/highway in the SUV. That model represents a $6,900 bump over the equivalently-equipped V6-powered Wrangler Unlimited Sahara, mind you, which probably makes it a better long-term financial bet when compared to the diesel variant, if most of your driving occurs over short distances. This said, its non-electrified fuel economy, which is how you'd be driving it on a road trip due to full-EV range that's merely 40 km, is 11.7 L/100km combined, which is only slightly better than the regular Wrangler Unlimited Sahara's 12.2 L/100km combined rating.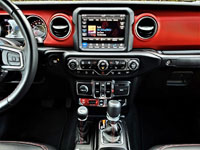 While we're on the theme of fuel economy, the Gladiator's base V6 is rated at 14.3 L/100km in the city, 10.4 on the highway and 12.6 combined when hooked up to its six-speed manual, or 13.7 city, 10.7 highway and 12.3 combined with its eight-speed automatic, while the diesel is good for a claimed 10.8 L/100 city, 8.5 highway and 9.8 combined.
The Gladiator's smooth off-road suspension translates into decent on-pavement comfort too, at least for this class, but while its longer wheelbase means that it tracks better than a Wrangler on the highway, it needs more small steering adjustments than one of its less 4×4-oriented competitors when doing so. I suppose this is a small price to pay for its amazing off-road capability. Still, I found it enjoyable and relaxing at freeway speeds, stable and safe feeling through tighter curves, plus it's a good size for city traffic.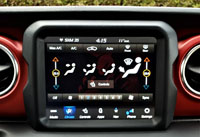 Its cabin is an enjoyable place to while away the time as well, especially if you already like the Wrangler's classic, retrospective take on interior design. It features body-colour surfaces in key areas, such as the inside door surrounds and above the head as part of the roll bar structure, while my Rubicon's dash facing was covered in a metallic red composite, also used for the differential bias switch. Matching red stitching can be found throughout the cabin for a sporty look, the front seats even getting embroidered "RUBICON" branding on their backrests, albeit black was my tester's dominant shade, with both rows covered in optional leather as noted earlier (base Rubicons receive premium cloth).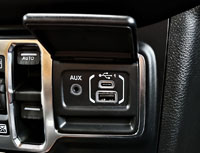 The Gladiator features all the same improvements in materials quality and design as the current Wrangler, which was last fully updated in 2018. This means my tester boasted a stitched leatherette dash-top, soft-touch, padded door uppers that continue right down to the tops of the even plusher armrests in one single piece, plus a comfortable centre armrest in leather.
All of the Gladiator's switchgear is excellent, much of it rubberized with nice big, notchy rims that could easily be used with winter gloves, while Jeep even includes a flip-up lid on the centre stack exposing an auxiliary plug, a USB-A charging/connectivity port, as well as a more up-to-date USB-C port. The front seats and steering wheel rim are three-way heatable, to therapeutic levels no less, plus a large interface for the dual-zone automatic climate control system makes maintaining chosen temperatures easy.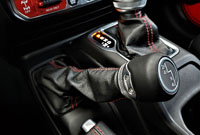 In-car electronics include a 7.0-inch infotainment touchscreen between the two middle vents on the top of the centre stack, and while it's slightly smaller than average (you'll need to move up to top-line High Altitude trim to get the 8.4-inch display) the fully-featured Uconnect system comes with most everything an owner could want. Along with the aforementioned Off-Road Pages, my Rubicon's featured an accurate, easy to use navigation system, fully redundant climate controls that provide nice, big pictographs for selecting ventilation preferences and even let you set the heatable steering wheel and seat warmers, while the audio page includes the usual AM/FM radio selections, plus satellite radio and Bluetooth streaming, all played through an eight-speaker stereo with good sound. You can adjust the backup and forward camera angles from the centre display too, plus the mirror dimmer, which is connected to one of the industry's new higher-end classic-style frameless mirrors that runs flush to the edges.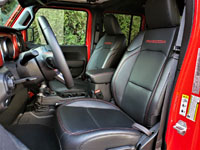 Ahead of the driver is a clean, nicely organized primary instrument cluster with analogue gauges to each side of a large 7.0-inch, customizable, full-colour multi-information display, this doubling for the temperature and fuel gauges as well. It's as close as it gets to a fully digital gauge cluster while remaining mostly analogue, something I don't think the Gladiator (or Wrangler) needs, nor many of the two models' fans probably want.
I have to say the driver's seat was comfortable, necessary for a vehicle that will more than likely be used for overcoming big, bumpy obstacles, but adjustment is purely manual. Again, this wasn't an issue for me, and makes sense for this type of truck, with even the loftily priced High Altitude receiving the same six-way manually adjustable driver's seat (featuring seat height) with two-way manual lumbar support, plus just four-way adjustability for the front passenger.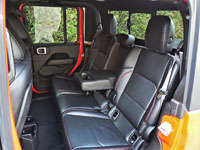 The rear seats are well designed for good comfort and support too, even for the lower back, plus plenty of leg, foot, elbow, shoulder, and headroom comes standard. A large, wide centre armrest can be folded down in the middle, incorporating the usual dual cupholders, although the bigger bottle holders on the backside of the front console do an even better job of holding drinks. Just above these is a three-prong household-style 115-volt power source, plus overtop this is a compact interface housing two USB-A and two USB-C charging ports. The side window switches hover just above, while two big air vents keep rear passengers warm or cool depending on the season. Additionally, an intricate pattern of webbing can be found on the backside of each front seat.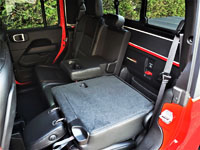 The rear seats fold down to make a large, wide carpeted cargo shelf, and also flip upwards for taller items, the latter position revealing a handy storage box system with integrated dividers underneath.
Speaking of boxes, my tester had a covered bed, but it was easy to unlatch and roll forward out of the way. The inner tailgate, sidewalls and floor were nicely finished with a spray-in liner, which looked durable and therefore capable of lasting the test of time. The tailgate folds down easily, by the way, while I found the bed wasn't too difficult to jump onto thanks to exposed bumpers with grippy surfaces. Of course, corner steps like those found on GM's trucks would've been even more helpful, but that has more to do with my aging body than anything you may need to worry about (for now).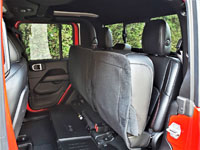 As for problem areas, the proximity-sensing locks were a bit frustrating, and this wasn't the first time I've had similar challenges with Chrysler group vehicles. It simply wouldn't lock with the exterior door handle button every time I tried, and therefore needed multiple pressings before locking. I'm guessing this isn't a common issue with others, or the Gladiator wouldn't be getting such major praise from owners in J.D. Power's most recent 2021 Initial Quality Study (IQS), which ranked it number one in their "Midsize Pickup" category. The entire Jeep division managed to finish seventh amongst mainstream volume brands in that study too, which is a significant improvement over previous years, but get this, the Ram truck brand was number one overall, while Dodge was second. The folks at Auburn Hills (and Windsor) have obviously been working hard to address past problems, so kudos to them for this impressive result.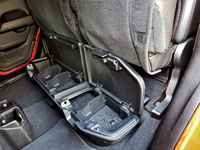 There's so much more I could say about the Gladiator, but I've got to leave something for you to discover. It really is an impressive mid-size pickup truck, and like all Jeeps, a very capable 4×4, plus it's hardly short on style, features and refinement, from the outside in. As noted earlier, it won't be as easy on your pocketbook as some of its rivals, both initially at purchase and at the pump, but this should pay off when it comes time to sell, or at least that's the case with the Wrangler that currently sits on top of its "Compact SUV" category in the latest Canadian Black Book 2020 Best Retained Value Awards, as well as the Vincentric Best Value in Canada Awards for 2021.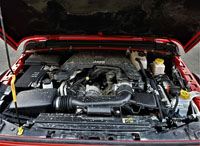 As far as getting a deal goes, CarCostCanada is reporting up to $2,684 in additional incentives on new 2021 Gladiator models, while their average member savings were $2,000 at the time of writing. That's the most aggressive incentives program available to mid-size truck buyers right now, so well worth checking out. Be sure to learn exactly how CarCostCanada's affordable membership works as well, including how dealer invoice pricing can help you save thousands when purchasing any new vehicle, plus remember to download their free app from the Google Play Store or Apple Store, so you can have all of their valuable information with you exactly when you need it.
Review and photos by Trevor Hofmann