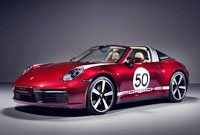 Have you ever wanted something so bad that your credit card just magically pops out of your wallet, all your personal info auto-fills the various fields, "accept charges" buttons unconsciously get pressed and confirmation emails immediately arrive? That's what Porsche hopes will happen with its new very limited 2021 911 Targa 4S Heritage Design Edition, and while most of us don't have American Express Centurion cards that allow us to nonchalantly plop $205,900 plus fees for a frivolous sports car when such desires strike, enough high-rolling, Fed-infused Wall Street hedge managers do to make special projects like this happen.
The new 911 Targa 4S Heritage Design Edition fits the phrase "modern-day classic" better than anything we've seen for quite some time. It's based on the new 2021 911 Targa we shared here last month, and we have to say the car's classic silver roll hoop body style suits this special edition's retro design perfectly.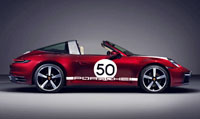 Unless you detest such memory lane recreations, or more specifically in this case, homages paying tribute to the glory days of Porsche's beginnings, the 911 Targa 4S Heritage probably had you at hello. From its gorgeous Cherry Metallic paintwork (it's also available in four alternative exterior colours), motorsport-inspired spear-shaped front fender stripes and circular decal-style number livery, and historically true 1963 Porsche Crest badges, rear mounted Porsche Heritage badge, and gold-tone nameplates, to its two-tone Bordeaux Red or Black leather and Atacama Beige OLEA club leather and corduroy-lined cabin, this is one stunning head-turner.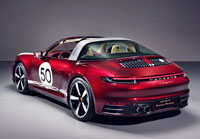 Porsche goes even further with details like green backlighting on the tachometer and centre dash top-mounted "stopwatch", which being typical of '50s and '60s cars, plus the microfibre roofliner gets perforations similar to past Porsches (and VWs). And those just-mentioned period-correct Porsche crests? You'll find them on the key fob, hood, steering wheel and wheel hub covers, those latter items capping off wheels resembling the "five-leaf" Fuchsfelge alloys brought to market for the 1966 911S. Of course the new Carrera Exclusive Design alloys are staggered and much larger than those from Porsche's past, now measuring 20 inches up front and 21 inches at the back, while framing a set of classic black brake calipers.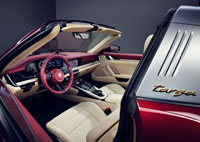 This is the first example of four collector's models from Porsche's Heritage Design strategy, incidentally, and as was shown in this article's first paragraph, it doesn't come cheap. There's always a price paid for exclusivity, and with just 992 of these special Heritage 911 Targas available (the number referencing the latest 911's internal code name), its lofty window sticker will make sense to those capable of taking advantage. Porsche commemorates the example purchased with a beautiful gold metal "911 Heritage Design Edition XXX/992" dash plaque, with the number "000" shown likely kept for Porsche's own collection.
The 911 Targa 4S Heritage Design Edition pays obvious tribute to late '60s and early '70s 911 Targas, but Porsche makes the point of claiming this car represents four decades of classic 911s.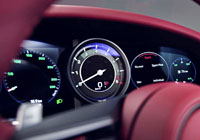 "We are evoking memories of the 1950s, 1960s, 1970s and 1980s in customers and fans with the Heritage Design models," stated Oliver Blume, Chairman of the Executive Board of Porsche AG in a press release. "No brand can translate these elements into the modern day as well as Porsche. In this way, we are fulfilling the wishes of our customers. With the exclusive special editions, we are also establishing a new product line which stands for the 'lifestyle' dimension in our product strategy."
As noted before, this first example of the four Heritage Design models is based on the all-new 2021 911 Targa 4S, and therefore is as modern as the new the new 992-generation gets under the skin, including all of Porsche's latest chassis tech, driver assistance systems, infotainment advancements, and more. Below its automatically deployable rear wing is 443 horsepower worth of horizontally opposed, twin-turbocharged, six-cylinder greatness combined with a paddle-shift prompted eight-speed dual-clutch PDK transmission. It's capable of shooting from standstill to 100 km/h in less than 3.6 seconds (when Launch Control is engaged) and maxes out at a track speed of 304 km/h.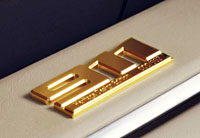 Classic car aficionados have long appreciated how horology has played an important role in the automotive industry's beginnings, in that early watchmakers provided the same types of instruments we now refer to as gauge clusters. Porsche remains true to its past with the beautiful analogue clocks found on the centre dash tops of all models, which can usually be upgraded to a complex chronometer stopwatch and lap counter by adding its Sport Chrono Package. Exclusive to 911 Targa 4S Heritage Design owners, Porsche Design, a majority-owned subsidiary of Porsche AG, although a credible luxury watchmaker on its own, has created the 911 Targa 4S Heritage Design edition chronograph wristwatch.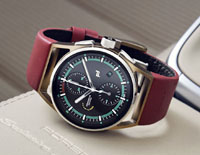 Once again just 992 examples will be manufactured, and come complete with a face featuring a white seconds hand and "Phosphorus Green" rings around its perimeter like the primary instruments in both the 356 and original 911 Targa. Additionally, its Arabic hour indices are styled in typical Porsche block lettering, while the leather strap is produced from the same hides as those found in Porsche interiors.
This watch and the new 2021 911 Targa 4S Heritage Design Edition are available to order now before arriving in Canada this fall. And yes, if you've read this far you definitely don't have an American Express Centurion card, or you would've already placed your order. 
Those that end up missing out on the 911 Targa 4S Heritage Design Edition, yet still have some room left over on their platinum cards, should take a look at our recent overview of the 2021 911 Targa 4 and 4S (it only starts at $136,000), and then click on one of CarCostCanada's 2019, 2020 or 2021 Porsche 911 Canada Prices pages to find out about available manufacturer rebates, financing and/or leasing deals, and otherwise hard to get dealer invoice pricing that could save you thousands. Right now factory leasing and financing rates can be had from zero percent on all of the above model years. Knowledge is everything, and in this case a CarCostCanada membership is a small price to pay for all the savings coming your way. Also, make sure to download the new CarCostCanada app from Google Play Store or the Apple iTunes store.
Story credit: Trevor Hofmann
Photo credits: Porsche