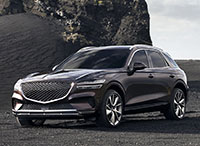 Genesis is successfully growing its lineup with a fresh, new design language and some entirely new core models, the sharp looking 2022 GV70 just the latest to enter the fray. With an all-inclusive price of $49,000 including freight and delivery fees (or $49,150 all-in as shown on GV70's retail website landing page), the new GV70 is not the least expensive nor the priciest in the burgeoning compact luxury SUV market segment, which is now some 16 competitors strong.
In fact, the new GV70 places ninth in the compact premium crossover affordability index, near the mid-point, although not all of its competitors include destination, delivery fees and the $100 A/C tax in their advertised prices. After factoring in the latter (and using an average of $2,500 for those brands that made it difficult to locate this information on their retail websites), the GV70's pricing proved more competitive with a ranking of seventh most affordable.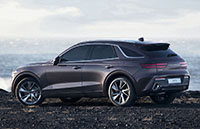 On that note, the GV70's lower priced alternatives include the $44,298 Cadillac XT5 (plus $2,500 in fees for a total of $46,798), $44,505 Acura RDX (plus $2,475 in fees for a total of $46,980), $44,600 Lexus NX (couldn't locate their fees so adding $2,500 for $47,100), $45,495 Infiniti QX50 (plus $2,220 for $47,415), $45,200 Lincoln Corsair (plus $2,250 for $47,450), and $46,550 Audi Q5 (plus $2,395 for $48,945) (note that dealer administration fees and other costs weren't always shown by some manufacturers, with all the Japanese brands being most difficult to source such information from).
Allowing eight brands to advertise lower pricing in such a highly competitive market is a bold move for Genesis, albeit possibly a calculated one, in that its mid-pack price placement could move potential perceptions of its brand identity and therefore equity away from becoming a value-packed alternative to more established rivals, like parent company Hyundai's namesake brand was long seen amongst mainstream volume sector consumers. Instead, causing its clientele to pay for perceived quality means that Genesis might immediately be respected as a true challenger that's capable of going head-to-head against Mercedes-Benz, BMW, Volvo, Lexus, Land Rover, and the like. The alternative is to join Cadillac and Acura, which are often forced to sell on price despite the quality of their offerings.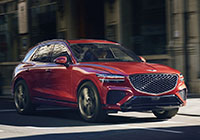 Speaking of the latter collection of competitors, the new GV70's $49,150 window sticker is positioned just under the $48,500 Volvo XC60 after adding its fees (plus $2,615 for $51,115 in total), as well as Land Rover's $49,900 Discovery Sport (plus $2,726 in fees for $52,626), as well as the identically priced $49,900 Mercedes-Benz GLC (not shown on retail site so adding $2,500 for $52,400), while the BMW X3 starts at $52,550 (plus $2,245 for $$54,795), the Tesla Model Y at $55,000 including its $1,300 freight fee, although the least expensive Performance model currently offered on their retail site goes for $69,990), the Alfa Romeo Stelvio at $55,190 (plus fees ranging from $1,995 to $2,695 for a maximum base price of $57,885), the Porsche Macan at $57,800 (plus $1,600 for $59,400), the Jaguar F-Pace at $60,350 (plus $2,826 for $63,126), and finally Land Rover's Range Rover Velar at $63,500 (plus $2,826 for $66,326).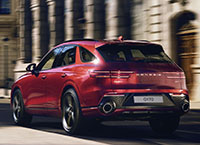 The $20k price gap from easiest on the wallet to arguably most revered and priced accordingly is a wide chasm for compact luxury SUV buyers to cross, but it should be noted that any one of the compact luxury utilities named gets close to the vaunted Velar's starting point when loaded up with options, with even the cheapest on this list going well beyond. Additionally, some in this group feature more equipment in their various base trims than others, not to mention stronger performance, greater interior room, and the list goes on.
For just under $50k including fees, the new GV70 2.5T Select AWD comes standard with Quad LED headlamps, LED taillights, 18-inch alloy wheels, proximity keyless entry with pushbutton ignition and remote engine start, fingerprint authentication, an 8.0-inch LCD digital instrument cluster, a large 14.5-inch HD multimedia display featuring Apple CarPlay and Android Auto smartphone integration, GPS navigation, wireless device charging, 12-way power-adjustable driver's seat with powered lumbar, an eight-way powered front passenger seat, heatable front seats, rear occupant alert, a proximity-activated hands-free tailgate, and more.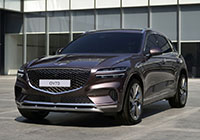 In addition, the GV70's standard Highway Driving Assist II driver assistance and safety technology suite includes High Beam Assist, Lane Follow Assist, Rear Cross-Traffic Collision-Avoidance Assist, and Forward Collision-Avoidance Assist.
As is usually the case in this class, all-wheel drive is standard, the GV70 including Terrain Mode Select as well, while the powertrain consists of a 2.5-litre turbocharged inline four-cylinder with 300 horsepower and 311 lb-ft of torque at the lower end of the pricing spectrum, or a 3.5-litre twin-turbo V6 with 375 horsepower and 391 lb-ft of torque when a desire for power trumps one's need for fuel-efficiency. Both engines are gasoline-powered, but keep in mind that Genesis recently launched an all-electric G80 mid-size luxury sedan, so an electric option may be on the not-too-distant horizon. As it is, an efficient eight-speed automatic transmission comes standard, complete with steering wheel-mounted shift paddles.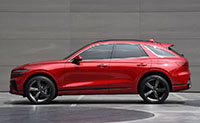 Standard colours include Uyuni White, Vik Black, Himalayan Gray, Savile Silver, Adriatic Blue, Cardiff Green, Barossa Burgundy, and Mauna Red, with the base interior only available in Obsidian Black with "artificial leather" upholstery (Genesis may want to consider a more appealing name for its leatherette).
For $55,500 including freight and fees, the 2022 GV70 2.5T Advanced AWD adds 19-inch alloys, power-folding side mirrors with puddle lamps, a powered tilt and telescopic steering column, genuine leather seat upholstery (in Obsidian Black, Vanilla Beige, Havana Brown/Ocean Wave, Pine Grove/Ocean Wave, and Slate Gray/Velvet Burgundy, depending on the exterior colour), a powered panoramic glass sunroof, ventilated front seats, heatable rear outboard seats, and a fully automatic rear climate control system, while $59,000 Advanced Plus trim antes up with a driver's head-up display (HUD), a Surround View parking monitor, a Blind-Spot View Monitor (BVM), an 18-speaker Lexicon premium audio upgrade, manual rear side sunshades, and a household-style 110-volt AC power outlet in the rear cargo area.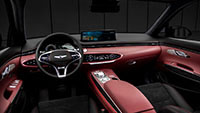 Moving up to the $63,000 GV70 2.5T Prestige AWD adds a Sport Appearance package with alloy foot pedals, special Nappa leather upholstery with suede inserts (in Obsidian Black, Sevilla Red or Ultramarine Blue, depending on exterior colours), a suede-like Microfibre headliner, a power-extendable driver's seat lower cushion and powered side bolsters, Smart Posture Care, Parking Collision Avoidance-Assist Rear (PCA-R), and
Remote Smart Parking Assist (RSPA).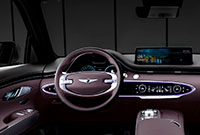 The $68,500 GV70 3.5T Sport AWD trim line combines previously-mentioned 2.5T Advanced AWD equipment with the larger, more potent engine, plus some of the just-noted Prestige items such as the Sport Appearance package, alloy pedals, HUD, power seat cushion extension, bolsters and Smart Posture Care, Lexicon sound system, and 115-volt power outlet, as well as 21-inch alloy wheels, unique aluminum sports trim, upgraded monobloc brakes, an upgraded Electronic Control Suspension with Road Preview, and Sport leather seating.
Lastly, GV70 3.5T Sport Plus AWD trim adds an electronic limited slip differential, a larger 12.3inch 3D TFT LCD digital instrument cluster, carbon fibre interior trim, softer Nappa leather upholstery with stitched quilting (in all the same colours as the Prestige and Sport), a Microfibre headliner, and laminated acoustic rear door glass, as well as the aforementioned surround parking monitor, BVM, PCA-R, RSPA, and rear sunshades for $75,500, which incidentally is a price point this segment's most affordable Cadillac XT5 reaches when fully optioned, as do most others.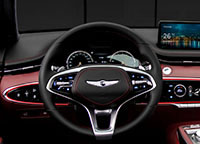 Clearly defining the GV70 from any other SUV in the class is Genesis' new "Crest Grille" and "two-lined" fore and aft "Quad Lamps", which will be brand-wide when the second-generation G70 sport-luxury sedan arrives alongside the GV70 SUV this summer. The two distinctive design characteristics are said to have been inspired by the brand's signature winged emblem, while the GV70's "Beauty of Openness" interior design theme isn't so specific about its origins, but looks inviting just the same. Genesis claims it was inspired from Korean architecture, and provides "maximum comfort and convenience" plus a "driver-oriented" layout. The look is certainly unique, particularly the ovoid steering wheel hub and even more distinctively surfboard-shaped cluster of controls to the left and right of the driver, while everything appears very upscale.
The first-ever Genesis GV70 presents customers with a bold and dynamic crossover offering," said Mark Del Rosso, President & CEO of Genesis Motor North America. "With its distinct exterior design, powerful stance and refined performance, GV70 perfectly blends athleticism and refined driving performance with the versatility of an SUV that only Genesis can offer."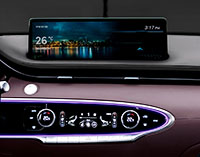 Along with the premium finishings, alluring design, bevy of features and strong performance, plus (lest we forget) the inclusive delivery and destination fees, Genesis provides its owners with an especially pampering at-home/work valet pick-up and drop-off concierge service, complete with a complimentary courtesy vehicle, when complimentary scheduled maintenance or any other repair is required during the first five years of ownership, or the GV70's first 100,000 kilometres of travel.
Additionally, GV70 buyers benefit from Genesis Connected Services with map updates and more for the extent of the SUV's five-year comprehensive warranty (with an unlimited km extension for map updates and roadside service). The five-year or 100,000-km comprehensive warranty is an entire year longer, and an average of 20,000 km greater than most others' comprehensive coverage in this class, plus two years or 40,000 km more than most rival powertrain warranties.
Despite the depth of competition in the compact luxury SUV segment, we expect Genesis to do well with its GV70, just like it has with the compact G70 sedan, the mid-size G80 sedan, and the recently launched GV80 mid-size SUV. Its flagship G90 luxury sedan is a slower seller, but an inability to sell large numbers of full-size four-doors is hardly an uncommon issue amongst premium players in Canada or most other markets, other than with Mercedes and its segment-dominant S-Class, and to a lesser extent BMW's 7 Series. Flagship sedans are more about image, their existence in a given luxury brand's lineup providing higher levels of overall credibility, but compact luxury SUVs are far more important to a brand's bottom line, because they normally become instant bestsellers. The GV70 should be no different for Genesis.
Story credits: Trevor Hofmann
Photo credits: Genesis