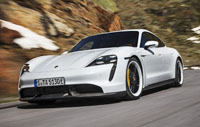 Few cars have been anticipated as enthusiastically as the all-electric Porsche Taycan, and now the 2020 production model has finally been revealed at the 2019 International Motor Show Germany, a.k.a. Internationale Automobil-Ausstellung. 
To call it powerful would be as ridiculously understated as claiming it quick. Consider for a moment the most potent version makes a staggering 750 horsepower and even more mind-numbing 774 lb-ft of torque, allowing it to catapult from standstill to 100 km/h in a scant 2.8 seconds. 
Of course, such performance is nothing new to Tesla fans, its Model S P100D capable of shooting from zero to 100 km/h in just 2.6 seconds, although how it does so with just 613 horsepower and 686 lb-ft of torque under hood is anyone's guess (then again, its heaviest curb weight of 2,250 kilos/4,960 lbs is quite a bit lower than the Taycan's 2,295-kg/5,059-lb unladen weight, so that might have something to do with it). Considering Porsche's tendency to understate performance specs, this is an upcoming showdown of epic proportions (stay tuned to every credible cable and YouTube car show for their own version). 
This is a Porsche we're talking about, however, so straight-line performance is only part of the equation. In fact, we're ready to bet the new Taycan will be able to out-manoeuvre the Model S any day of the week. That Porsche has already partially proven its handling prowess probably gives us an unfair advantage going up to the betting window, thanks to a pre-series example's EV-record-setting 7:42-minute lap of the famed Nürburgring-Nordschleife, which beat the last Tesla Model S P85D's time of 8:50 by more than a minute. And yes, a minute on a racetrack is an eternity, so we'll put another wager on Tesla showing up at the "Green Hell" track with its latest P100D, a full crew and a very well proven pilot (and definitely not Auto Pilot).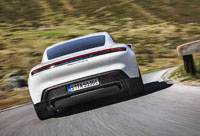 In all fairness to the California company, the new Taycan is much pricier than even a fully equipped Model S P100D. The "entry-level" (for now) 2020 Taycan Turbo, with its 671 maximum horsepower, 627 lb-ft of torque, and 3.2-second sprint to 100 km/h, goes on sale this fall for $173,900 plus destination, whereas the new top-line Taycan Turbo S can be had for $213,900. These two trims aren't loaded up 100-percent either. In fact, Porsche's plentiful and pricey options list can drive the top model's delivery window sticker above $250k, which is territory more commonly occupied by the Aston Martin Rapides, Bentley Flying Spurs and Rolls-Royce Ghosts of the ultra-luxury world. 
This said, none of the above super sedans are capable of doing the 100-metre dash as fast or scale a mountain pass as adeptly as the Taycan, plus none will do so without gulping down tankers full of premium unleaded. The Tesla Model S is available from a comparatively modest $108,990, while its Performance trim is still rather paltry at $134,990, although it manages to creep up to $155k with all available options added on.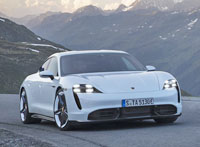 Before anyone starts concerning themselves that Porsche has totally forgotten the average Joe or Jane, take some comfort in knowing that these ultra-quick Turbo models (in name only, by the way) are being introduced first for their wow factor, while slightly slower trims will arrive later this year, and the crossover coupe-styled Cross Turismo will go up against the Jaguar I-Pace sometime toward the end of 2020. 
Like with performance, there's more separating these two supercharged heroes than merely going fast with zero local emissions. Obviously styling is a key differentiator, with the Taycan's perfectly fresh, near spaceship-like lines and brilliantly penned details making the still attractive yet rather stale Model S seem geriatric side-by-side. Fit, finish and refinement isn't a Model S strength, but we can expect industry-best within this Porsche, while the German automaker's on-board electronics are now some of the best in the industry.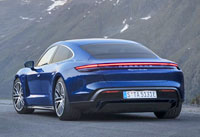 The Taycan features a completely digital pod-like primary gauge cluster that seems to float behind the steering wheel. It comes filled with a colourful array of high-resolution graphics in a classic Porsche curved oval shape, while its dash-wide set of dual touchscreens, the second one just ahead of the front passenger, and third being a capacitive display on the centre console, provide a feast for the eyes as well as an unprecedented level of hand gesture control. 
Without doubt one of those screens includes animated power-flow graphics showing a permanent-magnet synchronous motor at each axle combining for the aforementioned output figures depending on trim, incidentally putting out 616 horsepower no matter the model when not in launch mode.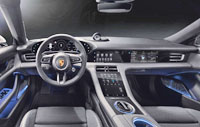 When switched back to that overboost setting, the slower of the two Taycan trims can shoot from standstill to 200 km/h in just 10.6 seconds, while its standing quarter mile takes a mere 11.1 seconds. Do likewise in the more potent car and the 200-km/h mark takes only 9.8 seconds to pass, while the quarter mile arrives in 10.8. Both models' terminal velocity is 280 km/h (161 mph), which is obviously electronically limited. 
The Taycan uses a single-speed front transmission and a larger two-speed rear gearbox to push power down to all four wheels, the latter unit housing one gear for acceleration and a second taller gear for higher speed cruising. The Taycan chooses its rear gear automatically by monitoring driving style, plus it can partially be done manually via one of five driving modes. Range mode is all about efficiency and therefore uses the taller second gear as much as possible while temporarily turning off the front motor, whereas Normal mode prioritizes the second gear yet utilizes the first gear more. On the other hand, or foot, Sport mode prioritizes first gear up to about 90 to 100 km/h, but the transmission shifts to second whenever the driver eases off the throttle, and then back to first again when required. The Taycan also features Sport Plus and Individual drive modes.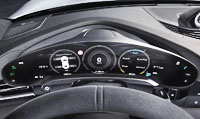 Where Tesla's are notorious for overheating, Porsche is promising cooler running by incorporating a special hairpin winding technique to the stators' copper solenoid coils. This provides a copper fill factor of 70 percent compared to 45 percent when wound the traditional way, and results in increased performance while keeping things cooler than they'd otherwise be. 
To test the Taycan's endurance in extremely hot climates (of 42°C with a track temperature of almost 54°C), Porsche ran a pre-production model around Italy's high-banked Nardò Ring oval racetrack (it's actually more of a circle) at speeds ranging between 195 and 215 km/h for 24 hours straight, a marathon sprint that included six test drivers covering 3,425 kilometres (2,128 miles). Following up this grueling test program, Porsche also punished its Taycan by undergoing 26 back-to-back sprints from zero to 200 km/h in less than 10 seconds apiece, with a 0.8-second difference between fastest and slowest acceleration times (Tesla owners should be impressed by this). Then there's the aforementioned Nürburgring stint, which completely sets the Taycan apart from mere stoplight dragsters.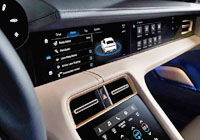 Embedded within the floor of Taycan Turbo is an LG-produced 93.4-kilowatt-hour high-voltage lithium-ion battery with enough stored energy for 381 to 450 km (237 to 280 miles) of range on the Europeans' WLTP rating system. The more sport-oriented Turbo S gets an uprated version of the same battery that's capable of a 388 to 412 km (241 to 256 mile) range. 
An industry-first 800-volt electrical architecture makes recharging easier and quicker. In fact, the Taycan can charge at a maximum rate of 270 kilowatts, which makes it possible to refill from five to 80 percent in only 22.5 minutes. The Tesla (and other electric vehicles) use 400-volt architectures, and therefore need more time to top up the tank, so to speak.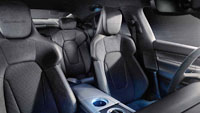 Maximizing ease of charging is the Taycan's Charging Planner, which has the ability to plot a given course by factoring in the best places to recharge along the way. For instance, it can choose a faster 270-kW charge station that can save you time over a regular 50-kW DC charger, even if the quicker charger requires driving a bit off course. Additionally, the Charging Planner preconditions the battery to 20°C, optimal for quicker charging. It does much more, but we'll leave the rest for you to discover.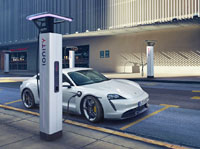 The 2020 Porsche Taycan Turbo and Turbo S are now available to build and order from Porsche Canada's retail website or through your local dealer, so make sure to act quickly if you want to be first on your block to own the most intriguing electric car to ever be sold through a regular dealer network. The Taycan certainly appears like it will give Tesla's fastest Model S a run for its money, especially considering Porsche's claimed performance numbers are almost always more conservative than what private testers experience. 
And while you're waiting for your Taycan to arrive, or merely wishing for your lottery ticket numbers to sync up with the next set to be announced, enjoy the full album of gallery photos above and bevy of Porsche-supplied videos below: 
World Premiere Porsche Taycan (40:33):

 
The new Porsche Taycan – Designed to enliven (1:28):

 
The fully electric Porsche Taycan accelerates 0-90-0 mph on the USS Hornet (0:59):

 
Onboard Lap – Porsche Taycan Sets a Record at the Nürburgring-Nordschleife (8:09):

 
New Porsche Taycan sets a record at the Nürburgring-Nordschleife (0:58):

 
Taycan Prototype Convinces at Endurance Run in Nardò (0:57):

 
The new electric Porsche Taycan proves its repeatability of power before upcoming World Premiere (1:05):

 
A thank you to electricity: The Porsche Taycan (0:45):