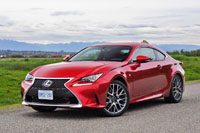 There's a reason Lexus is considered a Tier 1 luxury brand along with Mercedes-Benz, BMW and Audi. Strong sales numbers have a lot to do with it, but also its almost totally full range of models. For a relatively new brand, such a wide assortment of models and body styles means that some don't sell well enough to make money, but instead provide important branding that trickles down to enhance higher volume cars and SUVs.
The IS series was Lexus Canada's bestselling car last year with more than 3,000 deliveries. This is a polar opposite result from Lexus' U.S. division sales that saw the more comfort-oriented ES series as the brand's premium car populist last year and every year prior, by a long shot, whereas that larger front-wheel drive four-door model only found 2,153 buyers during calendar year 2016 in Canada. This shows that Canadians view Lexus in a sportier light than our friends to the south, but still not enough to snap up RC coupes en masse.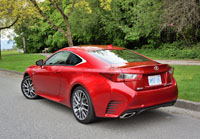 The stylish new two-door hardtop model only managed to pull in 526 luxury buyers last year, which while more positive than the 415 mid-size GS and 95 flagship LS luxury sedans sold during the same 12 months, is still a far cry from the 4,765 BMW 4 Series delivered through 2016.
Lexus' big money was made on SUVs, the RX leading sales for the Japanese brand as well as Canada's entire mid-size SUV segment at 8,147 units, whereas the fresher NX is already third in its class with 6,295 deliveries. Even the massive LX SUV outsold the RC at 748 units, while the sizeable GX also outshone RC numbers with 551 units down unpaved roads.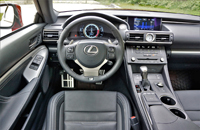 Just the same, we can't discount the importance of sports models like the RC when it comes to brand image as noted earlier, and the beautiful Infrared painted 2017 RC 300 AWD F Sport parked in our garage this week pulls eyeballs almost as effectively as the same spec car did in Solar Flare orange last year. That vibrant colour isn't available for the 2017 model year, although seemingly identical Molten Pearl can be had on the even rarer V8-powered RC F super coupe, this being one of the only changes for the regular RC model's third year of existence.
Many thought the 2.0-litre RC Turbo, currently available in the U.S., would've been added to the Canadian lineup for 2017 in order to drop the price and hopefully attract more buyers, but Lexus appears to want its northernmost coupes fitted with all-wheel drive and that car is only pushed from the rear, so the $49,050 RC 300 AWD is base here in Canada.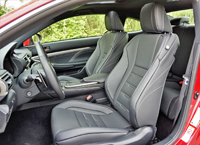 It's arguably better looking with the $4,700 as-tested F Sport Series 1 package (there is no Series 2 package for this model, in case you were wondering) that adds a new front fascia with a larger, bolder grille and unique lower fascia detailing with integrated fog lamps, as well as other exterior styling upgrades, plus unique 19-inch alloys wrapped in 235/40 performance tires (although my tester is fitted with winters), an adaptive sport suspension, a powered tilt and telescopic sport steering wheel with paddle shifters, rain-sensing wipers, front sport seats, NuLuxe pleather upholstery with contrast stitching, memory for the driver's seat, ventilated front seats, a fully configurable LFA-style TFT instrument cluster, Lexus' touchpad Remote Touch Interface for the infotainment system, navigation, active sound control, and blindspot monitoring with rear cross-traffic alert.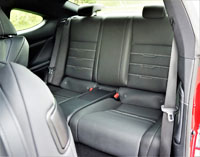 The only other notable option is a dealer-added F Sport performance exhaust system integrated within a fabulous looking rear bumper diffuser (for about $2,050 and change). Lexus claims the upgraded exhaust reduces backpressure for increased torque, which might be noticeable given the RC 300 AWD's modest engine output.
Despite its considerable 3.5 litres of displacement, the base V6 makes just 255 horsepower and 236 lb-ft of torque for fairly relaxed performance due to the coupe's considerable 1,765-kilo (3,891-lb) curb weight (it's actually a bit heavier with the F Sport gear). Making it feel even more comfort-biased is a six-speed autobox in a segment filled with snappier eight-speed auto and dual-clutch alternatives.
So how does it feel? I've told you too much already, but don't worry as I've got a lot more to say in the upcoming road test review. Make sure to check back for the full story soon…