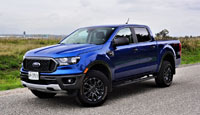 I promised myself not to harp on Ford for giving up on the midsize pickup truck market segment eight or so years ago, because they know how much that decision has cost them better than any critic, so let's just say it's great to have them back as a key competitor to Toyota's Tacoma, Chevy's Colorado, GMC's Canyon, Jeep's new Gladiator (the latter of which more than makes up for the loss of the Dakota that Dodge/Ram should nevertheless bring back as well), Honda's Ridgeline, and (speaking of not investing in this market for the past decade) Nissan's Frontier.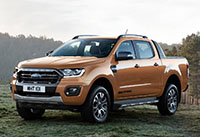 This said, when first laying eyes on it in the Philippines about five years ago, I quickly understood why Ford chose not to initially import this Australian-designed and Thailand/South Africa/Argentina/Nigeria/Vietnam-built third-generation (fourth-gen to us) Ranger T6 to its North American markets. The mid-size truck is big. Instead of completely retooling the previous Ranger's St. Paul, Minnesota and Edison, New Jersey assembly plants to accept the entirely new design, Ford felt it could fill the outgoing Ranger's void with a lower priced F-150. This was true to a point, but the lack of a small truck to suit differing tastes also opened up a hole in Ford's lineup that was quickly filled by the trucks mentioned above.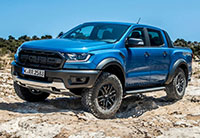 To be clear, the new mid-size Ranger, while considerably larger than the old compact one, is nevertheless dwarfed by even the smallest 13th-generation F-150, a truck that will soon be replaced by the 2021 14th-gen version that grows a bit larger in some dimensions. As it currently is, the 2020 F-150 SuperCab 4×4 with its 6.5-foot box measures 536 mm (21.1 in) lengthier with a 462-mm (18.2-in) longer wheelbase, 167 mm (6.6 in) wider, and about 155 mm (6.1 in) taller than a similarly configured 2020 Ranger SuperCab 4×4, while the F-150 SuperCrew takes up even more real estate comparably.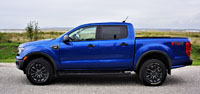 Our Canadian-spec Ranger T6 measures 5,354 mm (210.8 in) long with a 3,221-mm (126.8-in) wheelbase, 1,862 mm (73.3 in) wide without mirrors, and a respective 1,806/1,816 mm (71.1/71.5 in) tall for the SuperCab/SuperCrew, by the way, which is actually a smidge shorter than the best-selling Tacoma (and a lot shorter than the long-wheelbase Toyota pickup), plus its narrower albeit a hair's height taller, so it's not like the Ranger T6 isn't an ideal fit for the North American mid-size pickup truck market, now or back in 2011 when it debuted throughout the rest of the world.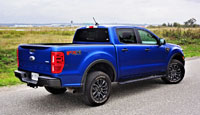 The Ranger is Ford's primary pickup in most global markets, unlike here in North America where F-Series trucks dominate all blue-oval deliveries, not to mention the production of all competitive pickups. The current third-gen global Ranger, that's now built in Wayne, Michigan, and available to us as of model year 2019, is actually a nicely facelifted version of a Ranger T6 introduced back in 2015, so even this refreshed truck is no spring chicken.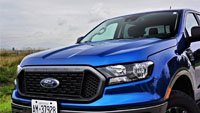 Still, the current third-gen Tacoma has been around a while too (it arrived in 2015), so it's not like the Ranger, updated the same year, feels in any way outdated, while its powertrain was totally revamped for its 2019 debut in North America. Looking back, the first version that caught my eye was the particularly attractive Ranger Wildtrak found in Asian markets (check out the Wildtrak in the gallery above), but most will probably see the newer Ranger Raptor as the model's most desirable trim. So far Ford of Canada hasn't announced this smaller Raptor for our market (we've got more Ranger Raptor photos in the gallery), leaving us with base XL, mid-range as-tested XLT, and top-tier Lariat trims.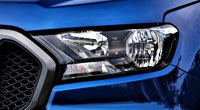 My test truck was an XLT SuperCrew 4×4 in eye-catching Lightning Blue paint, which when optioned up with an available Sport Appearance package and FX4 Off-Road package, looked mighty good, if not as aggressive as the two foreign models. The Sport Appearance package adds a darkened grille surround and Magnetic-Painted (dark-grey) 17-inch alloy wheels to the exterior, plus a leather-clad steering wheel and shifter to the interior, plus power-folding side mirrors and an auto-dimming rearview mirror inside. These are both included in the 302A package, incidentally, while a Bed Utility package added the drop-in bedliner and 12-volt in-bed power adaptor, and an FX4 package added those sweet looking red and grey/black decals on the rear sides of the box.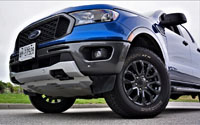 Of course, there's a great deal more to the FX4 package than a couple of cool stickers, such as specially tuned off-road monotube shocks, a set of rugged 265/56 Hankook Dynapro AT-M tires, an electronically locking rear differential, Trail Control, that lets you set a given speed between 1 and 30 km/h to crawl over rugged terrain via throttle and braking management, and a Terrain Management System that, via Grass, Gravel/Snow, Mud/Ruts, or Sand modes, utilizes all of the Ranger's off-road technologies to overcome light to extreme trail surfaces. Additionally, the FX4 package includes a steel front bash plate below the front bumper, plus skid plates cover the electric power steering system, the transfer case, and the fuel tank. Lastly, the FX4 package lets the Ranger's driver monitor pitch, roll and steering angle info from inside.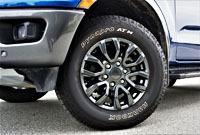 Setting the Ranger 4×4's high and/or low gearing ratios is ultra-easy thanks to a rotating dial on the lower console next to the standard SelectShift 10-speed automatic's shift lever. Yes, we counted correctly. The Ranger comes standard with 10 forward gears, which is the most offered in its class. This, along with standard auto start-stop that turns the engine off when it would otherwise be idling, provides the Ranger with segment-leading 11.8 city, 9.8 highway and 10.9 L/100km fuel economy too, which is mighty impressive.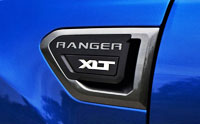 We shouldn't expect this kind of economy when off-road, but it should still allow you to go deeper into the woods (or desert) than its non-diesel competitors, which is saying something. What's more, its 226 mm (8.9 inches) of ground clearance, while not as lofty as the Tacoma's 239-mm (9.4-in) capability, should get you over most rocks and roots, while its 28.7/25.4-degree approach/departure angles will likely do the same through deep ruts and muddy swamps (the Tacoma's approach/departure are a respective 29 or 32 to 23 degrees front to rear, depending on trim).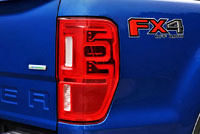 All of this suspension travel results in a comfortable ride, at least as far as body-on-frame trucks go. It feels pretty tight through fast-paced corners too, again as far as pickups are concerned, not exactly the best for snaking quickly through the slalom. Still, the Ranger's standard 2.3-litre turbocharged EcoBoost four-cylinder is a blast off the line and anywhere else you step on it, thanks to 270 horsepower and 310 lb-ft of torque, the former a bit less than the Tacoma's power output yet the latter substantially more.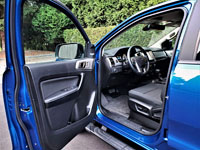 The aforementioned 10-speed autobox runs through its gears quickly enough, allowing for good performance all-round, and I have to say it was smoother in this Ranger than in a turbo-four Mustang I previously tested, while the rocker switch integrated onto the shift knob was once again a good way to manually swap cogs.
Activating the Sport setting is the best way to improve performance, this allowing higher engine revs between shifts for stronger acceleration, while the transmission even held onto its chosen gear when hitting redline, very unusual yet a welcome feature when pushing the limit on pavement, not to mention holding a given gear when off-road.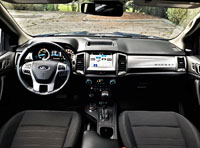 In order to maintain its sporty feel and ultimate safety through fast-paced corners, Ford employs Curve Control that detects when a driver enters a turn too quickly, and then adjusts the Ranger's speed by reducing engine torque, adding braking and increasing stability control automatically. This feature might make you feel a bit more comfortable when lending your truck to a teenage child or employee.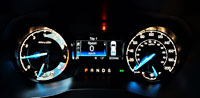 Together with that nice ride mentioned a moment ago, the Ranger XLT 4×4 I tested provided impressive comfort and plenty of interior room front to back. The model in question came with Ford's largest SuperCrew cab, which includes regular full-size doors in the rear, as well as more second-row legroom. A smaller SuperCab body is standard Ranger fare, with both configurations available in XL and XLT trims, and the top-line Lariat only offered with as a SuperCrew.
The smaller SuperCab has a longer six-foot bed, incidentally, while my as-tested SuperCrew uses a five-foot bed. Also important is the Ranger's 707-kilogram (1,560-lb) payload, which is much better than the Tacoma's 425- to 520-kg (937- to 1,146-lb) payload rating, as is the Ranger's 7,500 lbs (3,402 kg) of towing capacity, which beats the Toyota by 502 kg (1,107 lbs). Trailer sway control is standard, by the way.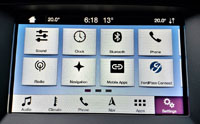 Speaking of standard, the base Ranger XL SuperCab starts at $32,159 plus freight and fees, which is an increase of $1,090 from the same model in 2019, while an XLT SuperCab can now be had for $36,529 or $38,329 for the as-tested XLT SuperCrew, but seeing a price increase of $890 since last year. Lastly, the Lariat SuperCrew is now available from $42,619, which is only an increase of $230.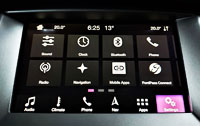 Incidentally, CarCostCanada is showing factory leasing and financing rates from 0.99 percent on their 2020 Ford Ranger Canada Prices page, plus up to $4,000 in additional incentives on 2019 models. Before speaking with your local Ford retailer, make sure to check CarCostCanada to learn more about available rates from all brands, plus manufacturer rebates and even dealer invoice pricing that could save you thousands. Also, make sure to download the free CarCostCanada app from Google Play Store or the Apple Store so you can access all of their valuable information anytime and anywhere you need it.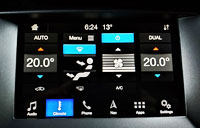 The Ranger's pricing structure compares very well to this year's Tacoma, incidentally, which has rocketed up in price by $5,625 from $31,825 last year to a new base of $37,450 for the 2020 Access Cab and $38,450 for the 2020 Double Cab, due to losing its 4×2 drivetrain in Canada, while its top-line Limited trim starts at $50,750. Yes, the Japanese truck is in an entirely different pricing league, but give the Ranger a little more time (plus King Ranch, Platinum, Limited and/or Raptor versions) and it will likely catch up.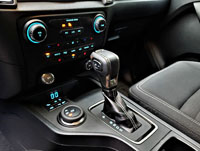 As it is, the current Lariat model adds exterior chrome detailing, LED headlights, and front parking sensors to the XLT's rear ones, as well as passive keyless access with a pushbutton ignition system, illuminated vanity mirrors, a universal garage door opener, three-way heated front seats with eight-way power, leather upholstery, etcetera.
Features as yet unmentioned on the XLT include 17-inch alloy wheels (in place of 16-inch steel rims from the base model), fog lights, carpeting with carpeted floor mats (the base XL truck's flooring is rubber), six-speaker audio, auto high beams, lane keeping assist, and more, while a Technology package adds navigation and adaptive cruise control.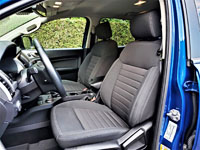 As for the base XL, notable features include auto on/off headlamps, a four-speaker stereo, a USB charge port, 4G LTE Wi-Fi connectivity, a capless fuel filler, plus a pre-collision system with automatic emergency braking and blind spot warning with rear cross-traffic alert.
While only a mid-range truck, my Ranger XLT tester offered up a well put together interior with comparably good fit and finish. If you're wondering whether this praise includes pampering padded leatherette or even soft-touch synthetic surface treatments, don't look any further than the armrests and seat upholstery, the latter finished in a woven black fabric dressed up with sporty cream-coloured contrast stitching.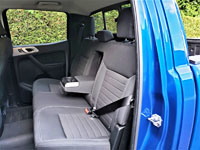 The driver's seat featured two-way powered lumbar support that actually fit the small of my back ideally, a rare occasion for sure, while the Ranger XLT's overall driving position was very good thanks to more than ample reach from the tilt and telescopic steering column. It includes a comfortably cushy leather-clad rim, while all controls fell easily to hand.
As is the case with all competitors, the Ranger utilizes a cluster of backlit analogue gauges for optimal visibility no matter the exterior light. The differentiator are its aqua-blue pointers that look particularly refreshing, while a high-resolution, full-colour 4.2-inch multi-information display beats most rivals when it comes to wow factor and functionality.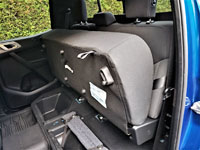 Speaking of dash flash, a strip of pewter-tone trim brightens up the dash on each side of those primary instruments and ahead of the front passenger, not to mention the upper door panels, while the just-mentioned gauge pointers nicely match the soft blue background of Ford's 8.0-inch Sync 3 infotainment touchscreen atop the centre stack of this XLT and Lariat models. Even after all the years Ford has offered this system, I still find it graphically attractive and quite advanced due to tablet-like tap, swipe and pinch gesture capability, the inclusion of Android Auto and Apple CarPlay smartphone integration, and myriad audio features such as satellite radio, Bluetooth audio streaming, etcetera, while my test model included a navigation system that got me where I was going more than once, plus XM travel link, dual-zone automatic climate control, and a reverse parking camera with dynamic guidelines.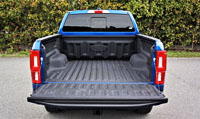 Now that we're looking rearward, the Ranger SuperCrew's second row of seats is certainly roomier than in the SuperCab, and therefore quite comfortable, especially in the window seats, but this mid-range model isn't as well featured as some rival trucks. I'm not talking about a lack of rear seat warmers, these normally only offered in top-line trims, but Ford doesn't even provide rear air vents. At least XLT and Lariat owners receive a pair of USB-A charge points on the rear panel of the front centre console, plus a handy 110-volt household-style power outlet.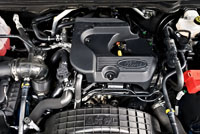 Then again, my Ranger XLT didn't come standard with integrated bumper steps for climbing up on the bed, such as those provided on GM's trucks, but you can pay extra for a really nice kick-down step from the blue-oval accessories catalogue, an item high on my list of extras for sure.
Although a long time coming, I think the wait was worth it. Yes, that means I have no problem recommending the Ranger to anyone looking for a mid-size pickup truck, as it looks and feels well made, has excellent electronic interfaces, is roomy and comfortable, and is plenty of fun to drive. I think Ford would be wise to bring the sportier Ranger Raptor to our market too, plus other more luxurious models in order to price it higher and attract more premium buyers, but they've got a relative hit on their hands as it is, so we'll need to wait to see how they want to play our market. I'm betting they'll quickly expand the Ranger range and give sport truck and luxury buyers what they want, instead of potentially losing profits to mid-size truck competitors.
Review and photos: Trevor Hofmann
Photo editing: Karen Tuggay