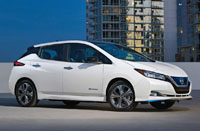 Ask most Canadians to name an electric car and Toyota's Prius will more often than not get the credit, but the true global EV leader is Nissan's Leaf. 
The Prius isn't actually an electric vehicle, but rather a hybrid that still relies on a gasoline-powered internal combustion engine to get it from point A to B, while using its battery and electric motor for very low-speed (less than 20 km/h), short-distance travel (parking lots) as well as supplemental power to reduce fuel consumption and therefore improve emissions. Toyota now produces a plug-in hybrid dubbed Prius Prime that allows longer EV-mode distances at higher speeds, but its consumer take-rate has been very modest, while the automaker has no full EV available in our market.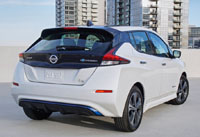 The Nissan Leaf, on the other hand, is 100-percent electric, relying solely on its battery and electric motor for propulsion, and therefore requiring regular refills from home and/or public charging stations, instead of the local gas station like the Prius. Where the Prius has long been the world's best-selling hybrid, the Leaf is similarly dominant when it comes to electric vehicles, having delivered more than 390,000 units since it arrived on the market in 2010. 
Wanting to make sure it holds onto that leadership title, Canadians can now purchase the 2019 Leaf with its regular battery as well as with a more potent powertrain featuring stronger acceleration and greater range. The regular Leaf will continue to use a 40-kWh battery and 110-kW (147-horsepower) electric motor resulting in 243 kilometres of estimated driving distance per complete charge, and will also remain the model's value leader at $40,698. The new Leaf Plus, however, will house a 62-kWh battery within its floorboards, connecting through to a 160 kW (214 hp) electric motor for an estimated 363 km of range, starting at $43,998.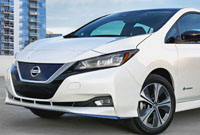 "With the addition of LEAF PLUS, the Nissan LEAF is now available with two battery options and a choice of four trim levels – each featuring the many advanced technologies offered under the banner of Nissan Intelligent Mobility," said Steve Rhind, director of marketing, Nissan Canada Inc. 
To clarify, the 2019 Leaf is available in four trims as of April, including the just noted $40,698 Leaf SV, the $43,998 Leaf S Plus, the $46,598 Leaf SV Plus, and finally the $49,498 Leaf SL Plus, along with a $1,950 freight charge added across the line.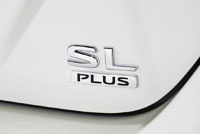 This means the regular Leaf S that was available as a 2019 model mid-way through last year and earlier this year for just $36,798 ($3,900 less than the new base model), and the regular Leaf SL that added features like leather upholstery (actually two-tone black and grey perforated leather and microfibre-like Bio Suede PET cloth), an Intelligent Around View Monitor, Driver Attention Alert, seven-speaker Bose premium audio, turn signal repeaters integrated within the side mirror caps, and more for just $42,698, will no longer be available for order in Canada (they're still offered in the U.S.), although you may still be able to find them at your local dealer. 
An upcharge of $5,900 for more power and approximately 120 km (or about 50-percent) more range might seem like a steep ask for what is basically the same car in mid-range Leaf SV trim, but it's important to note the non-powertrain/charging system differences between the regular base Leaf and Leaf Plus trims.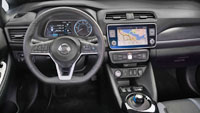 For instance, buyers opting for the new Leaf S Plus receive a modified front fascia design integrating unique blue highlights, an "e+" logo plate on the underside of the charge port lid, and new rear badges depending on trim level, while additional standard upgrades include Intelligent Forward Collision Warning (I-FCW), Rear Door Alert (that reminds if something or someone has been left in the back seat when arriving at your destination), and a one-inch larger centre touchscreen measuring 8.0 inches diagonally (the base 5.0-inch display is no longer available).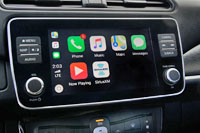 It should also be noted that both regular Leaf SV and Leaf S Plus models now fill their infotainment systems with standard navigation, Apple CarPlay, Android Auto, satellite radio, and more, but only SV trims offer voice recognition, NissanConnect EV (for remotely connecting via your smartphone), two more audio speakers for a total of six, and more. 
Also notable, the $3,300 less expensive Leaf SV adds 17-inch alloy wheels compared to 16-inch alloys with the Leaf S Plus, as well as fog lamps, an electromechanical parking brake (instead of a foot-operated one), an auto-dimming rearview mirror, a Homelink universal remote, an eight-way powered driver's seat with two-way power lumbar support, a cargo cover, and a host of advanced driver assistive systems such as Automatic Emergency Braking (AEB) with pedestrian detection (which inherently includes the SV Plus model's Intelligent Forward Collision Warning), High Beam Assist, Intelligent Cruise Control with Full Speed Range and Hold, ProPILOT Assist semi-autonomous self-driving, Steering Assist, Blind Spot Warning, Intelligent Lane Intervention, Rear Cross Traffic Alert, and more.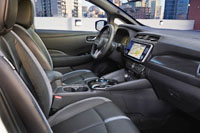 The list of features just noted is also standard with the new Leaf SV Plus, while a shortlist of luxury items covered earlier in this story, when mentioning the now outgoing Leaf SL, also gets pulled up to new Leaf SL Plus trim, albeit with a sizeable price difference of $6,800 due to its performance and range improvements. 
This is a good time to explain that many EV owners look at range performance in a similar light to how traditional car buyers might be willing to pay more for quicker straight-line acceleration and better at-the-limit handling. Either way, the new Leaf Plus is "ensuring that there's a Nissan LEAF to meet the driving needs of a wider range of customers," stated a press release.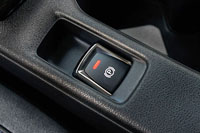 With respect to those more traditional performance conventions, despite hitting the scales at 1,737 kilos (3,831 lbs) instead of 1,580 kg (3,483 lbs), the new Leaf Plus is 13 percent quicker off the line than the regular Leaf, which Nissan says will allow its drivers to "confidently pass slower-moving vehicles, exit corners faster and more seamlessly, and merge easily with fast-moving traffic." What's more, the Leaf Plus' top speed is 10 percent higher, which Nissan says is beneficial "for comfortable cruising."
Many will find its faster charging capability an even better reason to ante up for the Leaf Plus. It comes with a new standard 100kW-capacity quick charging system that allows more efficient charging of up to 80-percent in only 45 minutes (according to the Nissan Canada's retail website). If you can only find a 75-kW DC quick charger it will take just 5 minutes longer (50 minutes) to reach that 80-percent total, or an hour with a 50-kW DC quick charger (the regular Leaf needs about 40 minutes for an 80-percent charge with the same 50-kW DC quick charger, but can't hook up to either 75-kW or 100-kW DC faster chargers).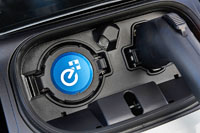 Lastly, a regular 240-volt home charging station will completely fill the new Leaf Plus' battery after approximately 11.5 hours, which is only 3.5 hours more than the regular Leaf requires, and take note the Leaf Plus can also receive an extra 35 km of range after about 60 minutes of being plugged into this less potent charging station. 
Utilizing resources in mind, both Nissan EVs are incredibly efficient, with their energy equivalent ratings measuring 1.9 Le/100km in the city and 2.4 on the highway for the regular Leaf, or 2.1 Le/100km city and 2.5 highway for the Leaf Plus. Of course, litres of gasoline never enter the picture, but the Le/100km rating can be used as a guide to help those new to electric vehicles understand how their energy consumption more directly compares with an equivalent gasoline-powered vehicle, and how the energy use of EVs compare to each other.
Also important, the more capable Leaf Plus battery doesn't impact interior passenger or cargo volume one iota, with front and rear seating still generous in all dimensions, and the rear cargo area capable of swallowing up a sizeable 668 litres (23.6 cubic feet) with its 60/40-split rear seatbacks upright, and 849 litres (30.0 cubic feet) when they're folded flat. 
If saving a few thousand is more important to you and your budget than increasing performance and range, or alternatively purchasing a more luxurious Leaf SL for considerably less money, make sure to contact your local Nissan dealer as they may have regular 2019 Leaf S and SL stock still available. Then again, if the charging benefits, extended range and added performance of the new Leaf Plus appeal more, these new models are now starting to arrive at said retailers across Canada. 
To learn more about all 2019 Nissan Leaf and Leaf Plus trims, packages and standalone options, including pricing on each, plus find out about available rebates and dealer invoice pricing that could save you thousands, make sure to check out CarCostCanada.