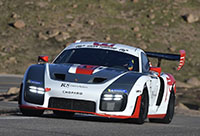 Just in case you missed it, racing legend Jeff Zwart, already with 16 Pikes Peak hill climbs to his credit, blasted up the steep 20 km road course in a 700 horsepower, rear-wheel drive 935 remake worth some $780,000 USD when introduced in 2018 (which equals $1,032,696 CAD at the time of writing).
Despite achieving a time of 09:43.92 minutes for fifth overall and second in the car's Time Attack 1 class, the latter specifically for track and race cars based on production models, Zwart admitted taking it a bit easier than he might have otherwise driven due to the 935 in question being someone else's car and not having driven the course for five years. He nevertheless praised the 935 for ease of use.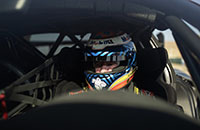 "It's the most comfortable race car I've ever driven," commented Zwart. "The combination of the turbo, the bodywork and the motorsport chassis is wonderful."
The 935, which weighs in at just 1,380 kilos (3,042 lbs), is one of just 77 produced since introduced during the historic "Rennsport Reunion" motorsport event at California's Laguna Seca Raceway on September 27, 2018. It's a race-prepared single-seater that rides on Porsche's 991-generation 911 GT2 RS platform (that sold for a lofty $334,000 on its own in 2018), but gets completely unique 935-like bodywork from front to rear, the latter featuring an elongated tail section (like the original) designed specifically to increase downforce.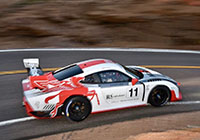 This specific 935 reissue is owned by Porsche collector Bob Ingram, and ran in support of his son Cam's Porsche restoration shop. It was painted in a white, grey and red livery with a stylized Pegasus on each rear fender due to Mobil 1 sponsorship.
The fastest time belonged to Clint Vahsholt who drove a Formula Ford in the Open Wheel category, with a time of 09:35.490, while the quickest Porsche was a GT2 RS Clubsport driven by David Donn, who, also in the Time Attack 1 class, managed a time of just 9:36.559.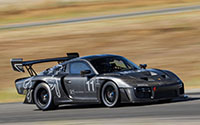 Colorado's Pikes Peak road course is officially 19.99 kilometres (12.42 miles) long and includes 156 turns, climbs an elevation of 1,440 metres (4,720 ft) that average 7.2-percent grades. It starts at Mile 7 on Pikes Peak Highway and ends at an elevation of 4,302 metres (14,115 ft). Multiple classes of vehicles compete yearly in the Pikes Peak International Hill Climb, making it a must-see event for motorsport fans.
To learn more about 911s that we mere mortals can potentially buy (935s like the one Jeff Zwart used to scale Pikes Peak now fetch upwards of $1.5m USD on the used market), check out CarCostCanada's 2021 Porsche 911 Canada Prices page and 2020 Porsche 911 Canada Prices page, where you'll find important information about factory leasing and financing rates from zero-percent, as well as all the latest rebate info and dealer invoice pricing that could save you thousands. Remember to download the free CarCostCanada app too, so you can have all their money-saving info with you when you need it most.
Now, be sure to check out the video of Jeff Zwart piloting the 935 at this year's Pikes Peak International Hill Climb below:
Jeff Zwart | Full Run Onboard + Driver Interview | 2020 Pikes Peak International Hill Climb (11:00):

Story credits: Trevor Hofmann
Photo credits: Porsche