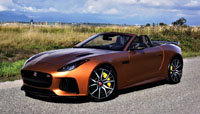 When choosing a sports car, plenty of variables come into play. Is it all about styling or performance? How does luxury enter the picture? Of course, hard numbers aside, these are subjective questions that can only be answered by an individual after contemplating personal preferences. We all have differing tastes, which is why so many competing brands and models exist.
While similarly powerful, a Porsche Turbo provides much quicker acceleration than the Jaguar F-Type SVR being reviewed here, and both are dramatically different through fast-paced curves, with the rear-engine German providing a wholly unique feel when raced side-by-side against the front-engine Brit, and most agreeing the former is more capable at the limit. Nevertheless, the Porsche Turbo is not necessarily more fun to drive.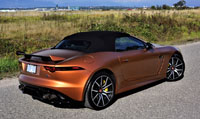 I've enjoyed many Turbos over the years, not to mention a plethora of other 911 models, and all have provided thrills aplenty. Likewise, for F-Type SVRs, having spent a week with 2018, 2019 and 2020 models, the first two coupes and the most recent a convertible. I tend to lean toward coupes more often than open air, mostly because the aesthetics of a fixed roof appeal to my senses. Still, there are a number of reasons I'd be pulled in the direction of this Madagascar Orange-painted F-Type SVR Convertible, the sound emanating from its tailpipes certainly high on the list.
Sure, the coupe provided an identical rasping soundtrack from the same titanium Inconel exhaust system, it was just easier to hear with the triple-layer Thinsulate-insulated cloth top down. Likewise, the source of the noise, Jaguar's 5.0-litre "AJ-8" V8, making 575 horsepower and 516 lb-ft of torque, has been stuffed between the SVR's front struts all along, but somehow it feels more visceral when accompanied by gusts of wind.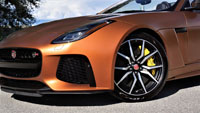 That's how I drove it throughout most of my sun-drenched test week, and while I was never tempted to see how stormy its interior would become with the throttle pinned for a 314 km/h (195 mph) top track speed test (322 km/h or 200 mph with the coupe), I certainly dabbled with its zero to hero claim of 3.7 seconds from standstill to 100 km/h in either body style.
Yes, I know this is a very "well-proven" engine (auto code for old), having been offered by Jaguar since 1997 in one form or another, but I could care less because it sounds so fabulous and delivers such scintillating performance, fuel economy be damned.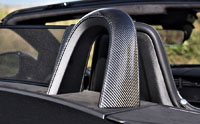 As for styling, the F-Type is eye-candy no matter which powertrain is chosen, Jaguar even offering an impressively spirited turbocharged four-cylinder in base trims. Of course, along with its sensational straight-line performance, the SVR provides more visual treats in the way of carbon fibre aero aids and trim.
The same goes for the interior, which offers a level of exoticism that sports cars in this class simply can't match. It's downright sensational, featuring perforated Windsor leather quilted into a ritzy diamond-style pattern on both the seat inserts and door panels, plus contrast-stitched solid leather on most other surfaces. Additionally, a rich psuede micro-fibre stretches across much of the dash-top, headliner and sun visors, while carbon-fibre and beautifully finished brushed and bright metalwork highlights key areas. The interior clearly appears British in look and feel, yet it's more modernist than steeped in parlour club tradition (i.e. there's no wood).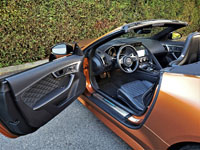 Jaguar infotainment has improved a lot with each new generation too, the F-Type not receiving a full digital cluster, but nevertheless boasting a big, colourful multi-information display between a gorgeous set of primary analogue gauges. It gets most of the functions found in the centre display, is easily legible and no problem to scroll through via steering wheel controls. Similarly, the just-mentioned centre display is a user-friendly touchscreen jam-packed with stylish high-resolution graphics plus plenty of useful features like a navigation interface with detailed mapping and simple directions settings, an audio/media page with satellite radio, a Bluetooth phone connectivity section, a graphically organized climate panel, an camera interface with many exterior views, an apps section with some pre-downloaded and available downloadable applications, and last but not least, Apple CarPlay and Android Auto smartphone integration.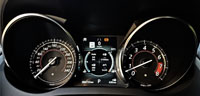 One more page not yet mentioned is the My Dynamic Setup interface that lets you set up your own individual drive system calibrations. What I mean is, after fine-tuning the SVR's engine, transmission, suspension and steering dynamics in order to suit outside conditions as best as possible, not to mention your mood, you can mix and match them as much as you like. For instance, you can go for snappier engine response and a quicker shifting transmission along with a more compliant suspension setup, which may be ideal for driving fast over the kind of rough pavement you might find in the types of rural settings that'll allow you to really open up the car's performance. For this reason, I'm not a fan of sport settings that automatically firm up the chassis, because a rock-solid suspension setup only works well when coursing over the kind of unblemished tarmac found on recently paved tracks, not real-world patchwork asphalt hack jobs.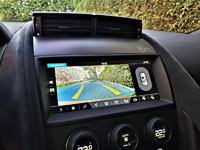 This is an apropos descriptor for the roads used when pushing my F-Type SVR Convertible tester near its limits, the car's unbridled power ideally matched to a particularly stiff, light and well-sorted aluminum body structure, chassis and suspension design. Steering response is quick and the rear wheels follow ideally, no matter how much I applied the throttle. Certainly, it was important to remain smooth, other than applying slightly more than needed when wanting to induce oversteer. The massive yellow calipers signify that Jaguar's available carbon ceramic brakes fill the SVR's 20-inch alloys, these being brilliant when it comes to quick stops in succession with barely any fade. Yes, this is a wonderfully capable roadster if you've got the confidence to push its limits, but I wouldn't say it provides the same level of high-speed control as a recent Porsche 911 Turbo. This means the Jag can be even more fun for those with performance driving experience.
I should mention here that Jaguar's 2020 F-Type SVR is a relative bargain compared to that just-noted 911 Turbo, the Brit starting at just $141,700 with its "head" fixed and $144,700 for the as-tested retractable fabric roof variety, compared to $194,400 and $209,000 respectively for the latest 2021 German variant. Granted, Porsche's performance alternative is quite a bit quicker as noted earlier, knocking a full second off its zero to 100 km/h sprint time, with the brand's Carrera S/4S models in the mid-three-second range. These start at $132,700, or in other words considerably less than Jag's F-Type SVR, but this is where I must interject (myself) by once again saying there's a lot more to a sports car than straight-line performance.
After all, a number of much more reasonably priced Ford Mustangs sprint into similar territory, while the new mid-engine Corvette dips into the high twos. I'm not comparing a 911 to a Mustang or even the 'Vette (although the latter car may be embarrassingly comparable to a number of mid-engine Italians), but hopefully you get the gist of what I'm saying. The F-Type SVR delivers an immense amount of premium-level style crafted mostly from aluminum along with phenomenal attention to detail, much made from high-gloss carbon fibre, plus a beautifully crafted interior, superb musical and mechanical soundtracks, and more to go along with its respectable muscle.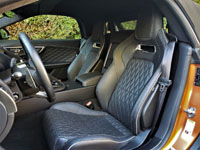 Better yet, a quick check of CarCostCanada's 2020 Jaguar F-Type Canada Prices page is showing up to $8,950 in additional incentives, which is one of the more aggressive discounts I've ever seen on this highly useful site (CarCostCanada provides members with rebate info, details on manufacturer financing and leasing, plus dealer invoice pricing that could save you thousands, via their website and the Apple Store and Google Android Store downloadable CarCostCanada app). The refreshed 2021 F-Type is already being discounted up to $6,000, incidentally, and while we're on the subject of the new model, there's no 2021 SVR yet. Instead, the updated 2021 F-Type R gets the same 575 horsepower V8 as the outgoing SVR, but don't just think it's a discounted SVR, as the significant $20,400 price reduction for the 2021 R Coupe and $20,800 savings for the 2021 R Convertible probably mean that much is missing from the top-tier package. No doubt Jaguar will introduce a more potent 2021 SVR soon, complete with all of its sensational upgrades, so we'll have to keep our ears to the ground for this one.
All said, the current 2020 Jaguar F-Type SVR is a fabulous offering from a brand that's steeped in sports car tradition, and well worth its very reasonable entry price. I've driven three in exactly the same amount of years, and have enjoyed every moment behind the wheel each time. For those with the means, I recommend it highly.
Story and photo credits: Trevor Hofmann
Photo editing: Karen Tuggay