Ask any auto scribe to name their top 10 cars and Volkswagen's GTI will likely show up somewhere on the list, or at least it did before this Golf R arrived.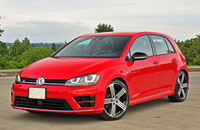 At first glance it doesn't look all that different, other than a few unique aero aids, 19-inch alloys, a quad of chrome-tipped tailpipes poking through a rear diffuser, and a big "R" badge on the liftgate, but VW's usual subtly (compared to Subaru's dinner table-sized WRX STI wing) masks a seemingly rally capable drivetrain boasting a 292 horsepower 2.0-litre four-cylinder engine with 280 lb-ft of torque (the same mill as used in the Audi S3 and TTS Coupe), a six-speed manual or dual-clutch automated transmission, and a sport-tuned version of Volkswagen's already capable 4Motion all-wheel-drive.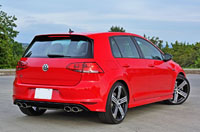 We test this quickest-ever Golf and fastest VW overall with the autobox, complete with standard paddles, and without giving much away ahead of a forthcoming review, its powertrain provides a more mature and refined delivery than, say, the immediate punch of the aforementioned WRX STI. Likewise its fully independent suspension is made for aging buttocks, pampering with standard adaptive dampers that offer three levels of comfort-oriented firmness.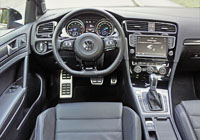 The R arrived for model year 2016 and therefore the 2017 model carries forward mostly unchanged except for standard blindspot monitoring, and standard Driver Alert, which pays attention to a variety of parameters and then recommends you take a break when you may be getting tired. The 2017 model also includes a Sport HMI display that provides performance details within the base 6.3-inch colour infotainment touchscreen (that also features a rearview camera), while the exterior paint palette has grown to include Limestone Grey Metallic.
You'd think this most potent Golf would be racier looking than the GTI inside, but in fact it's cabin focuses more on delivering a more mature (there's that word again) premium experience than luring in those easily swayed by flashy styling and glitzy gizmos. Its high (for a mainstream volume-branded compact hatchback) $40,695 base price might have something to do with its more luxury-oriented approach, the GTI with its more provocative interior and eye-grabbing exterior, replete with front fascia styling strakes, targeting a younger demographic with its more attainable $29,495 starting price.
Therefore, leather upholstered sport seats with light grey contrast stitching come standard with the R, as do piano black lacquered inlays with beautiful blue accent lighting on the doors. Additional sporting elements include a flat-bottomed leather-wrapped sport steering wheel, also with light grey stitching, a leather- and metal-adorned shift knob and leather boot (also contrast stitched), plus metal foot pedals with rubber grips.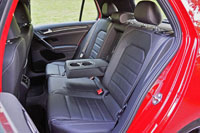 The only way to make the Golf R more practical would be to add a wagon variant, but so far VW hasn't responded to the ultimate wishes of its ardent niche five-door fans. Still, standard 40/20/40-split rear seatbacks maximize utility.
An optional Technology package adds a proximity-sensing 8.0-inch infotainment touchscreen that's one of the best in the biz thanks to Apple CarPlay, Android Auto, navigation, superb graphics, and quick operation, while dynamic cruise control, lane-keeping assist, and parking sensors are also part of the upgrade.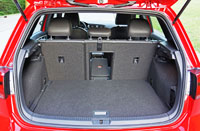 High demand makes sure the Golf R sells out long before any 2018s arrive, so it's good news that Volkswagen Canada managed to get their hands on more for the 2017 model year.
Make sure you come back soon to read the entire 2017 Volkswagen Golf R review…