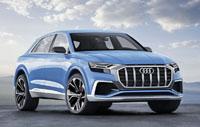 Audi already incorporates Android Auto and Apple CarPlay within its highly advanced MMI infotainment systems, but at this year's Google I/O developer conference in Mountain View, California the German brand offered the Android open source community's millions of members a new opportunity to share in the development of its next-generation in-car infotainment systems.
An Android HMI solution was already fully integrated within the new Audi Q8 sport concept on display at the Google I/O event, the stylish five-door SUV prototype having first been shown earlier in the year at the North American International Auto Show in Detroit on January 9. The question Audi had for show-goers was, how can the collective expertise of the Android open source community speed up development of future in-car apps?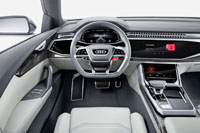 With seven thousand attendees taking part in the conference, plus millions worldwide involved over the internet, there was no shortage of forward-thinking minds contemplating all the possible applications for Audi's next-generation Android infotainment system.
The three-day Google I/O event is considered the largest and most important developer conference in the global software industry, so reason enough for Audi's involvement. Of interest to attendees would be the Q8 sport concept's technology platform, already infused with new Android-based apps like the Spotify streaming service, Google Play Music, and Google Assistant, which were all running on the vehicle's sizeable MMI touchscreen display atop the centre dash.
Of note, most infotainment system functions are also visible within Audi's innovative Virtual Cockpit, a fully configurable colour TFT primary gauge cluster positioned in the driver's direct field of view.
Marking the first time such services have been fully integrated within Audi's brand-specific infotainment system, its conventional in-house navigation route-guidance and mapping system now combines with Google Maps, allowing those more familiar with the internet-based system to use it instead. The new Q8 concept's infotainment setup also includes a message centre for incoming SMS messages, emails and calls.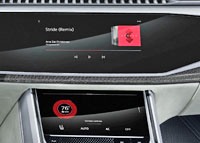 According to Audi, the seamless integration of Android offers great potential. Android is now the most popular mobile platform globally, with more than 1.4 billion active users. Servicing that platform is an open Android community that's deep in expertise and creativity, and therefore capable of quickening new application development. Due to on-board Wi-Fi, such new applications could immediately be integrated within any new vehicles' infotainment system. Additionally, update cycles could be made considerably shorter, plus the diversity of services much wider, and international availability more prevalent.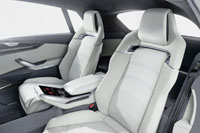 Aligning with the makers of the most popular smartphone and tablet operating systems only makes sense, being that in-car infotainment is becoming increasingly important in the sale of new cars, some younger buyers choosing their cars partially because of the electronics within. Familiarity to a car's infotainment interface while on the test drive, including the ability to use it in the same ways as their smartphone or tablet, could make or break the sale of a new vehicle, as well as owner satisfaction once that sale is completed and the customer is in the "getting to know you" stage.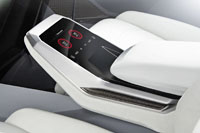 Turning to Android's open source philosophy for future infotainment development is in sharp contrast to Audi rival Lexus and its parent company Toyota, which have eschewed both Android Auto and Apple CarPlay in place of their own proprietary systems dubbed Enform and Entune respectively. The latter two systems could very well succeed, but electronics history is littered with proprietary failures like Sony's Memory Stick that was thwarted by SD cards, the same Japanese brand's Beta videotapes replaced by VHS, and the list goes on.
Refreshingly, Audi sees a different type of fully connected mobility, where people can "pursue any activity they want in the car of the future." Audi hopes that its "integrated Android system will enable them to use the entire world of smartphone apps in the car," which certainly makes a lot of sense to us.
To learn more, check out two videos that show the new Audi Q8 Concept along with some impressive detail of its ultra-advanced Android-based infotainment system. The short version runs for just 50 seconds, whereas the second video runs for 8:30, with the in-depth infotainment demo beginning at 6:35: