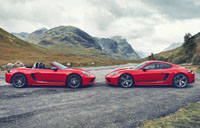 Up to this point Porsche has offered its 718 Cayman coupe and 718 Boxster roadster in base, S and GTS trims, but soon its most affordable line of sports cars will arrive with a new "T" designation, which promises performance purists less of what they don't want and more of what they do. 
Specifically, 718 Cayman T and 718 Boxster T buyers will get more performance features in a car that costs and weighs less. Starting with the base model's 2.0-litre turbocharged four-cylinder boxer engine, good for 300 horsepower and 280 lb-ft of torque, T models add a short-throw shifter, a mechanically locking differential and Porsche Torque Vectoring (PTV) in base six-speed manual guise, or the Sport Chrono Package as standard equipment for seven-speed dual-clutch automated PDK cars, the latter resulting in 0.2 seconds of extra jump off the line from a car that's already 0.2 seconds quicker than the manual.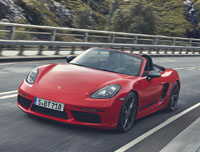 Also notable, the Sport Chrono Package includes Launch Control and a "push-to-pass" style Sport Response button in the centre of the steering wheel-mounted driving mode switch, making it the transmission of choice when ultimate performance is paramount. 
To clarify more fully, straight-line performance with the manual remains the same as the regular 718 Boxster and 718 Cayman at 5.1 seconds from standstill, while PDK-enhanced cars increase their zero to 100km/h sprint times from 4.9 to 4.7 seconds, identical to the base 718 models. Likewise, both base cars' top speeds continue into T trim unchanged at 275 km/h.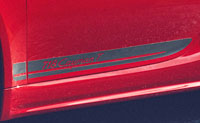 Additional standard go-fast goodies in T trim include Porsche Active Drivetrain Mounts (PADM) that incorporate dynamic hard and soft gearbox mounts for reducing vibration and even improving performance, claims Porsche, plus a sport exhaust system, unique high-gloss titanium grey-painted 20-inch five-spoke alloy wheels, and a first for the base turbo-four, the Porsche Active Suspension Management (PASM) electronic damping system that, depending on the Normal, Sport, Sport Plus or Individual driving mode selected, instantly adjusts for road surface conditions and driving style changes, all riding on a 20-millimetre lower ride height. 
Making a visual statement is a grey side striping package featuring scripted "718 Cayman T" or "718 Boxster T" nomenclatures, and Agate grey mirror caps to match the aforementioned wheels, plus black chrome tailpipes. 
Inside, the 718 Boxster T and 718 Cayman T are upgraded with a GT sport steering wheel, scripted "Cayman T" or "Boxster T" logos highlighting the black instrument dials, gloss black instrument panel inlays and centre console trim, special red paint for the gear shift pattern atop the shift knob, two-way powered seats, seat upholstery featuring black Sport-Tex centre sections, embroidered "718" logos on the headrests, plus the most identifiable addition of all, black mesh fabric door pulls in place of the usual door handles, which can be changed for optional coloured pulls as seen in associated photos.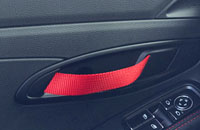 When checking the gallery you may also notice something missing from both cars' instrument panels, their Porsche Communication Management (PCM) touchscreens that have been removed to reduce weight, and replaced by a big, gaping hole Porsche calls a "large storage compartment." We won't see this omission in Canada due to a new regulation that made backup cameras mandatory as of May 2018.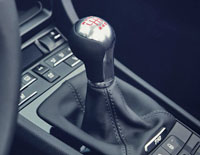 For this reason we shouldn't hold out any hope for Canadian-spec 718 T models to be offered at five- to 10-percent discounts when compared to the current base Cayman and Boxster when outfitted with identical features, as promised in European markets, but we should get to choose from the same standard and optional colour palette that will include black, Indian Red, Racing Yellow, and white at no extra charge, plus optional Carrara White, Deep Black and GT Silver metallic hues, as well as somewhat pricier Lava Orange and Miami Blue special colours.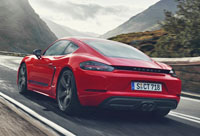 If you like what you see, make sure to contact your local Porsche dealer to reserve your very own 718 Cayman T or 718 Boxster T, because special models like these are in the habit of selling out quickly. 
Also, make sure to check out our full photo gallery above and these three Porsche-supplied videos below (the third one is the most fun):
The new Porsche 718 Boxster T and 718 Cayman T. Welcome to life. (1:17): 

The new Porsche 718 Boxster T and 718 Cayman T. First Driving Footage. (1:49):

JP Performance Test Drive: The Porsche 718 T Models. (1:08):