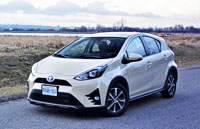 In case you hadn't heard, the Prius C was discontinued as 2019 came to a close, with no 2020 models being built. There are still 2019s available, albeit in short supply, plus plenty of low mileage demos and pre-owned examples (I searched across the country and found the majority of new ones in the GTA and greater Montreal areas), while the model's highly efficient hybrid electric drivetrain plus many of its other components will continue being produced into the future for a number of alternative Toyota models.
Toyota is currently offering Prius C buyers factory leasing and financing rates from zero percent, plus all of the examples I found were heavily discounted, while on top of these two reasons it's also an excellent subcompact runabout, all making a review of a 2019 model relevant despite being so far into the 2020 calendar year. I also want to say goodbye to a car that I particularly like. I consider its loss a step backwards for those of us who appreciate highly efficient small cars that are still plenty of fun to drive.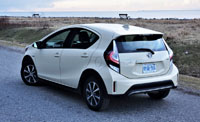 To be clear, the Prius C never reached the enjoyment levels of Toyota's fun-loving Echo Hatchback RS, the modern interpretation of that 2004–2005 classic being another Canadian-exclusive hatch (with respect to North American markets at least), the now discontinued albeit still available 2019 Nissan Micra, but I liked it more than the current automatic-equipped Yaris. The older Echo Hatch and current Micra are very close dimensionally, but take note the Yaris (which was the Echo Hatchback's replacement for 2006) has grown considerably in size and weight (after two generations) since its comparatively simple predecessor.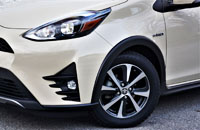 The Prius C actually shares its Toyota B platform architecture with the Yaris, but this said its measurements are slightly different. Specifically, the Prius C's 2,550-millimetre (100.4-inch) wheelbase is 40 mm (1.6 in) longer than the Japanese automaker's conventionally powered subcompact hatch, and its 4,059-mm (159.8-in) length makes it a significant 114 mm (4.5 in) longer from front to rear. What's more, the Prius C's 1,715-mm (67.5-in) width puts it at 20 mm (0.8 in) wider, while its 1,491-mm (58.7-in) height sees it lose 9 mm (0.3 in) from the base of its tires to the tip of its rooftop.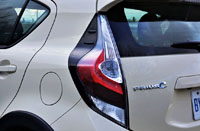 Of course, due to the C's well-proven Hybrid Synergy Drive powertrain that not only consists of a 1.5-litre Atkinson-cycle four-cylinder internal combustion engine (ICE) with variable valve timing and an exhaust heat recovery system, which probably weighs something close to the 1.5-litre four in the outgoing 2019 Yaris Hatchback (the new 2020 Yaris Hatchback is a rebadged Mazda2 that's otherwise unavailable here), but also adds a 19-kWh nickel metal-hydride battery, a 45kW (60 hp) electric motor, and an auto start/stop system (that shuts the engine off when it would otherwise be idling and automatically restarts when lifting off the brake), all of which increase this small car's weight significantly.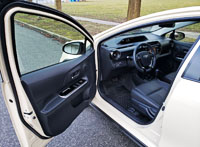 A similarly equipped 2019 Yaris SE 5-Door Hatchback with its antiquated four-speed automatic hits the scales at just 1,050 kilos (2,335 lbs), compared to 1,147 kg (2,529 lbs) for the Prius C, resulting in 97 kg (214 lbs) of extra mass, while its 99 net horsepower rating (the combination of a 73 horsepower ICE and the aforementioned electric motor) is slightly down on the regular Yaris' 106 horses, yet the electric motor's 125 lb-ft of instant torque, combined with the ICE's 82 lb-ft of more latent twist, plus the lack of mechanical drag from the Prius C's continuously variable transmission, more than makes up for its increased girth.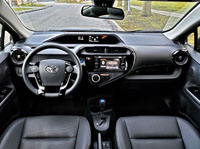 Yes it took me a while to get back here, but the Prius C is fun to drive. Its acceleration is surprisingly energetic and its chassis feels just as nimble as the Yaris thanks to a battery that sits quite low, while I'd say the hybrid's ride quality is even better. It's a refined little subcompact, with a relatively quiet interior even at highway speeds, and pretty decent comfort over rough inner-city alleyways.
It would be wrong to complain about the fuel economy with either of these cars, the Yaris Hatchback auto plenty efficient at 7.9 L/100km in the city, 6.8 highway and 7.4 combined, but the Prius C's 5.1 L/100km rating, no matter where it's being driven, is superb.

Toyota updated the Prius C for the 2018 model year, and I really liked the changes made to a vehicle that already looked good. Compared to the radical styling of its older, bigger brother, the reworked C is a bit more conservative, including redesigned front and rear fascias plus new LED headlamps, LED taillights, updated wheel covers and optional alloys, whereas the interior received a new steering wheel, updated primary gauge cluster, and a revised centre stack. The updated infotainment system included a standard backup camera, this necessary to comply with then-new Canadian regulations that mandated the technology for safety reasons.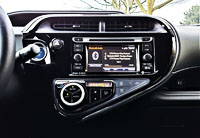 Safety in mind, the updated hybrid included Toyota's Safety Sense C suite of advanced driver assistive systems as standard equipment, incorporating automatic high beams, pre-collision warning, and lane departure alert. Additionally, the standard Prius C airbag count is nine instead of the usual six, whereas a direct tire pressure monitoring system became part of the base package.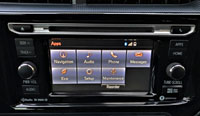 Features in mind, Toyota dropped the Prius C's base model for 2019 and pushed the price up from $21,990 to $22,260 plus freight and dealer fees, but for just $270 they added everything from the previous year's $900 Upgrade package that included a plush synthetic leather instrument panel, premium upholstery, additional driver seat adjustments, cruise control, two more stereo speakers for a total of six, a rear centre console box, and a cargo cover, to an already generous supply of standard gear including power-adjustable heatable side mirrors, a tilt and telescopic steering column, steering wheel controls for the audio and HVAC systems, a 4.2-inch in-cluster multi-information display, single-zone automatic climate control, a 6.1-inch colour touchscreen infotainment interface, Bluetooth connectivity, an outside temperature gauge, and more.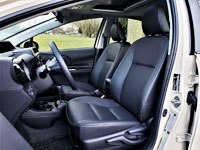 When searching around for new models still available for sale I noticed a nice mix of both trim levels, by the way, the Technology model I tested swapping out the base 15-inch steel wheels with covers for a nice set of 15-inch alloys, and the premium cloth seats as replaced with Toyota's Softex breathable leatherette upholstery, while additional Technology upgrades include LED fog lamps, proximity-sensing keyless access with pushbutton ignition, Touch Tracer controls on the upgraded synthetic leather-clad steering wheel, a navigation system with detailed mapping, advanced voice recognition, Gracenote connectivity, satellite radio, heatable front seats, a powered moonroof, and more. The Prius C Technology starts at $27,090, which is an increase of just $140 from last year, representing great value for a hybrid. Factoring in the discounts I saw while cruising the interweb, the zero percent financing Toyota is offering, and any other manufacturer rebates available, snapping up a Prius C while you can makes good sense.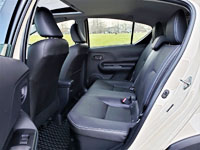 By the way, I found out about the financing rate and pricing at CarCostCanada, where trims, packages and individual option pricing is itemized on most every car available in Canada, plus manufacturer rebate info, financing deals and even dealer invoice pricing that gives you the edge when it comes time to negotiate your deal.
The car that likely killed the Prius C is the all-new 2020 Corolla Hybrid that starts at a very reasonable $24,790, and is inarguably a better vehicle. Then again if you really need a hatchback Toyota will be happy to sell you its larger 2020 Prius, its starting price not too much higher at $28,550 and now available with eAWD, whereas a 2020 Prius Prime plug-in can be had for $32,990, this model qualifying for some governmental rebates. The Camry Hybrid continues into 2020 as well, available from $31,550, while Toyota's electrified crossover SUV lineup includes the recently redesigned 2020 RAV4 Hybrid from $32,350, and the all-new 2020 Highlander Hybrid from $45,490.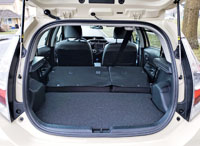 Yes, even without the Prius C they've probably got hybrids covered pretty well, although a new RAV4 Prime plug-in will arrive later this year for 2021, while the visually challenging Mirai fuel cell electric, which ended production last year, will arrive this fall with attractive new duds and other upgrades.
As for finally coming to market with a plug-in battery electric vehicle (BEV) like Nissan's popular Leaf, in June of last year Toyota announced an ambitious plan to include 10 new models worldwide arriving over the first half of the 2020s, all based on a single e-TNGA platform. By 2025 the automaker says that all models will include an electrified variant (at least a hybrid).
Until then, it might be a good idea to grab a great deal on a 2019 Prius C. It's an excellent little car with impressive fuel economy, good refinement, a roomy interior, and Toyota's unparalleled reputation for building dependable hybrids.