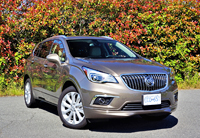 If the new 2017 Envision looks like a Buick that might have been envisioned a few years ago, complete with a chromed waterfall grille and "ventiports" atop the hood, there's a good reason. It was actually a two-year old model when it arrived here late last year, having initially only been available in Buick's largest market, China.
It hails from GM's very successful SAIC General Motors Corp., which manufactures and sells Buick, Chevrolet, and Cadillac brand vehicles in Mainland China, a Shanghai-based venture that first produced the Buick Regal in 1999 and has since resulted in one of the most formidable U.S.-Chinese corporate partnerships. Those paying attention to all things Buick have likely heard stories about nicer, more opulently trimmed models available in China that couldn't be had here in North America, so it's nice to see some of the fruit from this relationship finally heading our way in the form of this very impressive new compact SUV.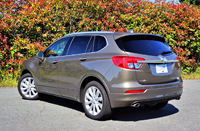 Yes, the Envision is produced in SAIC-GM's Shanghai facility and then shipped here, which only makes me wonder why it took so long. Certainly they could've picked a better year to do it, with President Trump's anti-offshoring rhetoric and all, but the U.S.' bombastic new commander in chief seems more twitterpated with "unfair" Canadian trade practices than anything the Chinese might be doing. Of course, I digress as usual, but in the case of anything Buick related, a "Made in China" stamp makes perfect sense.
After all, if it weren't for the Chinese market there wouldn't be a Buick today, which means our friends across the Pacific deserve all the jobs this once solely domestic brand can allow for. If it were up to the North American market, we'd be wandering through show 'n shine shows on Sundays telling our kids about this great tri-shield brand that made now legendary nameplates like the GNX/Grand National, Riviera (how I love anything from 1963–1965), Roadmaster (especially the Skylark), or the Model 40, but now this history is still part of a brand that teases us with new dream cars like the fabulous Avista and Avenir concepts, just like the Y-Job did to our forefathers. Yes, if it weren't for the Chinese market Buick would likely be history along with Pontiac and Oldsmobile.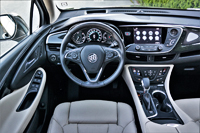 To be completely clear, global Buick deliveries were 1,432,679 units last year, beating its previous best year ever (2015) by 200,698 for a 16.3 percent increase. Can you guess how many of those sales were from the U.S. and Canada? The world's largest vehicle market accounted for just 229,631 Buick deliveries during the 12 months of 2016, whereas Canadians purchased just 19,053, no doubt many sold to new Canadians of Chinese descent (or at least that's what my local dealer tells me). So on behalf of all classic automobile brand lovers, thank you China for saving another storied American brand from elimination. Now, can you please do something about Chrysler before it's too late?
While the 2017 Envision might not be the newest looking SUV on the block, or within Buick's ranks for that matter, it is ideally positioned in the market to push Buick's North American sales up considerably. The compact luxury SUV segment is Canada's third largest category amongst premium brands, just behind D-segment cars (sedans, coupes and convertibles) and mid-size SUVs, but it's one of the fastest growing and therefore represents the greatest opportunity. This is especially true for Buick that's a virtual no-show in the D-segment with Regal at 841 units in 2016 compared to BMW 3 and 4 Series at 12,217 or Mercedes' C-Class at 9,954. It did better in the mid-size SUV class last year with 3,632 sales compared to the bestselling Lexus RX' 8,147, and to its credit owns the subcompact premium SUV category with 4,765 sales, but its Encore is priced nearly $10k lower than its closest competitor so it's not really a true premium player there.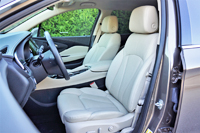 The Envision is, however, in both its pricing that starts at $40,295 plus freight and fees, which is square in the middle of the premium pack (and a lot lower than GM Canada initially targeted), and its standard and available feature set. As for build quality you'll need to come back and read my review for the pros and cons, and believe me I won't hold back.
My tester is equipped in full load Premium II trim, which means its equipped with almost everything Buick can throw at it, except some obvious options that should have been added to optimize the experience. That's no fault of the vehicle, the Envision an SUV worthy of mixing it up in the premium crowd, but I can only imagine the folks in Oshawa didn't want any of us journos to gripe about a price tag that rubs up against $60k when optioned out (its fully equipped MSRP is $56,825 before freight or dealer fees). Still, do so with most of the Envision's competitors and you'll face similar sticker shock, or considerably more if it's European-sourced, which makes this Buick a more value-oriented premium compact SUV, and reason enough for strong early sales.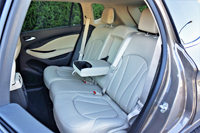 A total of 1,208 Envisions left GM dealer lots over the first five months of 2017. That's pretty good for a newcomer, the compact Buick already outpacing Jaguar's 1,118 F-Pace sales during the same period, or for that matter the Land Rover Discovery Sport's 979 units, Lincoln MKC's 975, Infiniti QX50's 777, or Volvo XC60's 559—although these last two long-in-tooth models will soon be replaced. Onward and upward for Buick, the Envision already seventh out of 12 competitors, and it's only getting started.
Come back for my full review when I'll cover all the detailed, including performance from its optional 2.0-litre turbocharged four-cylinder that puts out 252 horsepower and 260 lb-ft of torque. All Envisions get a six-speed automatic with manual mode, but this more potent powerplant benefits from a torque vectoring rear differential and 19-inch alloys to aid handling, while the rest of the Premium II upgrade list is long and plentiful. Stay tuned…