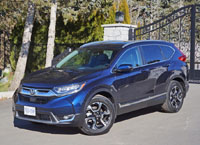 What's the best-selling SUV in Canada? It's not the Honda CR-V, but falling short by only 506 units at the close of calendar year 2018, representing less than one percent of total sales, must have been a hard pill to swallow when the Markham, Ontario-based automaker's sales and marketing teams departed for their New Year's Eve celebrations last year.
Honda sold 54,879 CR-Vs to Toyota's 55,385 RAV4s through 2018, the race for top spot on the compact SUV podium having always been heated; Honda actually led every year before Toyota took over in 2015. After Q3 of 2018, Honda was once again ahead with 41,023 CR-V deliveries to 41,023 RAV4s, but weaker than expected Q4 sales must've only made the finally result burn all the more.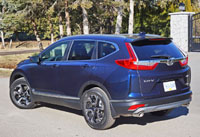 Just in case you're wondering, rivalries like these are gladiator-level sporting bouts to automakers, and Honda versus Toyota in the compact sector is the equivalent of the Yankees vs the Red Sox, Packers vs the Bears, the Lakers vs the Celtics, Frazier vs Ali, and yes, the Bruins vs the Canadiens, or the Habs vs the Leafs for that matter, we are talking about the Canadian market after all.
Unfortunately for Honda the 12th month of 2019 won't be a nail-biter, the deep sales chart divide between RAV4 and CR-V starting to look a lot like Civic's lead over Corolla in the compact car segment. Toyota's all-new fifth-generation RAV gained 19.68 percent for 61,455 deliveries over the first 11 months of the year, whereas the CR-V's 3.99-percent growth, while impressive for a vehicle three years into its lifecycle, has only resulted in 53,218 year-to-date unit sales.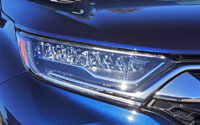 The CR-V should do even better next year thanks to an edgy 2020 refresh (although a downturn in the overall market could dictate otherwise), updating its grille and front fascia with a sportier look that includes a deeper front apron with larger lower intakes, but it's hardly a wholesale change so any uptick won't be dramatic.
All said few compact SUVs are as good as this 2019 CR-V Touring. I've recommended Honda's entry in this class more than any challenger, including Toyota's, although the new RAV4 is superb. Still, there's a level of solidity to the CR-V's build quality that few in this category can match, the lack of hollowness when the doors are slammed shut, the higher end soft-touch composites found on more interior surfaces, the satisfying near silence hardly heard when the rear seats are effortlessly laid flat via cargo wall-mounted levers no less. It's not the best cabin in the segment, Mazda's near premium CX-5 Signature taking that title, but with just 26,587 examples sold so far this year despite a 4.7-percent gain, the CR-V wins the game that matters most.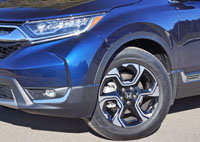 Along with interior quality that's at least second in the segment, the CR-V might come closer to actually leading in overall comfort. Of course, the way a front seat and steering column fits a given driver will vary depending on body type, but my longer legged, shorter torso frame really likes the CR-V. Its tilt and telescopic steering column reaches farther rearward than most others, and the Touring model's 12-way powered driver's seat provides ample adjustment for near optimal comfort and control. Yes, the CX-5 still beats the CR-V in this test, the Mazda allowing me to set my seat up comfortably while resting my wrist overtop the steering wheel rim, which wasn't possible with the CRV, this setup recommended for best-possible control with hands placed at the 9 and 3 o'clock positions. Still, the CR-V Touring's four-way powered lumbar support was sublime for meeting the small of my back and would likely work for yours as well, Toyota's premium Lexus brand not even offering this on some of its models, and Mazda not doing so either.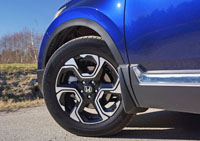 The 12-way powered driver's seat comes standard in CR-V Touring trim, and does with mid-range EX and EX-L trims as well. Honda divvies up the CR-V five ways for 2019, including LX-2WD and LX at the bottom end, with pricing for the front-wheel drive model starting at $27,690 and the first all-wheel drive trim from $30,490. Moving up through the line, all remaining trims coming standard with Honda's Real Time AWD, an EX can be had for $33,990, the EX-L from $36,290, and this Touring model for $39,090 (plus freight and fees throughout the line).
Of note, along with its refresh the 2020 CR-V gets a significant $1,000 base price bump that allows the entire Honda Sensing suite of advanced driver assistance systems to become standard on the entry-level LX-2WD model. Forward collision warning was already standard with the base 2019 model, so the new standard additions (currently found on all AWD-equipped 2019 CR-Vs) include autonomous collision mitigation braking, lane departure warning with lane keeping assist and road departure mitigation, automatic high beams, and adaptive cruise control with low-speed follow.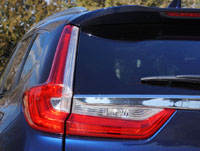 Together with all of the usual active and passive safety features expected the North American markets, the upgrade should help the new CR-V hold onto its IIHS Top Safety Pick status at the very least. In order to achieve the coveted IIHS Top Safety Pick "+" rating it'll need to upgrade its standard headlamps from projector-beam halogens to HIDs or LEDs with cornering capability. Currently Honda achieves "Marginal" and "Acceptable" headlight ratings depending on trim, with LED low- and high-beam headlights only available with my tester's top-line Touring trim (and soon Black Edition trim too), while it gets best-possible "Good" marks in every other category except for "LATCH ease of use" where it only receives an "Acceptable" rating.
By comparison, the RAV4 achieves the highest Top Safety Pick + status because one (or some) of its trims get a "Good" headlight rating, although its lesser trims only manage "Marginal" and even "Poor" rankings for their headlights, so the IIHS is say that in the real world they may not even work as well as the CR-Vs. To be fair to Toyota, this is a strange result being that the brand fits all RAV4 trims identically with its new parabola LED headlamps, only adding halogen fog lights to mid-range trims and a set of LED fogs to top-tier models, and there's no mention of fog lamps in the IIHS data.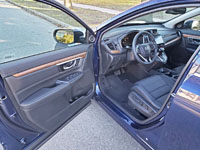 While chasing after safety ratings might now seem like a fool's errand (it certainly can be with J.D. Power ratings), no one should question the benefit of adding Honda Sensing features to its base model and keeping them standard throughout the rest of the range, and speaking of the rest of the range the new 2020 model replaces this year's EX with a new Sport trim that's also priced $1,000 higher, while Honda ups the EX-L's window sticker by $1,500 and adds $2,000 to this Touring trim for 2020. Lastly, Honda tops off the 2020 CR-V line with a new $42,590 Black Edition that adds some darkened chrome trim as well as black-painted alloys, plus it's only available in Crystal Black Pearl or $300 optional Platinum White Pearl exterior paints.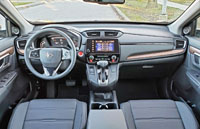 Other than some minor interior modifications the 2020 CR-V should mostly be like this 2019, and while I'd normally recommend snapping up an end-of-year 2019 in order to get a better deal (and there are certainly some left), the savings aren't as notable as with most other brands. While there's the obvious savings right off the top, as noted by the 2019 to 2020 price increases that range from $1,000 to $2,000 depending on trim, CarCostCanada is only showing up to $1,000 in additional incentives for the 2019 model if purchased at the time of writing (December 17, 2019), compared to the same $1,000 for the 2020 model.
Also, CarCostCanada members are only saving an average of $1,869 when purchasing either model, which while hardly an insignificant amount, doesn't make going back a model year worthwhile. Your best bet is to get your CarCostCanada membership to find out about all available manufacturer rebates and dealer invoice pricing before negotiating your best deal, and then compare the two models at a Honda retailer before buying.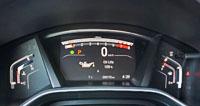 Being that both 2019 and 2020 CR-V Touring (and new Black Edition) trims should be similar as far as materials quality and refinement go, I feel safe recommending both even though I haven't even sat in the 2020 model. On that note, while I've already mentioned my tester's Touring trim offered higher end composites found on more interior surfaces than most competitors, I've yet to say exactly how it's nicer inside. Its dash top and front door uppers are made from soft-touch synthetic panels, the latter finished in very nice stitched leatherette.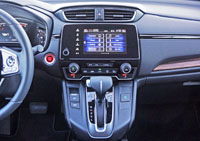 This mirrors the surface treatment found on the instrument panel, which is one of the more attractive in its class due to the same faux leather stitched down the middle, yet bisected with a glossy piano black lacquer inlay. Additionally, this Touring model's imitation hardwood gets a nice matte finish, plus a fairly realistic looking grain and solid feeling dense composite in behind. It's some of the best fake wood I've ever seen, and while not as impressive as the aforementioned CX-5 Signature's authentic hardwood, the imitation stuff suits Honda's environmental stance well, even though Mazda's wood is reclaimed.
Now that I'm talking CX-5, that model's top Signature trim beats the CR-V Touring in a couple of ways, particularly another soft-touch door upper in back, fabric-wrapped A-pillars, and a 40/20/40-split rear seatback that even includes two-in-one release levers on the cargo area side wall. Honda was one of the first to provide auto folding seatback levers, noted earlier, but its 60/40 split-folding rear seats are nowhere near as accommodating for active lifestyle families that want to stow longer cargo, such as skis, down the middle while rear passengers enjoy the more comfortable window seats (and neither is the RAV4's rear row). When rear outboard seat heaters are added, these included in most rivals' top trims including the CX-5's Signature (and GT) model, the RAV4 Limited, and this CR-V Touring (plus the EX-L), you'll also be mitigating potential petitions from wet, cold kids wanting the only heated rear window seat left (I can hear the whining now).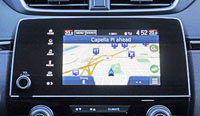 In the CR-V's corner is a cargo floor that can be moved up or down about three inches to provide more height for taller items or meets up with the front portion of the load floor when laid flat, and those seats really do lay flat, at least much more so than the previous generation CR-V did, which had a big hump in the middle and was therefore not as accommodating as some of its peers. A retractable cargo cover sits right behind the rear seatbacks, and can be easily removed, although you'll need to store it somewhere on the load floor or on the rear passenger's floor, which may get in the way of your kids' feet. The new RAV4 provides a spot to neatly store its cargo cover underneath the load floor, which I think is a very smart idea and not wholly unusual amongst SUVs. If you try to do likewise below the CR-V's cargo floor (believe me I tried), it won't lay flat (ditto for the CX-5, although my tester didn't even have a cargo cover).
As for cargo capacity, the CR-V clearly wins with 1,110 litres of dedicated volume and 2,146 litres maximum with the rear seats folded, compared to 1,059 and 1,977 litres respectively for the RAV4, or 875 and 1,687 litres for the CX-5.
Speaking of space, there's no shortage for front or rear occupants, with the driver's position already covered at length, and the latter resulting in about 10 inches from my knees to the driver's seat's backside when it was set up for my long-legged five-foot-eight frame, plus more than enough room to completely stretch out my feet under the front seat's frame. I also had more than enough headroom and side-to-side space, even with the nice thick centre armrest folded down, while the outboard rear seatbacks provide good lower back support, and the buttons for their aforementioned warmers are most conveniently placed on panels ahead of the door armrests, right next to the power window switches.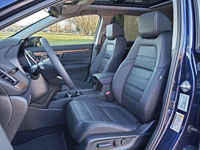 Two USB-A charging ports can be found on the backside of the front console, dual cupholders within the centre armrest, and bottle holders in the lower door panels. With soft-touch rear door uppers and 40/20/40-split rear seatbacks, or at least a centre pass-through, it'd be near perfect.
Back up front, the CR-V Touring's nicely shaped leather-wrapped steering wheel provides a little heater button on its left side spoke to ease cold winter mornings, while both spokes' switchgear is beautifully done, matching up nicely with the mostly digital instrument cluster the rim frames. The centre stack gets a fixed touchscreen up top, the display seamlessly set within a gloss-black surrounding surface and, other than a rotating power/volume knob replete with touch-sensitive controls. While it looks massive when the ignition is turned off, press the engine start/stop button (a proximity-sensing key fob gets you inside too) and an average-sized 7.0-inch high-resolution monitor lights up within.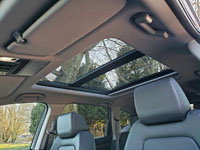 Being top of the line navigation was included, and its route guidance was reliably accurate. The maps and other infotainment graphics are attractive, the colours and depth of contrast good, and the system's overall functionality, ease of use, and response to input impressive, while the audio system includes all the usual suspects such as AM, FM, satellite radio, USB input, iPod, Bluetooth streaming, while your smartphone can be connected via Android Auto or Apple CarPlay too. On top of this, the CR-V includes HondaLink and the ability to download various apps, while the backup camera includes dynamic guidelines to help you ease your way into a parking spot, these not included in the top-line CX-5.
Another CR-V bonus is an overhead sunglasses holder with a built-in rearview conversation mirror, helpful for keeping an eye on your kids or chatting with the parents, something easy to do in an SUV that was primarily created for comfort over speed. That's not to say the CR-V's sole 1.5-litre, direct injection, 16-valve, DOHC, turbocharged four-cylinder engine is by any means sluggish, its 190 horsepower and 179 lb-ft of torque more than adequate for spirited performance off the line, although it's a bit down on the RAV4's 203 horsepower and 184 lb-ft, and quite a bit off the top-line Ford Escape's 245 horsepower and 275 lb-ft of torque (although the base Escape only makes 168 hp and 170 lb-ft).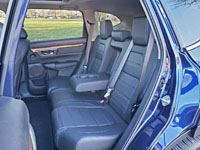 Suffice to say the CR-V's acceleration is strong enough, and its continuously variable transmission (CVT) is inherently smooth if not remotely sporty. The RAV's eight-speed automatic provides a more connected feel, albeit like the CR-V lacks paddle shifters, while upper-crust versions of the CX-5 are sportier due to paddles, yet the Mazda's six-speed gearbox doesn't earn points from a marketing or fuel economy perspective. Top line trims of Ford's new 2020 Escape will probably get the most performance kudos for mixing paddles with an eight-speed auto, plus even more power than just noted.
Of these four the CR-V is the most efficient around town and thriftiest overall when powering all wheels, its claimed rating being 8.4 L/100km city, 7.0 highway and 7.8 combined with FWD and 8.7, 7.2 and 8.0 respectively with AWD. Comparatively only the RAV4 with FWD is better, but merely on the open road with an estimated rating of 8.8 city, 6.7 highway and 7.8 combined, whereas the same SUV with AWD is rated at a respective 9.2, 7.1 and 8.3. This said Toyota offers a RAV4 Hybrid that ekes out a best-in-class 5.8 city, 6.3 highway and 6.0 combined, which even makes the CX-5's new turbo-diesel rating seem ho-hum at 8.9 city, 7.9 highway and 8.4 combined.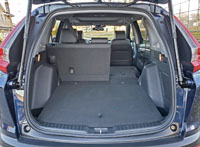 Yah, that's not very impressive for a diesel despite including AWD, as it doesn't even match the CR-V and RAV4's AWD ratings. The CX-5's other fuel economy numbers are all slightly less impressive than the diesel, ranging from 8.5 to 8.8 combined city/highway with FWD trims and 9.0 to 9.8 with AWD, whereas the Escape is hardest on fuel amongst these top sellers, with combined ratings of 9.1 for the FWD model, 9.9 with AWD, and 10.2 L/100km for the much more powerful version.
While the CVT is an obvious positive for fuel economy, its noise at higher revs is a negative. Common with this type of transmission, the engine can drone when getting hard on the throttle or traveling at high speeds, a factor that's not present with the others just mentioned, but taking off more smoothly from standstill and maintaining more moderate speeds makes it a good match to the CR-V's turbocharged engine.
That said, when comparing overall quietness the new RAV4's cabin comes across like a two-stroke engine in a steel drum next to the CR-V. The new Toyota is easily one of the noisiest compact SUVs I've driven to date, although before Honda gets its head swollen with pride they could still add some more sound deadening material to the CR-V's front firewall in order to exorcise a few of its nattering gremlins away.
Comfortable refinement is king in this class after all, and to that end the CR-V's ride is sublime and handling more than capable through fast-paced curves. It gets a fully independent MacPherson strut front and multi-link rear suspension setup that's as good for navigating inner city traffic as it is for cruising the highway, its only crime being a tendency to lean hard when pushed hard through tight corners at high speeds. Those wanting more performance may want to once again look at the CX-5, which delivers much more engaging maneuverability at high speeds, yet provides a similarly comfortable ride despite being shod in 19-inch alloys compared to the CR-V Touring's 18s. To each his own, however, and to that end Honda's faithful have spoken loud and clear.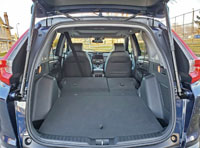 The CR-V is a comfortable, practical family hauler, which is exactly why it sells so well. I can't say I'd recommend it over every competitor, at least before understanding the priorities of the would-be buyer, but it does most everything more than well enough, has a reputation for dependable quality, and holds its resale value well. In fact, it took top spot amongst car-based compact crossover SUVs in the Canadian Black Book's 2019 Best Retained Value Awards, was similarly honoured in the "Compact Utility" category of ALG's 2019 Residual Value Awards, and as far as overall value goes, won its "Compact SUV/Crossover" class in Vincentric's 2019 Best Value in Canada Awards. Need I say more? Probably not.