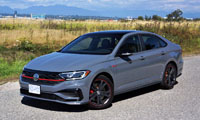 Honestly, other than being rare compared to Honda Civics, Toyota Corollas, Hyundai Elantras and Mazda3s, and therefore something different to take notice of, the new Jetta never really caused me to do a double take. It's attractive in an inoffensive way, the new grille a bit more daring than the previous model's horizontal slats, but compared to the initial artist's renderings that came out ahead of the real deal in 2017, and photos that followed, it comes across a bit watered down in the metal. The new Jetta GLI, however, is a different story. In fact, I find this car quite attractive, and I'm willing to guess it might even pull eyeballs toward less expensive trims.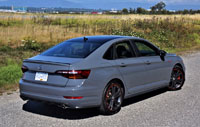 As with all GLI models thus far, the Jetta's chrome exterior detailing has been blacked out and splashes of red added across the grille and uniquely around the outer edges of the wheels that frame big red brake calipers, plus of course the discreet GLI badges front and back, while now it now gets a set of thin, blade-like garnishes on each front fender that also feature a "35" designation as part of this 35th anniversary edition. Those otherwise grey-painted twinned-five-spoke 18-inch wheels were shod in 225/45 Hankook Kinergy GT all-season tires, not the even sportier 19s found on a Golf R, but they were still sticky enough when pushed hard.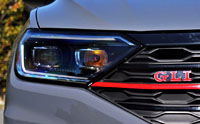 Before delving into performance, other notable GLI trim pieces include a strip of glossy black edging along the top portion of the grille, plus more shiny black detailing around the lower fascia's corner vent bezels, overtop the mirror caps, on the front portion of the roof as well as the rear third section, connecting the larger sunroof panel in the middle so it all looked like one clean sheet of dark glass, and lastly for the tastefully discreet rear deck lid spoiler. It's a really attractive car from front to back, and more importantly for me, the type of compact sport model that a mature driver doesn't feel out of place driving.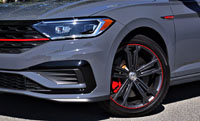 Inside, nicely bolstered, inherently comfortable perforated leather seats with red stitching and nicely patterned inserts simultaneously look sporty and luxurious, and therefore exactly what Volkswagen fans should expect, while the steering wheel is performance perfection. It features a slightly flat bottom and ideally shaped thumb spats, plus red baseball-style stitching around the inside of the leather-wrapped rim. Volkswagen continues the car's red performance theme with more red thread on the leather shifter boot, the centre armrest, the "GLI" portion of the "GLI 35" seat tags, plus the same logo on the embroidered floor mats and stainless steel treadplates.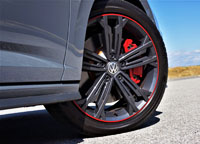 Of course, there's plenty of satin-silver aluminum around the cabin too, the aforementioned steering wheel featuring more than its share, foot pedals aside, plus plenty on the centre stack and lower console as well. Some faux carbon-fibre trim and inky piano black surfacing adorns the dash and upper door panels, the former completely soft to the touch thanks to a premium-level rubberized composite along the entire top and ahead of the front passenger, with the latter finished similarly to the front door uppers, as are the door inserts and armrests.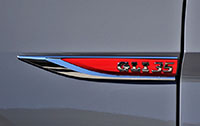 All of this sounds great, but I'm going to guess most eyes will be pulled more quickly towards the fully digital gauge cluster, which boasts an Audi-like Virtual Cockpit design dubbed Digital Cockpit in VW-speak. Like in the pricier German brand's cars, the GLI's Digital Cockpit features a "VIEW" button on the steering wheel that turns the gauge package into a multi-function display, even capable of placing the centre-mounted infotainment system's navigation map directly in front of the driver where it's most needed. It can do the same with most functions, making it one of the most impressive electronic features available in the mainstream volume-branded sector.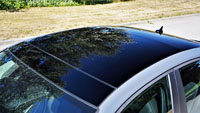 The just-noted centre display is a large eight-inch touchscreen featuring premium-like high-definition resolution, plus brilliant graphics with rich colours and contrasts, and like the gauge cluster it comes loaded with functions like tablet-style tap, pinch and swipe features, Android Auto, Apple CarPlay, and Mirror Link for integrating your smartphone, audio, navigation, app, driving mode and fuel-saving eco interfaces, plus a performance driving component with a lap timer and more.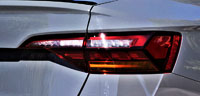 I was surprised, however, that active guidelines weren't included as part of the rear parking monitor, especially in this top-tier trim, and my tester even included the $995 ($1,005 for 2020) optional Advanced Driver Assistive Systems (ADAS) package featuring a multi-function camera with a distance sensor. This bundle also includes Light Assist automatic high beam control, adaptive cruise control with stop and go, Front Assist autonomous emergency braking, Side Assist blind spot monitoring with rear cross-traffic alert, and the Lane Assist lane keeping system.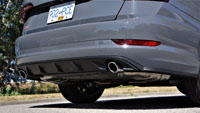 Just below is a three-dial dual-zone automatic climate control interface that looks good, is easy to use and functions well, plus along with three-way heatable front seats that can be controlled from this panel as well, are three-way ventilated cushions for making summer months more bearable. Just one powered and infotainment-connected USB-A port hangs above a rubber-based wireless device charger, which is big enough for the largest of smartphones, all of which tucks in behind the gearlever and its U-shaped collection of switches, including an electromechanical parking brake, buttons for turning off the traction control and auto stop/start system, plus a driving mode selector that lets you choose between Eco, Comfort, Normal, Sport and Custom settings.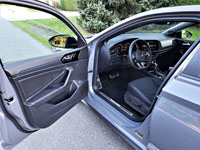 Just above, a sunglass holder sits in the overhead console, the latter also housing switchgear to open the large powered moonroof that includes an attractive opaque fabric sunscreen with an aluminum front section that looks especially upscale.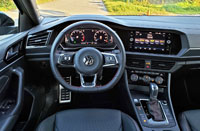 This said the GLI, which at $32,445 for the manual-shift model or $33,845 for this DSG-equipped version, doesn't exactly come cheap, so much is expected as far as fit, finish, materials quality and general refinement goes, but if you were to spend some time in any Golf GTI, for instance, and then decide you needed a trunk instead of a hatch to mitigate security risks, per se, you just might be disappointed. To be clear, the entry-level Golf GTI starts at $30,845, which is $850 less than the $31,695 base Jetta GLI, but the Mexican-built hatch pulls the fabric-wrapped A pillars already standard in less expensive Golfs up to the sportier variant, unlike the any Jetta, which are built alongside the Golf at VW's Puebla, Mexico assembly plant as well, while all the plastic below the waist, and some of the chest-height surfaces are pretty basic hard composites.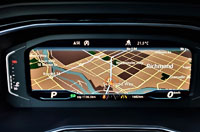 Yes, I know the Jetta is a compact model, but now that competitors from Japan and Korea are delivering much higher materials quality, particularly top-line versions of the new Mazda3, Toyota Corolla and even Kia's Forte that I drove just before this GLI, and factoring in that VW used to offer the most premium-like cabins in the mainstream volume-branded sector, this Jetta GLI was a bit of letdown. The new Forte comes in a sporty GT trim now, by the way, which competes directly with this GLI, yet unlike its rival from VW, the Kia's inside rear door panels are finished with the same high-quality soft-touch detailing as those up front, while the German brand didn't even bother including a padded insert at all, and instead formed its door panel solely from hard plastic, making its rear compartment one of the least appealing to look at or touch in this class or any.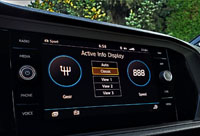 Heatable outboard seats were a nice feature, but the interface surrounding the buttons used to turn them on was as low-rent as you're likely to see in this segment. The seats themselves were nice, thanks to the same red-stitched perforated leather as those up front, and nicely carved out bucket-style outer positions that should hold rear passengers in place during spirited driving. A fairly large flip-down rear armrest gets a pair of cupholders integrated within (or is that a trio?), but unlike previous Jettas there's no centre pass-through for stowing skis or other long cargo. Instead, when needing to expand on the dedicated cargo area's already generous 510 litres, the 60/40 split-folding rear seatbacks will force one of the rear passengers into the less comfortable centre position. This is mostly par for the course in this class, however, it's just that VW stood out before, and still does when opting for a Golf.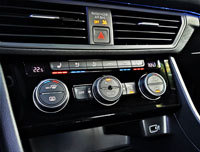 Volkswagen more than makes up for such shortcomings with the GLI's on-road experience, however, this sport sedan being one of, if not the most engaging entry within its mainstream volume compact four-door segment. The 228 horsepower 2.0-litre turbo-four puts out plenty of torque at 258 lb-ft (up 18 hp and 51 lb-ft of torque over its predecessor), resulting in some difficulty keeping the front wheels from spinning during spirited takeoff (if it was only available, VW's 4Motion all-wheel drive would help in this respect), while the new seven-speed dual-clutch automated gearbox feels even quicker through the paddle-actuated gears than the old six-speed DSG, albeit with the added benefit of a taller final gear for improved fuel economy (9.3 L/100km city, 7.2 highway and 8.4 combined for the as-tested auto or 9.6, 7.3 and 8.5 respectively for the manual) and (theoretically) a higher top speed.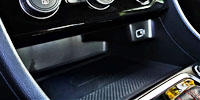 Ripping off zero to 100km/h in 5.8 seconds it's one quick Jetta, while Sport mode really adds to the experience. It's nothing like the Golf R or equivalent super sport compacts such as Subie's WRX STI or (RIP) Mitsu's EVO, but it respectably puts otherwise sporty alternatives like Mazda's 3 GT to shame in a straight line, and even makes the once-mighty Civic Si seem as if it's dawdling off the line. Wheel slip during takeoff aside, the Jetta GLI proved unflappable through high-speed corners, even when broken tarmac threatened to upset the rear end, but thanks to a fully independent suspension with a multilink setup in the rear, a move up from the regular Jetta's comparatively remedial torsion-beam rear suspension. Instead, the inside rear suspension absorbed the jarring pothole and ensuing thump with ease, allowing the tire's sizeable contact patch to maintain full traction and hook up as I exited the corner. Try that in a regular Jetta and things might get very out of shape, not to mention the Mazda3 I noter earlier (although I must say the Japanese compact manages such situations surprisingly well and combines AWD with its own G-Vectoring Plus to make up for some of its torsion-beam shortcomings).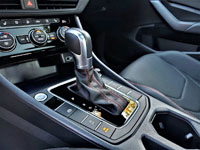 This said, back more pedestrian speeds (or rather while stopped during parking manoeuvres), I experienced something that's never happened to me before. When I came to a stop to park the auto start/stop system automatically cut off the engine, which is not unusual in itself, but when I quickly decided to reverse so as not to be park too close to the car in front of me the engine wouldn't restart when in reverse. I had to shift it back into "P" and then dab the throttle in order to reignite the engine, at which point I could shift back into reverse to back up. Very strange. It worked perfectly through the rest of the week, mind you, as did the entire car.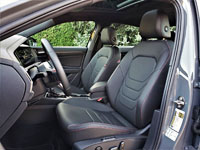 The aforementioned $32,445 (manual) and $33,845 (DSG) base prices meant the 2019 GLI 35 is nicely equipped, with features not yet mentioned including fog lights, LED headlamps, proximity-sensing access with pushbutton ignition, rain-sensing wipers, an auto-dimming rearview mirror, a formidable eight-speaker BeatsAudio system with a sub, a powered driver's seat with two-way power lumbar and three-position memory, plus more. This feature set and all previously noted equipment remains intact for 2020, by the way, so therefore those that find a new 2019 are basically buying the same car for less.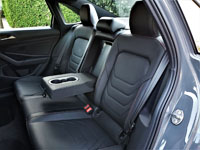 This in mind, take note that VW Canada is offering up to $3,000 in additional incentives on 2019 models that were still available at the time of writing, while the new 2020 GLI, which as just-noted is unchanged other than for the loss of this 35th Edition (for obvious reasons), can be had with up to $1,000 in additional incentives, although average CarCostCanada (where the following information was found) member savings were $2,500 for the 2020. Check out CarCostCanada's 2020 and 2019 Volkswagen Jetta Canada Prices pages to learn about available manufacturer rebates, leasing and financing specials, and dealer invoice pricing that could save you even more, plus make sure download the free CarCostCanada app from the Google Play Store and Apple iTunes store.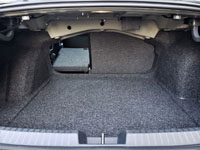 Although the latest Jetta doesn't exactly light my fire in lesser trims, this new Jetta GLI is a step ahead in many respects, particularly when it comes to styling, straight-line performance and interior electronics. I'd like to see VW improve some of the materials used inside for a more refined cabin, but this probably won't bother you too much while driving anyway, unless you're trying to impress someone riding in back. Then again, at least your father-in-law will appreciate the comfort of the GLI's independent rear suspension, excellent seats and decent legroom while he's complaining about all the cheap plastic.
Story and photo credits: Trevor Hofmann
Photo Editing: Karen Tuggay