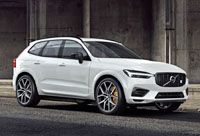 An explanation for the uninitiated: "Polestar Engineered" is like Mercedes' AMG or BMW's M brands, but for Volvo. 
Yes, once staid and conservative Volvo has not only become a lot more dynamic in recent years, but also has a performance division. Polestar was born and bread in motorsport, just like its German counterparts, and having already provided an assortment of go-fast models in previous generation S60 and V60 models, is now doing the same with Volvo's updated lineup.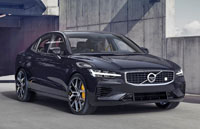 "At Volvo Car Canada, we are very excited about the addition of the new Polestar Engineered products in our portfolio," said Alexander Lvovich, Managing Director, Volvo Car Canada Ltd. "Polestar always played a special role in the Volvo business in Canada, as in the last 2 years we achieved one of the highest levels of Polestar optimized product sales in the world. We plan to fully capitalize on this upcoming opportunity to strengthen both Volvo and Polestar brands in Canada."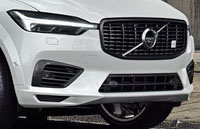 Its most recent project was based on the 2019 Volvo S60, but the S60 T8 Polestar Engineered (as it was called) sold out before most of us even knew it existed. Now we have word from Volvo Canada's Richmond Hill, Ontario office that new Polestar Engineered variants of the V60 sport wagon and XC60 compact crossover SUV are on the way for the 2020 model year, which should cause those in the know to get pretty excited.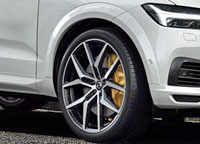 For starters, the new Polestar Engineered duo are once again based on Volvo's turbocharged, supercharged and electrified T8 Twin-Engine Plug-in Hybrid AWD powertrain, which is sport-tuned to make 415 horsepower and 494 lb-ft of torque, 15 horsepower and 22 lb-ft of torque more than the regular T8 powertrain. 
Thanks to software updates, torque arrives earlier making throttle response quicker for more immediate response to input, while more of that twist targets the rear wheels for greater performance feel. To be clear, along with the boosted 2.0-litre four-cylinder, the T8 drivetrain combines an electric motor at each end of the vehicle for a total of two, while its battery pack is fed in both traditional hybrid form and via plug.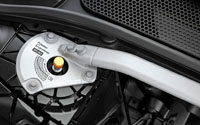 Along with the handling benefits of a rear-wheel bias, performance will be further enhanced via an Öhlins-produced strut bar under the hood to aid body rigidity and allow for "more precise and responsive control," says Volvo in a press release, while the Swedish-based suspension technology brand also designed adjustable dampers for the new models, featuring dual flow valves that respond "quickly to road imperfections."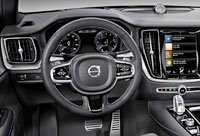 Additionally, traditional Polestar gold-coloured six-piston Brembo calipers add stopping power, while lightweight 19-inch forged alloy wheels, unique on all three Polestar Engineered S60, V60 and XC60 models, have been designed to provide freer cooling to those upgraded brakes. 
Polestar Engineered models don't receive the same level of visual stimulation as their aforementioned German competitors, which may help them slide under the radar both figuratively and literally, with styling enhancements including a high-gloss black grille, extended wheel arches, black chrome tailpipes, plus "discreet" Polestar badges front and back.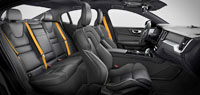 Following a similar theme inside, the two Polestar models will get a special leather-clad sport steering wheel and shifter, metal mesh aluminum inlays, plus signature gold seatbelts over unique charcoal-coloured Nappa leather and "open-grid" textile upholstered seats. 
The V60 T8 Polestar Engineered and XC60 T8 Polestar Engineered will arrive as early 2020 models this summer, so if interested make sure to let your local Volvo retailer know.