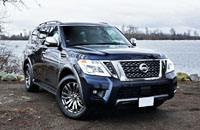 If you've ever traveled to some of the less developed regions of the world, from parts of Africa and Middle East to Central and South America plus much of Asia, Nissan's Patrol is part of the landscape. It's a regular sight on 24-hour news channels as a vehicle of choice in troubled war-torn areas too, albeit painted white with big UN decals on each side, the rugged Nissan SUV capable of going just about anywhere. In fact, in most other jurisdictions the Patrol is as legendary as Toyota's Land Cruiser, but for reasons unknown it's never been imported to North America, until recently that is.
If you haven't already seen one, meet the Nissan Patrol, a.k.a. Armada. In my second home of Manila, Philippines (actually Antipolo, a suburb just east of the city core), the previous generation is still sold as the Patrol Super Safari, whereas this more luxurious version is dubbed Patrol Royale. Most other markets merely sell the new Patrol in various states of trim, just like we do under the Armada nameplate.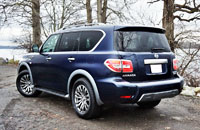 Our previous Armada was based on the first-generation Titan pickup truck, which meant it was built at Nissan's Canton, Mississippi production facility instead of Yukuhashi, Japan, where the new one has been fabricated alongside Infiniti's version, dubbed QX80, since 2016. To be clear, the current sixth-generation Patrol has been around since 2010, when the Infiniti version arrived on our market as well, while previous Patrols date back to 1951. For this reason I believe Nissan missed an opportunity to rebrand the Armada as the Patrol here in North America, which would have allowed it to tie 65 years (now 67) of heritage into its marketing efforts, but alas they never asked for my opinion.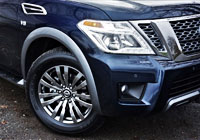 In similar fashion I can only speak for myself by saying I not only like the looks of the new Armada more than the outgoing model, but also prefer its tougher more truck-like design to the ritzier, more refined QX80. Then again this sentiment changes depending on the day of the week as I quite like both, but on the whole I tend to lean toward rugged, utilitarian styling in my SUVs, rather than elegance. To each ones own, but at least my preference saves money.
The 2018 Armada starts at just $64,998 compared to $75,650 for the 2018 QX80, and while there's plenty to justify the $10k and change requested for the premium-branded utility, the Armada is nothing to scoff at. This is especially true with my top-line $74,998 Platinum Reserve tester that comes pretty close to matching lower-end QX80s as well as other premium SUVs.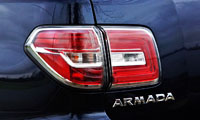 Platinum Reserve trim is new for 2018, last year's highest echelon of Nissan SUV goodness being the Platinum that I also reviewed here. This "Reserve" badged Armada differentiates itself by adding a stealthier dark chrome to the grille, side mirror caps, door handles, and wheels for a richer look overall, while the interior gains attractive two-tone leather upholstery featuring unique square-quilted perforated inserts and orange contrast stitching on the bolsters, headrests, armrests and most everywhere else leather is applied, as well as authentic looking and feeling matte open-pore woodgrain in key areas around the cabin, not to mention second-row captain's chairs surrounding a padded centre console trimmed in the same realistic faux wood, black lacquer and leather. It's certainly a premium experience, and more so than the majority of its competitors.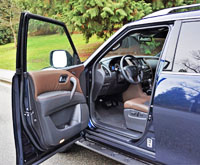 Weaknesses? The tiny monochromatic multi-information display between the analogue dials of the otherwise attractive primary gauge cluster needs updating, while some of the switchgear could be criticized for being a bit dated in design. Still, it's all very well put together, the composite materials quite dense and solid feeling, the damping near perfect, with no sloppy wiggle at all for any of the buttons or knobs. Speaking of those rotating controllers, they're all beautifully finished in metal, some even knurled around their edges for an elegant look and easy grip.
My tester was finished in a beautiful Hermosa Blue metallic contrasted by a lovely Black/Brown cabin motif, but this in mind exterior alternative colour combinations are few with just Superb Black and Pearl White next to the same charcoal and chocolate interior theme, which makes sense in a market as small as ours. Then again, the 10-times-larger U.S. market only adds Forged Copper that we dropped last year, with no additions to interior colourways.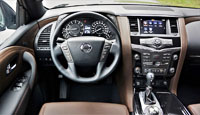 Speaking of our small market (which set a record for growth last year, instead of falling backward like auto sales did in the U.S.), I was surprised to learn that a total of 1,105 Armadas drove off Nissan Canada dealer lots last year, which puts the SUV up a shocking 54.3 percent from calendar 2016 to 2017. Only Chevy's Tahoe, GMC's Yukon, and Toyota's Sequoia saw gains over the same 12 months, but their respective 1.6-, 15.7- and 8.3-percent growth paled in comparison to the Armada's, while the Chevy Suburban and Ford Expedition actually lost ground by 3.5 and 14.1 percent apiece.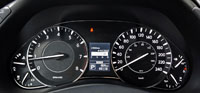 Some could argue the Armada only had one way to go, up, because its sales are significantly lower than the domestic producers, with Ford still number one despite its tumble to 3,204 units, Chevy's collective Tahoe/Suburban sales of 3,110/2,096 at 5,206, and GMC's Yukon/Yukon XL deliveries of 3,514/2,788 totaling 6,302 units (basically GM clobbered everyone in the mainstream volume-branded full-size SUV segment with 11,508 units), but Nissan nevertheless sold 350 more units than its Japanese rival, leaving Toyota dead last.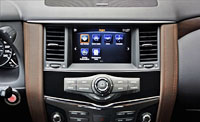 I'm going to guess the majority buying into this class go full load, or at the very least buck up for $71,498 Platinum trim with respect to the Armada. Most everything that comes standard with the Platinum gets raised up to Platinum Reserve trim as well, which means it gets double-stitched leather door trim, heated and ventilated front seats, Nissan's new Intelligent Rear View Mirror (more on that in a moment), lane departure warning with mitigating assist, blindspot intervention, a rear entertainment system with dual 8.0-inch monitors, a DVD player, remote, two wireless headphones, and audio/video input jacks, plus more.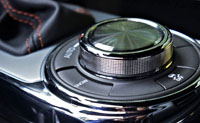 This all comes on top of an SUV that could easily pass as a premium model thanks to standard features like 20-inch alloys, signature-enhanced LED headlamps, fog lights, power-folding, auto-dimming, heated side mirrors with integrated turn signals and puddle lights, remote start, proximity access, pushbutton ignition, adaptive cruise control, rain-sensing wipers, a power-adjustable steering column, a heated leather-wrapped steering wheel, an auto-dimming rearview mirror, a HomeLink garage door opener, dual-zone auto climate control, rear air conditioning with second-row controls, an 8.0-inch infotainment touchscreen with a 360-degree surround parking monitor featuring Moving Object Detection (and even a front camera that provides multiple viewpoints), navigation with detailed mapping (that was perfectly accurate each time I used it), SiriusXM NavTraffic and NavWeather, 13-speaker Bose audio, satellite radio, a household-style 120-volt AC power outlet, a powered glass moonroof, front and rear parking sensors, 10-way powered driver's and 8-way powered front passenger's seats with lumbar support, memory for the driver's seat, steering wheel and side mirrors, leather upholstery, wood-tone trim, heated front and second-row outboard seats, a powered liftgate, a (very handy yet painfully slow) powered 60/40-split third row, and much more.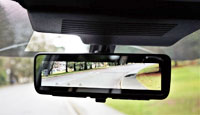 Some standard features not yet mentioned that are new for 2018 include a totally revised infotainment interface design that's more graphically appealing, plus it now includes NissanConnect services, enhanced voice recognition, hands-free text messaging, and there's now a total of four USB ports throughout the cabin.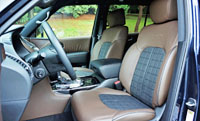 Additionally, the Intelligent Rear View Mirror I mentioned earlier can either be used as a regular mirror or a rear-facing camera capable of providing obstruction-free visibility out the back. This is a first in an SUV from a non-luxury brand, and it works well for the most part. Then again it makes cars appear much closer than they really are. For instance, you'll only see the roof of a small compact car if it pulls up behind you at a stoplight, making it seem as if it's parked underneath your bumper.
I'd like to see Nissan rework the Intelligent Rear View Mirror to help when hooking up a trailer, as towing is the Armada's forte. The big SUV comes standard with a tow hitch receiver as well as a seven-pin wiring harness plus trailer brake pre-wiring, allowing up to 3,855 kilos (8,500 lbs) of towing capacity thanks to its substantive girth and the beefy 5.6-litre V8 under hood, which makes a sizeable 390 horsepower and 394 lb-ft of torque.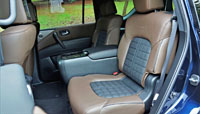 It launches quickly off the line due in part to low initial gearing of its seven-speed automatic, while shift lever-actuated manual mode provides a modicum of sportiness. Still, fun as it is to stomp on when taking off and immediately reactive when all four wheels bite into tarmac, gravel, dirt, sand, or just about any other type of ground surface, the Armada is more about comfort than sport.
It truly has a nice ride, which isn't uncommon amongst premium truck-based SUVs due to their long suspension travel and deep tire sidewalls. The Armada is designed to be comfortable when rock crawling after all, so it's hardly upset by minor pavement irregularities. In fact, it tracks well around fast-paced corners, not as brilliantly as the QX80, but adeptly enough. It's an SUV you can drive fast without worrying too much about its tall, obviously high centre of gravity, but you'll probably want to keep this in check for more than just safety reasons.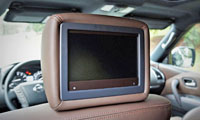 Digging too deeply into the throttle may impact your fuel budget more than you'd like, as its 17.5 L/100km city, 12.8 highway and 15.4 combined five-cycle Transport Canada rating is sobering to say the least. Still, it's friendlier on regular unleaded than the Sequoia and similarly powered GM SUVs, with only the less potent GMs and Ford's turbocharged V6-powered Expedition providing a substantial gain in efficiency.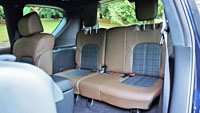 I'm going to guess that comfort is more important to Armada buyers than fuel economy, and to that end its front seats are wonderfully accommodating and thoroughly supportive while I had no trouble adjusting them, along with the powered steering column, for an ideal driving position. Part of the Armada's advantage is a near unparalleled view over surrounding traffic. Visibility is great for rear passengers too, while the second-row captain's chairs provide comfort that neared those up front, plus more room in every direction than I needed to measure. Likewise the third row is accommodating, providing ample legroom, headroom and width, yet was a bit limiting for foot space, which means the Armada can carry seven as configured or eight in lesser trims.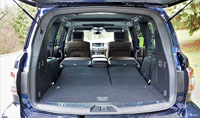 Likewise you can load it up with most of life's gear thanks to 470 litres (16.6 cubic feet) of cargo capacity behind the third row, 1,494 litres (49.6 cubic feet) behind the second row and 2,692 litres (95.1 cubic feet) when both rear rows are laid flat, plus additional storage can be found under the load floor. The Armada might be the ultimate camping companion, not to mention the perfect choice for hitting the hardware store after dropping the kids off at school.
Ok, it's neither the largest in its class nor the most versatile, but it's one of the most luxurious from a mainstream volume brand and one of the best performers, while this year's enhanced infotainment system and other updates will help extend its shelf life a little longer. The Armada is also one of the best values when comparing full-size SUVs feature for feature, which is just one more reason you should consider it.