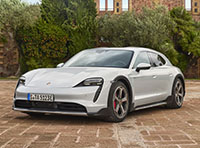 Although some automotive brands struggled last year for reasons I shouldn't need to explain, Porsche's Taycan EV was on a mega roll. In fact, the upstart electric nearly demoted Tesla's Model S from the top step of the podium, but when the checkered flag finally waved at the end of 2020, the champ was still in the lead with 960 deliveries, although the new contender was uncomfortably close with 824 sales of its own.
This said, six months into 2021 the story completely changed, with Porsche having sold 445 new Taycan models, and Tesla only able to push 300 examples of its Model S out of company store doors over the same two quarters.
To be fair to Tesla, or maybe more accurately to question the company's priorities, the Model S, at nearly a decade old, is downright antiquated compared to the fresh, new Taycan. Good on them for making the most of a very well executed initial design that's managed to last the test of time, the flagship model still arguably more attractive than anything else in the California-cum-Texan tech company's four-model lineup, but even Tesla's most ardent fans must be hoping for something new in this class.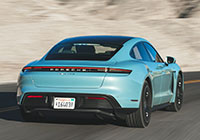 The Taycan, on the other hand, is that "something new" that EV fans have been waiting for, a two-bodied, four-door coupe and five-door crossover-style sport wagon capable of duking it out with the best electrics in the business, and coming up on top.
You'd be hard pressed to find someone who doesn't like the way it looks, while its levels of luxury, refinement, electronics, and features are all as good as it gets, but Porsche might need to return to Germany's legendarily demanding 20.8-km Nürburgring Nordschleife racetrack in order to claim its production car single-lap title back, where the geriatric Model S just laid waste to its EV-powered record.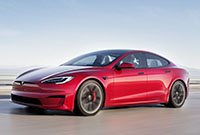 A stock Taycan Turbo (funny name for an EV, we know) easily smacked down the old 2015 Model S P85's single-lap record of eight minutes and 50 seconds flat (8:50) in August of 2019, with a superb seven-minute and 42-second lap time of its own (7:42.34, to be exact), but Tesla's brilliantly named Model S Plaid (you've got to love Elon Musk's hilarious "Spaceballs" reference—as if the 1987 sci-fi comedy's Ludicrous speed wasn't fast enough) just managed a new record-setting lap of seven minutes and 35 seconds (7:35.579) on September 9, so Porsche will want to "run the 'Ring" in its new Taycan Turbo S in order to maintain bragging rights.
Fortunately for Porsche, more buyers are interested in how the Taycan performs on city streets, winding backroads and highways than racetracks, not to mention styling and everything else it does well, evidenced by its recent sales gain. As for its ability to hold onto this top spot, only time will tell, but upcoming Q3 sales results will shed new light on this exciting new rivalry, allowing a better idea of which EV will outshine the other over the entire year.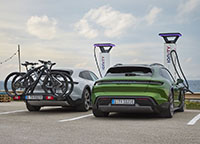 The just-noted Taycan Turbo S is capable of sprinting from zero to 100km/h in a mere 2.8 seconds, by the way, before attaining a top track speed of 260 km/h, or when driven more conservatively can achieve a total range of 340 km between charges. That model starts at a cool $215,000 (plus freight and fees), while the more accommodating Taycan Turbo S Cross Turismo can be had for $218,000.
The most affordable Taycan, at $119,900, is also from the Cross Turismo line, and given the 4 designation for its standard all-wheel drivetrain, while the least expensive regular four-door coupe, dubbed Taycan 4S, will set you back at least $121,700. Additionally, a Cross Turismo in 4S trim can be had for $128,000, while bridging the gap between 4S and Turbo S is the Turbo model that ran the 'Ring, starting at $175,000 for the four-door coupe and $178,000 for the Cross Turismo.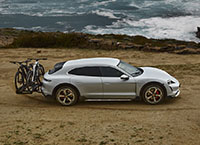 To find out more about the latest Taycan, check out CarCostCanada's 2022 Porsche Taycan Canada Prices page, where you'll be able to learn how to take advantage of factory leasing and financing rates from zero percent, not to mention the ability to obtain valuable dealer invoice pricing information that could save you thousands upon purchase. Likewise, CarCostCanada's 2021 Tesla Model S Canada Prices page will show you the same zero-percent leasing and financing rate, which you can also access by downloading CarCostCanada's free app from the Google Play Store or Apple Store.
Story credits: Trevor Hofmann
Photo credits: Porsche