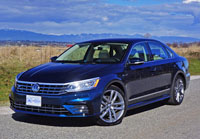 I love it when an automaker makes my job easy. For 2019, which has actually been a stopgap model year for Volkswagen's Passat before the current version gives way to the second-generation of this special North American-built car, it only comes in one fully loaded Wolfsburg Edition trim line, which certainly reduces my need for research. Now I can focus more on the fun stuff, like styling, interior design and quality, how comfortable it is, what it's like to drive, and so on.
It's been around since 1972 in some form or another, arriving to North American markets a year later. Named Passat in Europe since inception, the initial Giorgetto Giugiaro-designed Audi-esque four-door fastback and wagon were dubbed Dasher here, and then Quantum for its similarly four-ring inspired second generation. The B3 finally took on the Passat nameplate, but as much as I liked that car, especially in 2.8-litre VR6 form, and the B4 that followed, the 270 horsepower 4.0-litre W8-motivated B5 with all-wheel drive was my personal favourite, and amongst the first Passats I got to know as a fledgling automotive scribe back in the early aughts.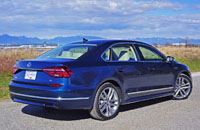 That's when VW rivalled Audi for performance and interior refinement, the unabashedly bold Phaeton luxury sedan showing up the following year with 335-horsepower V8 and 420-horsepower W12 powerplants plus $96,500 and $126,790 base prices respectively, and soon after that the 309-horsepower Touareg V10 TDI delivering a mind-blowing (for the time) 553 lb-ft of torque. Back then Volkswagen came closer to premium status than any other mainstream volume brand, and while today's VW-badged vehicles still provide some upscale features not often offered amongst rivals, such as minimalist design, fabric-wrapped roof pillars (but only the A-pillars now), fully digital high-definition primary instrument clusters, and rear seat centre pass-throughs (or even better 40/20/40-split rear seatbacks), soft-touch surfaces are unfortunately less common, plus key switchgear is often hollow and cheap feeling, and chassis' aren't always fully independent (the new Jetta once again uses a torsion beam rear suspension, unlike the mostly IRS-equipped cars it competes against).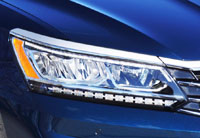 It certainly looks nice in this lovely Tourmaline Blue Metallic paint, one of six standard exterior colours available this year, including the usual white, black, grey and silver shades plus gorgeous Fortana Red Metallic, while the sportier R-Line exterior trim package comes standard this year, as do auto on/off LED headlamps with LED daytime running lights, LED taillights, and a stylish set of silver-painted twin-five-spoke 19-inch Salvador alloy rims wrapped in 235/40 all-season tires, and that's just what we can see on the outside.
It looks downright rich inside, thanks to my tester's beautiful cream-like Cornsilk Beige cabin motif (the interior comes in black and grey too, depending on exterior colours), with the dash top, door uppers and carpets done out in black for contrast. The horizontally ribbed leather seats look completely high-end, while splashes of textured metal, brushed aluminum and chrome are tastefully applied, as is de rigueur piano black lacquered plastic surface treatments on the superbly crafted steering wheel's spokes, on the centre stack surrounding the infotainment and HVAC interfaces (albeit the latter not quite as impressive due to loose, wiggly knobs), continuing down to the lower console, and glitzing up the rear seating area vent panel on the backside of the front console, which also houses a USB-A charge port and three-way rear outboard seat warming buttons.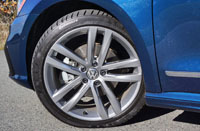 Heatable rear seats and all of the high-end features already mentioned in a $32,995 mid-size sedan? That's right, it's a pretty decent deal made even better thanks to a $2,000 no-questions-asked discount right off the top, which is an end of the model year, goodbye, so-long, don't let the door hit you on your way out kind of send-off to a model that's served its purposes relatively well over the past nine or so years. You can learn all about this rebate and any other available savings by visiting CarCostCanada, and while you're there make sure to read up on dealer invoice pricing that makes it easier than ever to get the best deal possible.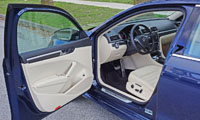 Additional standard features include proximity-sensing keyless access with pushbutton ignition, a leather-wrapped multifunction steering wheel with paddle shifters, a colour multi-information display with a trip computer, a leather-clad shift knob and handbrake lever, brushed stainless steel pedals, rain-sensing wipers, heated washer nozzles, dual-zone automatic climate control, an auto-dimming rearview mirror, a powered glass sunroof, front sport seats, three-way heatable front seats to go along with those in back, an eight-way power-adjustable driver's seat with two-way powered lumbar support, driver's seat and side mirror memory, LED reading lights in the front and rear, an Easy Open trunk lid, 60/40 split-folding rear seatbacks with a centre armrest and pass-through down the middle, and much more.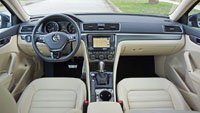 A smallish albeit proximity-sensing (yes, a row of digital controls pops up when your hand gets near) 6.33-inch centre touchscreen provides quick response times and clean, simple, high-resolution (albeit unimaginative) graphics, plus the usual tap, swipe and pinch gesture controls that work ideally with the standard navigation system's map, while additional infotainment features include Android Auto, Apple CarPlay and MirrorLink smartphone integration, plus Bluetooth, voice control, an SD card slot, and a pretty poor rearview camera image with the top portion of the display actually cut off by what seems like an hallucinogenic psilocybin-induced semicircle that might be more distracting than helpful, plus there aren't any dynamic guidelines let alone an overhead 360-degree view.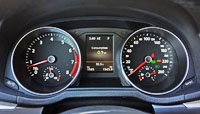 The Fender premium audio system was fairly good, and included six speakers and a subwoofer, plus satellite radio, a CD player, USB audio input/charging (but only one in this big car), and more. While the Passat's infotainment system has most of the right ingredients, swapping my keys for a new 2020 GTI at the end of the week made its much larger touchscreen an obvious improvement, its incredible resolution, plus its superior depth of contrast and colour, having me looking forward to the new 2020 Passat's system.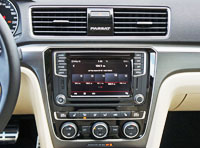 A lid at the base of the centre stack lifts to expose a rubber tray for storing your personal device, but it wasn't large enough for my average-sized smartphone, so I suppose I was happy no wireless charging pad was connected to it either. Instead, the aforementioned USB and an aux port sit beside a 12-volt charger, while the row of switches next to the shift lever just behind included a button for front and rear parking sensors and another for the semi-autonomous self parking system, plus four dummy buttons that made me feel like this particular model was missing a lot of equipment. For instance, there was no heated steering wheel, a shame considering how impressive the flat-bottom leather-wrapped rim and its array of high-quality switchgear was, plus the leather front seats weren't ventilated.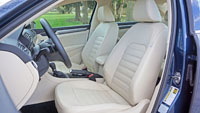 Then again, the Passat's list of standard safety features is impressive, with autonomous emergency braking, blindspot detection with rear cross-traffic alert, lane assist, adaptive cruise control, driver assistance, park distance control and park assist leaving little to be desired, but it's the way all of these systems worked that I liked more. Sometimes advanced driver assistive systems can be overly sensitive, engaging too early or misreading a given situation and then reacting when they shouldn't, all of which could potentially cause a driver to turn them off, but after hardly noticing they were there during my weeklong drive, the Passat's lane keeping assist system kept me locked next to the white lane when I tried veering off the highway without my turn signal on. While a bit annoying, I immediately became grateful that the system only came into play when needed, and it worked very well.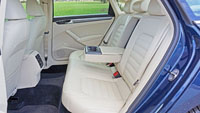 I noted earlier that Volkswagen's interior materials quality isn't quite as good as it used to be, but I'd best explain this in detail with respect to this Passat. It's mostly on par with key rivals, although from a brand that previously was way above average when it comes to soft-touch padded surface treatments and other refinements, it's now below average. This said the quality of pliable composites used on the dash top and door uppers is above par, but before sounding too positive, the lower dash and glove box lid, the sides of the centre stack, and the lower door panels are a lower than average grade of hard plastic. And there's the rub. Some areas are finished so well that the Passat's in a class of one, yet other details seem more suited to an entry-level subcompact.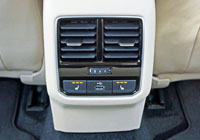 The powertrain poses an equal dichotomy, in that it measures up to most competitors' base engines, yet finds itself stuffed into the bay of a near-premium offering. It makes sense that VW chose the car's more fuel-efficient 2.0-litre four-cylinder as its sole offering instead of last year's optional 3.6-litre V6, being that the latter engine wasn't a popular upgrade, but in a market segment that often provides engine options with well over 200 horsepower the Passat's 174 ponies and 184 lb-ft of torque aren't exactly going to excite the masses, on paper at least.
In reality, all that torque arrives at just 1,500 rpm, so it feels a lot sportier off the line than the numbers suggest. The front wheels are fed power through a tried and tested six-speed automatic transmission, with the aforementioned paddle-shifters providing plenty of hands-on engagement, important because the mid-size four-door manages fast-paced curves a bit better than most family sedans. A fully independent front strut and rear multi-link suspension setup with stabilizer bars at both ends makes sure it grips tarmac decisively, but despite better than average handling its ride is still plenty compliant, providing a bit more firmness than most Japanese, Korean and domestic mid-size sedans, but never unpleasantly rough or jarring.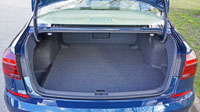 All this and it gets reasonably good fuel economy at 9.3 L/100km in the city, 6.5 on the highway and 8.1 combined, another reason VW opted for the four instead of the six. Add to this a near comprehensive four-year or 80,000 km warranty, and the Passat starts looking like a very intelligent buy.
Practical issues in mind, the Passat's front seating area is sizeable enough for large occupants, and the driver's seat is comfortable albeit slightly firmer than average. It gets fore and aft two-way lumbar support that just happened to meet the small of my back perfectly, while the lower cushion reached far enough forward to almost completely cup under my knees. Rear seat roominess is even more generous and dutifully comfortable in the outboard positions, while the trunk is larger than average at 450 litres (15.9 cubic feet), plus its 60/40-split rear seatbacks are made even more agreeable to passengers and long cargo by including the aforementioned pass-through right down the centre. This could be a dealmaker for skiers preferring to keep their boards securely locked inside when not strapped onto their boots.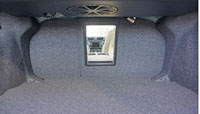 As for whether the 2019 Passat Wolfsburg Edition's many attributes cause it to be a dealmaker for you or not, you'll never know unless you try one on for size. The fact so few are on the road compared to Camrys, Accords and literally every other mainstream mid-size sedan currently available (Volkswagen sold just 570 Passats YTD as of Q3 2019, compared to 11,579 Camrys and 9,089 Accords, with the only car in the class selling fewer units being VW's own Arteon with just 288 deliveries so far this year), will set you completely apart from the crowd as you're arriving in style, and some may even mistake it for something premium, like an Audi. I begrudgingly continue to like it, not because it's particularly better than anything else, but more so because I'm a sucker for European-badged exclusivity and contrarily root for the underdog more often than not.
Here's hoping the new 2020 Passat improves on this outgoing model's weaknesses while keeping its many attributes, so it can truly be hoisted above all others the way its predecessors could. This said if VW chose cut corners in order to bring pricing down, and by so doing didn't make the upcoming redesign more refined and premium-like inside than this passing generation, the Passat will unfortunately continue on as an also-ran, garnering very little interest and eventually disappearing from our continent. That would be a shame.