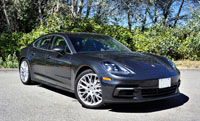 As my dad always said, if you're going to do something, do it right. Such is obviously the mantra of Porsche as well, because it never goes halfway with any of its models, and never seems to slow in its relentless push for perfection. 
Over the past year I've been lucky enough to enjoy plenty of opportunities behind the wheel of the new Porsche Panamera, from a more entry-level Panamera 4 to the sensational new Panamera Turbo S E-Hybrid, plus the Panamera 4S and 4 E-Hybrid models in between, not to mention the shapely new Panamera Sport Turismo in top-line Turbo guise, with each stint behind the wheel impressing me more.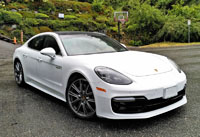 To help you appreciate the breadth of Panamera models available, Porsche divides its road-hugging four-door coupe into three categories including Panamera, Panamera E-Hybrid and Panamera Turbo. Within these classifications are three body styles and various states of tune. The former includes the regular-length Panamera, the long-wheelbase Panamera Executive that adds 150 mm (5.9 inches) between the axles and significantly lengthens the entire car for improved rear legroom, and the shooting-brake, wagon-style Panamera Sport Turismo that uses the regular wheelbase yet increases cargo volume by 27 litres (1.0 cubic foot) behind the rear seatbacks and 51 litres (1.8 cubic feet) when those seats are folded flat, while the latter variances are much more diverse.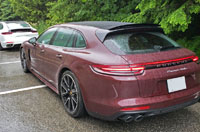 With my best attempt to keep the list simple and straightforward (truly, a spreadsheet would work better), the unnamed base Panamera trim incorporates a 330 horsepower turbocharged V6 with rear-wheel drive (RWD); the numeric 4 designation signifies the same engine with all-wheel drive (AWD); the 4S denotes a twin-turbo V6 making 440 horsepower mated to AWD; the 4 E-Hybrid combines a twin-turbo V6 with Porsche's plug-in hybrid drivetrain and AWD for 462 net horsepower; the Turbo boasts a twin-turbocharged V8 and AWD for 550 horsepower; and finally the Turbo S E-Hybrid with its twin-turbo V8, plug-in hybrid and AWD combination results in a staggering 680 net horsepower.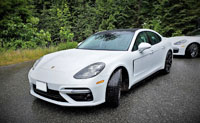 Connecting powerplant to driveline is Porsche's new eight-speed dual-clutch PDK transmission that works with both hybrid and non-hybrid models, as well as both rear- and all-wheel drivetrains. Introduced just last year with this new Panamera, the new gearbox might just be the most important "cog in the wheel" both literally and figuratively, in that it replaces three transmissions from the previous generation, including a six-speed manual used with base model V6 and naturally aspirated V8 trims, a seven-speed PDK found most everywhere else, and an Aisin-sourced (owned by Toyota) Tiptronic S eight-speed automatic exclusive to hybrids and diesel models.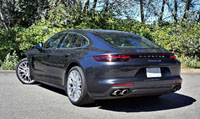 That's a lot of logistical complexity to deal with from a business standpoint and, just as importantly, a big challenge for Stuttgart's engineers with respect to integrating Porsche performance DNA into what is essentially a Lexus slushbox. They did an admirable job, evidenced today in various Cayenne trims that still use the conventional autobox due to its towing and off-road attributes, but the performance gained by the new eight-speed PKD has transformed hybridized Panameras from fast fuel-sippers to the dominant forces within the Panamera lineup. 
I need to be careful not to delve too deeply into the new eight-speed PDK, as I could easily take up most of this review in technical analysis, but suffice to say it builds on the seven-speed original that was already impressive, with better efficiency, quicker shifts, smoother shift intervals, and most importantly greater strength, the new transmission given a torque ceiling that reaches upwards to 737 lb-ft. 
This last point is critical when fitted to the aforementioned hybrid powertrains that produce gobs of twist at a much faster rate than their conventionally powered siblings. To be clear, Porsche didn't create a one-size-fits-all dual-clutch gearbox solution, but rather a modular design that allows different versions of the same basic transmission to be used for hybrid, non-hybrid, rear-wheel, and all-wheel applications.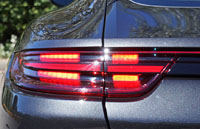 For instance, the electrified variant fits its hybrid module within the PDK's bellhousing, while a hang-on clutch transfers torque to the front axle in conventionally powered all-wheel drive configurations. With a focus on efficiency, the eight-speed PDK provides three overdrive ratios, which means the Panamera achieves its terminal velocity in sixth gear. Of course, I'm just grazing over some surface details of this impressive new transmission so as not to lull you into a coma, so let me wrap it up by saying this in-house design serves all Panamera purposes very well.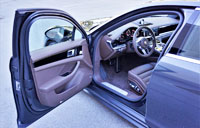 When ensconced inside the Panamera's contrast-stitched, leather-lined, black/grey lacquer-, hardwood- or carbon-fibre-trimmed, metal-adorned, digital display-decorated cabin, with left hand on the thick-rimmed, thin-spoked, leather-wrapped sport steering wheel and right hand slotting the leather- and metal-finished, pistol-grip shifter from the "RND" side of the equation into "M" for manual, although it could just as easily represent maximum fun, you won't care one whit about what's going on below that shift lever, so long as the new eight-speed PDK delivers on all of its noted promises. Believe me, it does.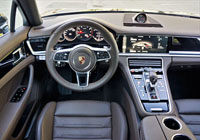 My first extended test drive in a second-generation Panamera was in a just-above-base 4, and while harnessed to just 330 horsepower and 331 lb-ft of torque I found it quite lively, launching to 100km/h from standstill in only 5.5 seconds, 0.2 seconds quicker than the rear-drive base model, and feeling light and agile while doing so. This said the Panamera 4S I spent a week with was much more entertaining, its overall mass much the same yet its aforementioned 440 horsepower and 405 lb-ft of torque resulting in 4.4 seconds to 100km/h, but as thrilling as that was, two of the three others I drove more recently are in another league altogether.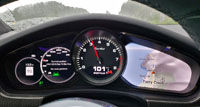 Comparing the 4S to the 4 E-Hybrid is more or less a wash, as the latter takes a mere 0.2 seconds longer to hit the 100km/h mark and feels equally sporting, except for some 300 kilos (661 lbs) of weight gain that can be felt through sharp, fast-paced corners, but of course it's the hybrid's 5.1 Le/100km (compared to 10.1 L/100km) and ability to run totally on electric power for up to 50 kilometres (31 miles) at speeds of 140 km/h (87 mph) that separates it from the conventionally powered pack. On paper it appears as if it'll rip a new hole in the tarmac, and while 4.6 seconds to 100km/h is no snail's pace it remains the equal of its 4S counterpart, although its 462 net horsepower and 516 lb-ft of total combined torque make for some serious bragging rights.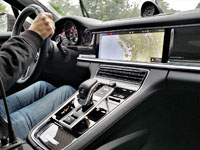 And then there are the Turbos. My Panamera Turbo tester wore the slightly heftier Sport Turismo body style, but the twin-turbo V8's 550 horses and 567 lb-ft of twist managed to haul it to 100km/h in a scant 3.6 seconds thanks to its Sport Chrono package that takes 0.2 seconds off its regular sprint time of 3.8 seconds, a feeling that has to be close to being flung from a massive car catapult, or more accurately a trebuchet (check YouTube for a little fun), that is until I did the same in the world's fastest four-door hybrid.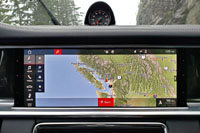 The Turbo S E-Hybrid is why the new eight-speed PDK needed to be so robust. With its twin-turbo V8 and plug-in hybrid combination making a shocking 680 horsepower and 626 lb-ft of torque it needed to be as strong as possible, its outrageous all-wheel thrust capable of flinging it to 100km/h in a seemingly unreal 3.4 seconds despite gaining 315 kilograms (694 lbs) over its Turbo counterpart, let alone 140 kg (308 lbs) more than the lesser 4 E-Hybrid. 
Batteries are heavy, not to mention all the compact yet still mass amassing hybrid components, but once again it's all worth it when passing by the pump, the top-tier Panamera also excelling at efficiency performance with a claimed 4.8 Le/100km rating. It's truly a best of both worlds, have your cake and eat it too kind of car.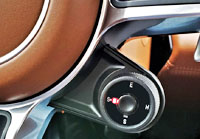 Again, you can feel the heavier hybrid in the corners, but the Panamera's suspension is so brilliantly dialed in, and no doubt capable of its top track speed of 310 km/h (192 mph), my tester equipped with the same 21-inch alloys on 275/35ZR21 Michelin Pilot Sport 4s as the lighter weight Sport Turismo, that it kept up without issue. 
Despite driving three of these Panameras back to back, it's impossible to compare all four of them directly, as each was filled with unique features from Porsche's bevy of available options. This side of bespoke coachbuilders that make most everything by hand, no other manufacturer offers as many possible build combinations as Porsche. Just go ahead and try to put one together on the company's online configurator and you'll quickly figure out what I mean.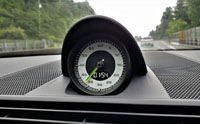 For instance, the 4 E-Hybrid I drove was one of two to include Rear Axle Steering with Power Steering Plus, the former benefiting low-speed manoeuvrability by pointing front and rear wheels in the opposite direction, shortening the turning circle, and also enhancing high-speed stability by steering the front and rear wheels in the same direction, while Power Steering Plus boosts the electric power steering to lighten its load at low speeds and firms it up while responding with more precision at high speeds.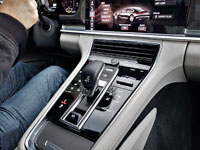 My Carrara White painted 4 E-Hybrid was shod in 21-inch rims and rubber too, albeit the latter from Pirelli, yet this car was obviously set up more for style and comfort than all-out performance. Its feature set included a SportDesign Package with satin black front fascia elements, extended side sills and more satin black in back, LED headlamps with dynamic cornering and self-cleaning capabilities, bright silver side window surrounds, proximity-sensing Comfort access, soft-close self-cinching doors, ambient interior lighting, a rich looking Cohiba Brown Club Leather Interior, painted air outlet grilles, four-zone auto climate control, ventilated front seats, heated rear seats, 18-way power-adjustable front seats with memory, a powered steering column, Bose surround audio, Adaptive Cruise Control with Traffic Jam Assist, Lane Keep Assist, Lane Change Assist, Night Vision Assist, a Speed Limit Indicator, front and rear parking sensors, and more.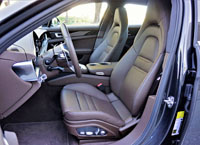 Many of the same features were included on the other two Turbo models, but the word Sport was a more common denominator. Most notable was the Sport Package that also adds Power Steering Plus and Rear Axle Steering, as well as the aforementioned Sport Chrono Package and a sport exhaust system, the sound exhilarating under throttle. 
Speaking of phenomenal acoustics, the Burgundy Red Metallic painted Turbo Sport Turismo included the Burmester 3D surround sound audio upgrade, complete with 21 individually controlled speakers and 1,455 watts of power, while an all-black interior theme complemented by a gorgeous Carbon Fiber Interior Package maintained its sporting character. 
The top-tier Turbo S E-Hybrid's interior was even more luxe, with a white accented tachometer and Sport Chrono dial designed to match the Black/Chalk cabin colour theme, plus extended leather across the dash, and much more. 
To give you an idea of how wide the Panamera pricing spectrum reaches, the base model starts at just $97,300 before freight and fees, while my Turbo S E-Hybrid's as-tested price was $238,535. Certainly it was well equipped, the base Turbo S E-Hybrid starting at $209,800, but also know that it was far from loaded, a lesson I quickly learned when configuring my Panamera Turbo S E-Hybrid Sport Turismo dream car to a final tally north of $300k — check CarCostCanada.com for all retail and dealer invoice prices, plus rebate information. If you were wondering whether the Panamera is able to duke it out with the Aston Martin Rapide in exotic territory, now you know.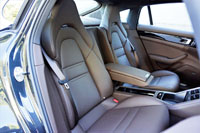 It would be a fair comparison in many other ways too, as the Panamera's interior is as good as anything available today. The quality of materials is exceptional, craftsmanship exemplary, and detailing exquisite. Ergonomically it's far superior to most four-door coupes it would be up against too, with rear seat roominess improved over its predecessor and downright limousine-like compared to the aforementioned Brit, while its electronic interfaces are by far some of the industry's best.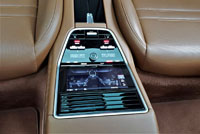 The mostly configurable TFT gauge cluster (Porsche thankfully saved the centre-mounted tachometer in analogue form) allows full navigation mapping on its rightmost screen, plus most anything else you'd like choose by scrolling through various functions via a knurled metal-adorned steering wheel spoke controller, while its massive 12.3-inch horizontal centre display is as fine in resolution and deep in beautifully coloured contrast as anything I've seen. Truly, the map detail looks as if you can stick your fingers inside to move mountains, while Porsche was intelligent enough to make it a full touchscreen design complete with tablet-like tap, swipe and pinch gesture controls, not to mention Apple CarPlay and Android Auto smartphone connectivity. The system is fast, navigation routing accurate, backup camera clear, and overall usability as good as it gets.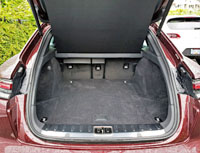 Porsche uses touch-sensitive controls on much of the centre stack and lower console, with the few rotating knobs, cylindrical scroll wheel, and rocker switches once again detailed in beautiful knurled metal, while my test cars equipped with four-zone HVAC had the otherwise rubberized bin replaced with a gorgeous centre-mounted digital console filled with its own touchscreen and high-end switchgear.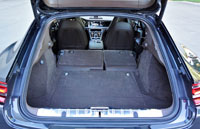 Living with the 4S for a week reminded me how practical the Panamera can be too, the cargo hold below its powered liftback managing 493 litres (17.4 cubic feet) of what-have-you in conventional guise, or 405 litres (14.3 cubic feet) when electrified. Fold the top halves of its seatbacks forward and it accommodates 1,339 litres (47.3 cubic feet) of longer cargo in the former and 1,246 litres (44.0 cubic feet) in the latter, while I won't bore you with the Sport Turismo's gains again.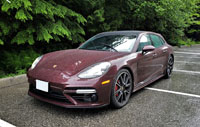 Of course, a Macan or Cayenne is the better choice if you need to haul more people and cargo, which is reason enough for many luxury buyers to opt for these high-riding SUVs. In fact, today's sport utility craze almost makes a person wonder why Porsche put so much effort into perfecting this low-slung Panamera, but nevertheless proof of time and investment well spent is showing in recent Canadian sales growth, with calendar year 2017 resulting in an 86.3-percent year-over-year increase in deliveries. With 2018 seeing similar upward momentum, the Panamera is on pace to become the best-selling four-door coupe in its class. I'm sure after spending some time with one, you, like me, will fully appreciate why it's doing so well.