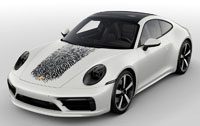 Personal customization is hardly a new service at Porsche's Zuffenhausen headquarters. In fact, the revered performance brand has provided bespoke upgrade services since a client commissioned a fur covered 356 in the 1950s, the company's "Personalisation Programme" that followed eventually being renamed Porsche Exclusive in 1986. Just the same, nothing the automaker has done in the past could be deemed quite as personal as its most recent offering.
Porsche Exclusive Manufaktur, now a special division under the German brand's umbrella, now has the ability to paint your fingerprint on the hood of any 911 for just €7,500 ($11,100 CAD). The process doesn't exactly utilize paint, but instead makes use of a new direct printing method developed by Porsche. Once your fingerprint is scanned, it gets transformed into a digital graphic before being printed onto a 911's hood.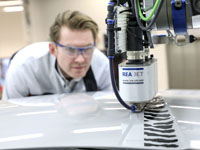 Porsche claims it will be able to print your fingerprint on other panels in the future, plus it will be able to print other customer-specified designs too, although for now this exclusive service is limited to the 911's hood due to the relative ease of unbolting the hood from its hinges and the necessity to have the body panel removed. After removal, the biometric print gets applied by a robot with a clear coat added overtop for protection, after which the entire hood is polished to a high-gloss finish. Once done, Porsche claims its direct printing process will result in a finish that's in fact superior to its already high-quality 911 paint finishes in terms of look and feel.
"The operating principle is similar to that of an inkjet printer: using a print head, the paint is applied to three-dimensional components automatically and without overspray. 'The ability to control the nozzles individually permits targeted application of every paint droplet,' stated Christian Will, Vice President Production Development at Porsche AG. 'The complexity is due to the necessity of harmonizing three technologies: robot technology (control, sensors, programming), application technology (print head, graphic handling) and paint technology (application process, paint).'"
Requests for this new fingerprint service are beginning this month in the German market, and while it's not directly available in Canada, there's always a way to get things done if you're willing to pay the necessary price.