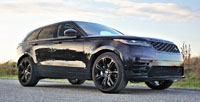 Britain's Jaguar Land Rover (JLR) group is on an unprecedented growth curve, mostly due to an obsession with filling gaps in its portfolio.
The most noticeable additions include three new Jaguars, namely the XE compact sedan, F-Pace compact SUV, and all-new E-Pace subcompact SUV. Being that Land Rover is purely a sport utility brand and therefore won't built cars (although the Evoque Convertible gets pretty close), its growth has come by adding namesake models in market segments previously held only by Range Rovers, and vice versa. A few years ago we saw the Land Rover Discovery Sport enter the compact SUV segment that only had the Range Rover Evoque prior to that, albeit half a size smaller, and now the new Range Rover Velar enters the same compact SUV segment, although it's half a size larger. This, plus a completely reimagined mid-size Land Rover Discovery, has seen the brand's Canadian sales grow by 78 percent since that aforementioned Discovery Sport arrived, whereas Jaguar has seen its numbers rise by 266 percent over the same period, for a collective 155 percent gain since 2014 began and 2017 ended.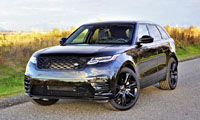 As far as new model expansion goes, Land Rover could stop right here at the Range Rover Velar and I'd be more than satisfied. They probably won't, as there's room below the Discovery Sport for a smaller entry-level Land Rover and above the full-size Range Rover (at least for a third row), but it's difficult to imagine them topping the Velar in the compact luxury segment.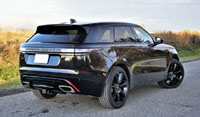 Compact? Yes the Velar, like the Jaguar F-Pace it shares chassis architectures and drivetrains with, is large enough that it borders on mid-size. It measures 4,803 millimetres (189.1 inches) in length with a 2,874-mm (113.1-inch) wheelbase, 1,665 mm (65.5 inches) tall and 2,145 mm (84.4 inches) wide with its mirrors extended, while its track spans 1,642 mm (64.6 inches) up front and 1,657 mm (65.2 inches) at the back. That makes it slightly longer and taller than the F-Pace, albeit a smidge narrower, with its wheelbase identical and track fractionally wider, yet it's 76 mm (3.0 inches) shorter than the mid-size Range Rover Sport overall, with a 49-mm (1.9-inch) shorter wheelbase, 138-mm (5.4-inch) lower height, 75-mm (2.9-inch) narrower width, and 51/29-mm (2.0/1.1-inch) narrower front/rear track. I could go on comparing, but suffice to say the Velar is considerably larger than the Discovery Sport and much smaller than the mid-size Discovery, which itself is quite a bit larger than the Range Rover Sport. Compact it is.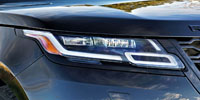 The $62,000 Velar also fills a dollar void in the Range Rover lineup between the $49,990 Evoque and the $78,800 Sport, albeit my Velar R-Dynamic HSE P380, at $82,600 before adding options, goes well past that base Range Rover Sport.
As JLR fills the "white spaces" in each brand's lineup, it has gone to great lengths to separate mere luxury from best-by-a-long shot status. The Land Rover brand is being positioned as the most entry-level of the three, although it still sits squarely within the luxury sector, while Jaguar is skewed slightly higher, albeit less about off-road and more toward on-road performance. This leaves Range Rover where it's always been most comfortable, combining equally high levels of on- and off-road capability with extreme luxury.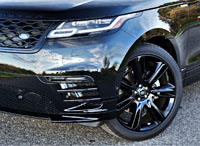 From outside the Velar looks every bit the part of a sleek, wind-cheating modern-day Range Rover, my all-black R-Dynamic HSE P380 tester certainly seeming more to do about go-fast performance than rock crawling and mud slinging. Of course, that's the way we see most Range Rovers that drive by, despite their terrain conquering legend. True to reality my tester was kept to tarmac, this Velar's optional glossy black-painted 22-inch multi-spoke alloys on 265/40 Continental CrossContact LX Sport performance rubber better suited to lanes confined by painted lines and guardrails than trees on one side and cliffs to the other.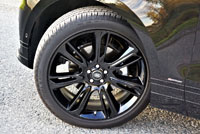 Climb inside and you'll quickly appreciate that nothing else in the compact luxury SUV segment comes even close. This is where I should probably point out that my R-Dynamic HSE came standard with a fully configurable driver display, which adds brilliantly bright high-resolution colour instrumentation to each side of a massive multi-info section, the latter looking fabulous when filled with the navigation system's digital map. While impressive, the Velar has left every competitor behind including familial brands when it comes to centre stack displays.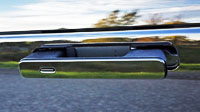 Yes, the word displays is plural for a reason, the Velar infused with the new InControl TouchPro Duo infotainment system. The topmost 10.2-inch widescreen monitor is amongst the industry's best for clear, crisp quality and graphical stimulation, even canting towards the driver upon startup, but it's the secondary display, integrated within the sloping console's mid-section, that truly wows. Along with its inclusion of climate and seat controls plus plentiful vehicle settings such as the SUV's Terrain Response system, it minimizes switchgear and thus cleans up the interior design, the result more Scandinavian than Volvo, and I mean that in a good way. There are knobs, two for the HVAC system and one for audio volume, but most everything else is under glass, so to speak, the fourth dial for gear selection in recent JLR tradition.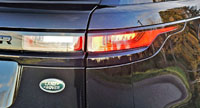 Traditional for Range Rover, the quality of everything is beyond reproach. Go ahead and try to find any hard substandard plastics, you'll come up short. Rather, much of the dash, instrument panel, centre stack/lower console sides, door panels, etcetera are covered in padded and stitched leathers, while the luxury sector's usual soft-touch synthetics, brushed, patterned and bright metals, plus rich lacquered inlays are tastefully applied throughout, albeit higher grades of each than average. As usual for Range Rover the Velar also offers an abundance of colour, trim and finishing choices inside and out, this important for a product that's as close to bespoke as the luxury segment gets. After all, personal expression is a key ingredient of top-tier luxury.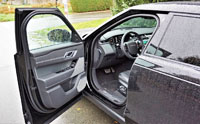 So is getting comfortable, and the Velar offers a wide variety of front seat options to do so. Perforated grained leather is standard, although my tester came dressed up in softer Windsor hides with attractively patterned perforations, while the only sin of omission Range Rover makes with respect these otherwise inherently comfortable 10-way powered perches is a lack of front seat heaters in extreme base trim (which your dealer would never order). This is what happens when you get your playbook from the U.S., but to our advantage front seat memory is standard, while seat heaters are $510 options with rear warmers added for another $510 or, better yet, front cooling seats for just $310 more. Before getting bogged down in minutia I'll leave the price of every upgrade, or for that matter the itemization of any such upgrades, to someone else, and rather focus in on the SUV at hand.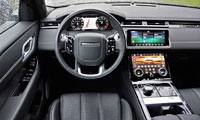 As noted earlier, Land Rover provided my Velar tester in R-Dynamic HSE P380 trim, which from a comfort perspective (the HSE part) means that standard items found on the $62k base Velar S, such as 19-inch five-spoke alloys, colour multi-information display amid analogue gauges, grained leather, 10-way memory seats, 11-speaker Meridian audio, and more gets enhanced with 21-inch 10-spoke alloys (which once again were replaced on my tester), the 12.3-inch high-definition Interactive Driver Display noted earlier, the supple Windsor leather mentioned a moment ago, yet more comfortable 20-way front seats with the addition of standard heat and cooling functions plus (ahhh) massage, which was wonderfully relaxing, and six more side and rear speakers plus a dual channel subwoofer and Trifield technology for the Meridian audio system.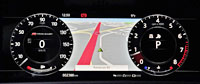 Other items pulled up from base to HSE trim include LED headlights with signature DRLs and auto high beams, auto-dimming and power folding, heated side mirrors with approach lights, proximity access, pushbutton ignition, an electromechanical parking brake, rain-sensing wipers, an auto-dimming rearview mirror, a garage door opener, a sliding panoramic glass sunroof, voice activation, a rearview camera with dynamic guidelines, rear parking sensors, Navigation Pro GPS with brilliantly detailed mapping plus the ability to actually learn your regular routes and then update with traffic and ETA info as needed, Autonomous Emergency Braking (AEB), a powered gesture liftgate, and the list goes on and on.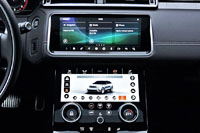 Some features found on the HSE that are optional with the base model include larger 350-mm front brakes, front parking sensors, a power-adjustable steering column, bright metal pedals, adaptive cruise control with queue assist and intelligent emergency braking, blindspot monitoring, lane departure warning, lane keeping assist, reverse traffic detection, driver condition monitoring, traffic sign recognition and adaptive speed limiter, and park assist.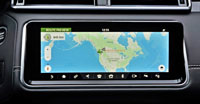 Thanks to dazzling Santorini Black paint, an R-Dynamic Black package, the aforementioned all-black wheels, chromed IP cap ends (yes, you can even dress it up where you can't see when the doors are closed), configurable ambient interior lighting, a heatable steering wheel rim, heated rear seats, a head-up display, four-zone auto climate control with cabin air ionization and a cooled glove box, sensational sounding 23-speaker Meridian Signature 3D audio, a Convenience package with handy rear seat remote release levers, a cargo net, and a useful Activity Key wristband that lets you leave your keys in the car while engaging in activities that might put losing your keys at risk, an On/Off-Road package with upgraded Terrain Response 2, All Terrain Progress Control (ATPC) and Configurable Dynamics, and an Active Locking Rear Differential to enhance off-road capability, the price was bumped up to just over $96k before adding freight and fees.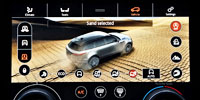 Of course you can add plenty more, with items still available including myriad alloy wheels, roof rails and cross-members, a heated windshield, illuminated treadplates and cargo sill, cargo storage rails, premium floor mats, plenty of hardwood, metal and piano black lacquered inlay options, extended leather, unique Dapple Grey wool seat and armrest upholstery developed by Danish textile supplier Kvadrat (they also supply to premium furniture brands Knoll and Vitra), Suedecloth steering wheel rim and headliner, satellite radio, dual 8.0-inch rear entertainment monitors on the backside of each front headrest with a DVD changer, and a Tow Package with a hitch receiver, fixed rear recovery eye, Advanced Tow Assist that automatically steers in order to control the position of the trailer when backing up (allowing 2,500 kilograms/5,500 lbs of trailer weight), and a surround camera system (the latter available as a standalone option as well), etcetera. Finally, $95k First Edition trim (limited to just 50 units in Canada) adds unique exterior and interior treatments to the R-Dynamic HSE P380.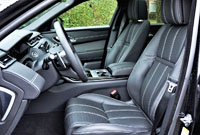 Knowing the Velar shares aluminum-intensive underpinnings with the Jaguar F-Pace and more so that my R-Dynamic P380 tester is dynamically similar to its British cousin's quickest combination, titillates the senses before even setting out. After all, the fastest F-Pace S is one energetic performer with particularly athletic road manners, so it only makes sense that the identically formidable Velar should deliver the same results. On paper that's mostly true, other than 0.2 seconds added to the more opulently attired Range Rover that sprints to 100km/h in 5.7 seconds instead of 5.5. Considering the Velar's dramatically improved interior and greater assortment of standard features I'm just fine with that, the difference so nominal it would take some pretty sophisticated timing hardware and a side-by-side drag race to confirm, while each model's top speed of 250 km/h is out of the question on Canada's public roads so it's a moot discussion, but really the more blatant differentiator is the way each SUV goes about delivering its performance.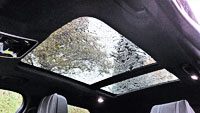 Where the F-Pace S is a rasping, growling menace to society that purposefully embraces the F-Type sport car's track-conquering pedigree, the Velar R-Dynamic HSE P380 is an altogether quieter, more refined, more sophisticated experience. As noted by the numbers, either version of JLR's 3.0-litre supercharged V6 gets up and goes as if shot from a catapult, 380 horsepower and 332 lb-ft of torque fed through an eight-speed automatic transmission with paddle shifters more than enough for these grand albeit still compact SUVs, but the Range Rover flies forward with an entirely new level of grace and composure.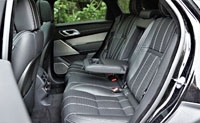 Likewise, it's as wonderfully agile through complex S-turns as it's capable of putting hundreds of miles of fast-bending freeway in the rearview mirror, its driver and occupants oftentimes left more comfortable, relaxed and downright refreshed (thanks to those massaging seats) than before they started, or at least that was my experience.
This is high-speed motoring at its best, and while I never had opportunity to test its off-road mettle I'm willing to guess the Velar is every bit the low-speed adventurer that its older, larger siblings are. Aforementioned Terrain Response lets you dial in performance settings based on any number of road/trail and weather conditions, while its available air suspension (standard with the P380) adds 46 millimetres (1.8 inches) of ride height for more extreme 4×4 situations. It's a dream around the city too, easy to negotiate in congested traffic and nicely sized for parking, while its excellent visibility helps to see over surrounding cars.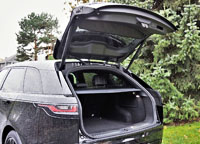 Those less interested in straight-line performance and more concerned with economy will appreciate that Land Rover employs its in-house designed and built 2.0-litre Ingenium turbo-diesel as standard equipment, good for a reasonably paced 8.9-second run to 100km/h thanks to 180 horsepower and 317 lb-ft of torque, plus a claimed 9.2 L/100km in the city, 7.8 on the highway and 8.5 combined, whereas the sportier alternative uses a still reasonable 13.0 L/100km city, 10.0 highway and 11.6 combined thanks to fuel-saving auto start/stop that shuts the engine off when it would otherwise be idling, and other efficiency systems.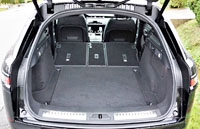 Speaking of efficiency, the Velar's large compact dimensions make for five-seat comfort in all positions, while 558 litres (19.7 cubic feet) of cargo space behind the rear seats (or 673 litres/23.7 cubic feet when measuring above the cargo cover) is good for the class. Also helpful, the rear seatbacks fold in the most convenient 40/20/40 configuration, allowing longer cargo like skis down the middle with passengers in the more comfortable (and in my tester's case, heated) window seats, while there's up to 1,985 litres (70.1 cubic feet) of available cargo space when they're laid completely flat via those handy optional levers noted earlier.
Land Rover has thought of everything with the new Range Rover Velar, making it my choice for best compact luxury SUV in Canada. It's suitably the priciest, but in this case it's worth every penny.