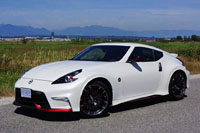 Did you see the new Z (check out the gallery above)? The Z Proto, which dropped on September 16, isn't production ready, but its level of interior detail, its prototype-referencing name (prototypes normally refer to near production cars, rather than concepts that may only be built to gauge public reaction to a proposed design language or garner some press for a brand while having a little fun), and Nissan's history of building production vehicles that closely resemble their prototypes/concepts, make it appear more like the real deal than merely a dream car. Either way one thing is clear, the 2020 370Z Nismo I'm reviewing here has quickly become last year's news, if not the last decade's news.
Unfair? That's what I'll try to determine in this review. After all, if you're reading this review, you're obviously still interested in a car that's been around for a very long time. Nothing I can tell you here will be any different than what I could've told you a couple of years ago, other than news you may have missed about the 2020 370Z 50th Anniversary model, that gets two, thick diagonal stripes on each door along with special badging and some other nice extras.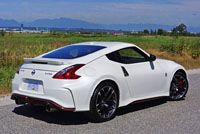 Nice, but I'm reviewing a Nismo, which is the best Z currently available. Its seasoned 3.7-litre V6 gets an extra 18 horsepower over lesser trims' 332 for a total of 350, plus 6 more lb-ft of torque for a maximum of 276, and can only be had with a six-speed manual gearbox, a seven-speed automatic with paddles available in lesser trims. This is a performance purist's machine after all, so why bother with a slush-box?
It costs a lot more than the $30,498 base Z too, at $48,998, but for that money you get special red and black accented trim, a gorgeous set of 19-inch Nismo Rays forged alloy wheels wrapped in 245/40YR19 front and 285/35YR19 rear Dunlop SP Sport MAXX GT600 performance tires, a Nismo-tuned suspension setup comprised of increased spring, dampening and stabilizer rates, front and rear performance dampers, a reinforced three-point front strut tower brace, and a rear underbody V-brace, plus a Nismo-tuned free-flow dual exhaust system with an H-pipe configuration.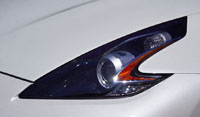 Fabulous black leather Recaro sport seats with red perforated Alcantara inserts and harness slots on their backrests are included too, as well as numerous comfort and convenience features pulled up from lower trims, a shortlist including auto on/off HID headlamps, LED DRLs, LED taillights, proximity entry with pushbutton start/stop, an auto-dimming rearview mirror with an integrated backup monitor, a HomeLink universal garage door opener, automatic climate control with an in-cabin micro-filter, navigation with SiriusXM NavTraffic, Bose audio with satellite radio, a USB port, and much more.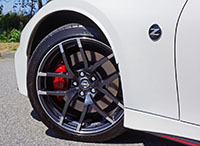 For all points and purposes the 2020 370Z Nismo is a great value proposition, that is until factoring in its age. In automotive terms its 11 years without a significant update make it ancient. In the entire consumer industry, Nissan's own Frontier pickup truck is the only vehicle that's has lasted longer, having arrived in 2004. A new Frontier is expected sometime in the near future, as is the redesigned Z noted earlier, and both will likely be much pricier than the vehicles they replace due to more sophisticated body shells, powertrains and electronic interfaces. The big question is whether the introduction of the new 400Z, as most are starting to call it, will cause today's 370Z values to crash or, alternatively, allow them to hold in place thanks to the current model's reasonably priced range. There's no way this can be predicted, so we're left with the gamble of choosing an ultra-old-school sports car that's soon to be replaced.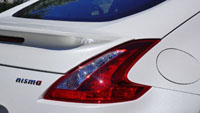 Still, it's a very good car with plenty to offer performance fans. Acceleration is strong, with its zero to 100 km/h time coming in under five seconds, which might seem like a laggard when put side-by-side with a GT-R Nismo that achieves the same in the low threes, but it's still pretty good. Likewise, where the GT-R Nismo tops out at 321 km/h (200 mph), the 370Z Nismo hits its terminal velocity at a respectable 286 km/h (178 mph). Nothing wrong with that.
Fortunately braking is equally impressive, thanks to four-piston opposed aluminum front calipers clamping down on 14- by 1.3-inch vented discs, and two-piston calipers biting into 13.8- by 0.8-inch rotors in back, plus high-rigidity brake hoses and R35 Special II brake fluid. Stomp down on the centre pedal and speed gets scrubbed off quickly, but I recommend doing so in a straight line as the car's 1581-kg (3,486-lb) mass can be a bit unsettling when diving too deeply into a corner without reducing speed enough first.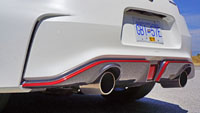 Of course, this can be said for a long list of performance cars, many of which cost a great deal more than this Z. Hidden below the shapely bodywork is a double-wishbone suspension in front and four-link design in the rear that collectively ride smoothly considering the higher spring and stabilizer bar rates, plus stiffer roll calibrations and increased damping levels. The Nismo even gets a 0.6-inch wider track than non-Nismo trims, which together with a carbon-fibre composite driveshaft and viscous limited slip differential that come standard across the range, add to that planted feel I noted earlier.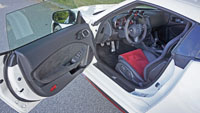 All of this is great, but the aforementioned six-speed manual is even better. It features SynchroRev Match, a technology that instantly spins engine revs up to the ideal rotation in order to synch up with the upcoming downward gear before it arrives, as if perfectly blipping the throttle yourself. It makes any driver feel and sound like a pro, and provides a nice, clean engine-transmission match-up in order to minimize drivetrain jolt. Shifter feel is excellent too, with a wonderfully tight, crisp, notchy feel and positive engagement, while clutch take-up is superb, and the overall pedal arrangement ideal for applying the right-foot's heel and toe simultaneously on the brake and throttle, a useful technique for modulating engine revs when braking into a corner.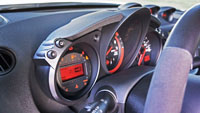 Those pedals are aluminum with rubber grips, incidentally, and look great, Nissan even finishing the dead pedal in vertically striped brightwork. There's more brushed and bright metal throughout the cabin, but the theme is more of a red on black affair, the Nismo getting crimson red thread highlighting most of its key visual points, not to mention a red centring stripe at the top of the leather and psuede steering wheel rim, red gauge accents and those fiery red ultra-suede seat inserts mentioned earlier.
Suede-like Alcantara trims off the door inserts and armrests too, not to mention the sides of the lower centre stack, the latter protecting inside knees from chafing, while the dash top and door uppers were nicely wrapped in a thickly padded stitched leatherette for a premium feel. Following that theme is red-stitched leatherette flowing around the gearshift lever, and no I'm not just talking about the boot. Nissan actually finishes the top of the lower console in what appears like leather, making the car feel more like a luxury-lined Maxima than anything so sporty.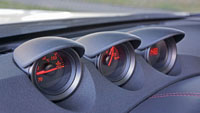 Back to those lightweight Recaro sport seats, along with superb support all over, their backrests get a set shoulder harness holes that look fabulous. The driver's seat is eight-way adjustable and the passenger's just four, and true to its performance mission these aren't power-adjustable, but instead require hand-wrenching via a set of dials in the usual positions. Once set they deliver the goods, but those with oddly shaped bodies (like mine that has longer legs than arms) might find the steering column's lack of telescopic reach disconcerting. This forced me to twist my seatback rake farther forward than I would normally have liked off the track in order to maintain optimal control, but it was never uncomfortable, just not as comfortable as it could've been.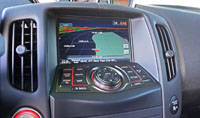 If merely offering tilt steering wasn't already enough of a faux pas, the 370Z's gauge cluster and infotainment touchscreen are throwbacks to a bygone era. The former is actually quite nice for any lover of classic sports cars, thanks to a lovely set of analogue dials that include a centre-mounted tach and a right-side speedo, plus a tiny little red liquid-crystal display for the odometer (yah, an LCD, just like anyone old enough will remember from their high school calculator or better yet, early '70s digital watch, while the circular binnacle on the left is filled with two bizarre rows of tiny red diodes that light up to show the fuel tank level and engine temperature. This hover above and below another red readout, but this time more of a heavily-pixelated monochromatic Minecraft encounter trying to double as multi-information display, albeit with less convincing graphics.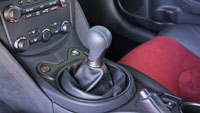 Comparatively the centre touchscreen is advanced tech, but don't get too excited just yet. Features include navigation, Bluetooth phone connectivity, and a number of car settings, but it's displayed with yesteryear's resolution quality, processing speed and graphic designs. My recommendation is to use its functions as required, because all work reasonably well, and then rest your eyes on the always wonderful row of ancillary oil pressure and voltmeter dials (plus a digital clock) just above (the upcoming Z Proto is showing off a boost gauge within its hooded threesome, hinting at the twin-turbo V6 ahead of the firewall).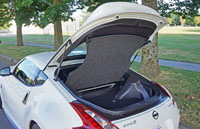 Cargo space isn't the 370Z's forte, but you should be able to throw in a weekend's worth of bags for two if you pack light. Forget the clubs, of course, and don't even think about going camping, the sporty Nissan's gear-toting capacity just 195 litres (6.9 cu ft).
Nissan is offering up to $1,000 in additional incentives on 2020 370Zs, by the way, this useful info found at CarCostCanada that also provides info about available manufacturer rebates that dealers won't necessarily tell you about, plus leasing and financing deals, and best of all dealer invoice pricing, or more specifically, the actual price your dealer pays for the car. This way you'll know how far you can drive down the discount before even entering the dealership. I recommend learning how the CarCostCanada system works, and downloading their free app from the Google Play Store or Apple Store.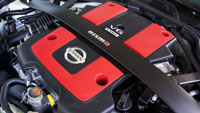 Getting a new 370Z for less than $30k would be quite the bargain, or for that matter lopping a couple of grand off the price of this Nismo model, or one of the 2020 370Z 50th Anniversary editions if any are still available. None provide fresh styling or new-edge tech, but each one looks great, delivers superb performance and pampers with a reasonable level of refinement.
Photos and story by Trevor Hofmann