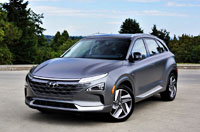 Fuel cell vehicles have been around a while. The first one I drove was Ford's Focus FCV way back in 2005, which was developed as part of a joint initiative between the blue-oval brand along with Daimler-Benz and Ballard Engineering, the latter bringing the hydrogen fuel-cell tech to the table. After driving that car, and realizing it felt totally normal other than its relatively silent electric propulsion (electrics weren't very common back then), I believed hydrogen was the way of the future. How wrong was I? At least for the short-term.
It took a decade and a half for me to experience another hydrogen fuel-cell vehicle, mostly because of the incredible challenges of installing any sort of hydrogen infrastructure to facilitate refuelling. That car was the outgoing Toyota Mirai, which was followed soon after by a week in this Hyundai Nexo. Fortunately, Vancouver's Lower Mainland has three new H2-capable public stations where owners of these vehicles can fill up. This now allows for sales, leases and rentals (Greater Vancouver Lyft drivers can now rent a Mirai for weeks at a time) of Toyota's mid-size sedan and Hyundai's slightly larger than compact crossover SUV.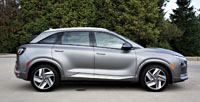 So, what happened to Ford and Mercedes? Considering they were two of the first manufacturers to dabble in hydrogen-powered vehicles, it seems strange they've mostly left the technology behind. Other producers have come and gone too, while some are still developing hydrogen fuel-cell cars, but haven't brought them to market (or at least, our market). Honda, for instance, offers an H2 version of its Clarity sedan in the US (we just got the plug-in hybrid), and it's only $379 USD per month (about $475 CAD at the time of writing) after a small down-payment.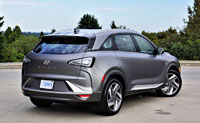 If the Clarity was a pure EV it would be a steal, considering how much you can save by not having to fill the tank (recharging off peak hours is significantly less than pumping gas or H2), but hydrogen doesn't come cheap, so (without attempting any calculations, which would be near impossible with the information available) buying into the technology is not going to save you any money at the pump.
Living with a hydrogen fuel-cell-powered vehicle is more about the convenience of not having to wait for hours to recharge its electric drive motor (it took me about five minutes to refill), plus the environmental benefits of the just-noted (local) zero-emissions powertrain. Only water vapour leaves the tailpipe, so it's no more polluting during its use than an electric vehicle.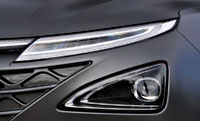 Just for some fun history, I should point out that Mazda was actually the first major player to take part in the hydrogen game. Not afraid of investing in alternative powertrains, the Japanese brand's 1991 HR-X Hydrogen Wankel Rotary didn't use a fuel-cell, but certainly burned H2. Others on the H2 history list include boutique (Morgan) as well as household name brands, from both mainstream and luxury carmakers all across the world, with Hyundai's initial hydrogen foray being the 2001 Santa Fe FCEV, which was quickly followed up with the 2004 Tucson FCEV. The two SUVs received generational updates, which makes Hyundai one of only a small assortment of brands keeping the hydrogen dream alive.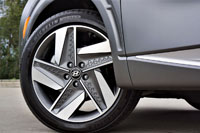 The majority of early adapters turned to gasoline-electric hybrids and full plug-in EVs instead, with Hyundai also producing its Ioniq Electric compact hatchback, Kona Electric subcompact crossover, and soon, its Ionic 5 compact crossover, plus a number of hybrids as well.
Respect needs to go out to Hyundai for shaping most of its alternative fuel vehicles in the more popular SUV body style, making them much more likely to find buyers than Toyota and Honda, which have also invested millions into H2 tech, yet house such advancements in a waning automotive commodity. No doubt it made sense for Toyota and Honda to stuff their H2 powerplants in four-door, three-box bodies, especially when considering the popularity of their mid-size Camry and Accord sedans when the respective Mirai and Clarity were in their development stages, but doubling down on this for the second-gen Mirai, arriving this year, seems odd, while alternatively Hyundai's market insight to have stuck with SUVs appears very forward thinking.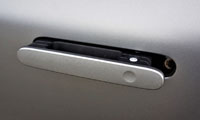 Hyundai went further by targeting compact buyers, which are more plentiful globally, plus extending the Nexo's wheelbase to mid-size lengths in order to make sure its second-row legroom and cargo capacity allowed for optimal space. To that end, the Nexo is 190 mm (7.5 in) longer than the outgoing Tucson, albeit the same width and height. It's not only more practical, but the extra length provides a better ride, improves high-speed tracking, and looks leaner and therefore arguably better than it would have if shorter.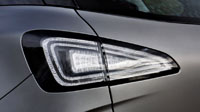 I'm not going to say it looks better than the much more sharply angled 2022 Tucson that was recently introduced, mind you, which is a particularly eye-catching crossover SUV, but I like the Nexo's flowing grille and LED headlamp combination, plus its extremely smooth lines front to back, and cool matte grey paint. Some interesting details include Land Rover-inspired pop-out door handles that help keep the body lines flush to improve its coefficient of drag, as well as a thin accent strip between grille and hood that lights up at night. The 19-inch five-spoke alloys look pretty good too, maybe because they aren't as aerodynamically-flush as some grotesquely wind-cheating wheels of the past.
Inside, the Nexo lives up to its (partial) name, by transitioning Hyundai's SUV lineup into the future, or at least it did when this model debuted two years ago. It features a similar dual-display instrument cluster/infotainment system as Mercedes' MBUX (which it has just left behind with the introduction of its new S- and C-Class models). It includes a digital gauge package to the left and touchscreen on the right, the former monitor's multi-information display controllable via steering wheel-mounted switchgear. Comparison to Merc's MBUX is difficult to avoid, and while I'm not going to say Hyundai's is better, I can't help but laud the South Korean brand for integrating left and right rear-facing cameras within, these projecting live images onto the cluster when applying the turn signals (now becoming common in Hyundai and Kia vehicles).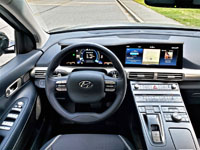 Unexpectedly, the pewter-coloured centre stack is as much of a look back to yesteryear as all the digital screens are modernistic, albeit in a quaint, busy for the sake of being busy kind of way, as if Hyundai was attempting to fill my mind with memories of the mid-1980s, when I made mixed tapes on my old Nakamichi tape deck from LPs on my B&O Beogram 4000 turntable. Those that appreciate quick access to functions will like the Nexo console setup, while the SUV's audio system sound quality wasn't as potent as my old home system, which was powered by a '70s-era Luxman L-504 amp and finished off with a set of Boston Acoustics A400 speakers, but it easily overcame Hyundai's quiet electric powertrain.
Selecting P, N, D or R is as easy as pushing a button, which engages the Nexo's 120-kW (161 hp) electric motor, complemented by 291 lb-ft of ever-willing torque. The motive motor pulls power from a 40-kWh battery, but only twists the front wheels, as no all-wheel drive option is available despite its SUV profile.
As noted earlier, the 95-kW fuel-cell stack allows electricity production on the fly, resulting in mobile electrical powerplant, of sorts. Recharging is therefore continuous, as long as there's hydrogen in the tank, and the EPA claims you'll be able to extract about 570 to 610 km (355 to 380 miles) after refilling, depending on conditions.
Other than the quick refuelling process, the rest of the Nexo driving experience is just like an electric vehicle, although the usual silence is interrupted by a slight vacuum sucking sound when pressing hard on the go-pedal. I only did this for testing purposes, however, so most of the time it was blissfully quiet, aforementioned tunes aside.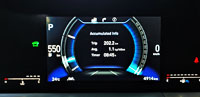 Still, when I needed a fast getaway the Nexo delivered, and likewise when passing laggards on the highway. Even better, it was ultra-smooth doing so, Hyundai's engineers obviously prizing refinement ahead of excitement. By my own completely unscientific Seiko quartz chronograph calculations, I managed to sprint from zero to 100 km/h in a wee bit over eight and a half seconds, which is about half a second quicker than Hyundai achieved, although I imagine the difference has more to do with my unscientific methods combined with their usual conservative estimates. This won't impress any Tesla owners either way (or Chevy Bolt owners for that matter), but it certainly doesn't hold up traffic when merging onto the highway.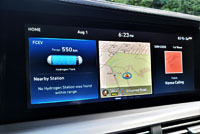 A more pleasant surprise occurred when veering off of a local four-lane freeway onto a curving two-lane backroad that snakes along a winding river near my home. This is where Hyundai's engineering team appears to have taken advantage of the Nexo's low centre of gravity, this provided by installing all the heavy equipment (battery included) under the floorboards. It feels truly hooked up around fast-paced corners, and its electrically assisted rack and pinion steering setup was surprisingly responsive for this class of vehicle.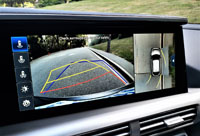 Better yet was the Nexo's ride quality, much thanks to a traditional Macpherson strut front and multi-link rear suspension design, along with good tuning. Despite its ability to hustle around corners at a brisk rate, potholes, frost-heaves, bridge expansion joints and other intrusive road imperfections did little to impact driver or occupants, resulting in one of the best ride/handling compromises in the compact crossover SUV segment, and this while rolling on sizeable 245/45HR19 all-season tires.
The Nexo comes across as solid and well-made too, with zero body groans despite having a glass sunroof overhead, and nominal wind or road noise to mar the peaceful experience within. Once again, it was surprisingly refined for its compact SUV segment.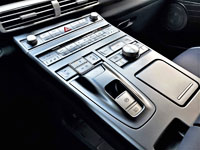 This focus on refinement is probably why Hyundai didn't provide a sport selection amongst its driving modes. Alternatively, the Normal setting becomes the default for performance, while Eco mode smooths out the edges even more, and by doing so maximizes all the tiny droplets of compressed hydrogen from its trio of 52-litre H2 tanks. The Nexo's drive mode selector can be found on the lower console next to the infotainment system's quick access switchgear, by the way, all of which butt up against the previously noted quad of transmission buttons, so finding it should be easy enough after getting acclimatized.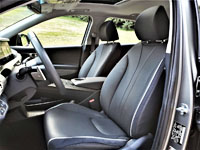 This said, the steering wheel paddles aren't for shifting gears. Instead, the left one is for simultaneously applying the brakes and sending regenerative kinetic braking energy to the battery. You can bring the Nexo to a full stop just by applying this paddle, as long as the SUV isn't rolling too quickly, plus the strongest of its three settings needs to be chosen first. That's the job of the paddle on the right, plus eliminating any rolling resistance by easing off the regenerative brakes. Similar systems are included in most electric cars, so anyone familiar with this EV technology will feel right at home in the hydrogen-powered Hyundai.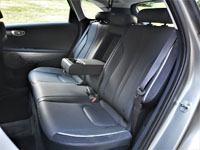 Something else similar to EVs is the impressive load of features found in each Nexo, these helping to offset the rather high prices EV and H2 buyers need to pay in order go green. Along with the excellent digital gauge cluster and infotainment touchscreen mentioned a while ago, my Nexo tester included a 360-surround overhead camera system, accurate navigation with detailed mapping, Android Auto and Apple CarPlay smartphone integration, wireless charging, and more.
What about luxury finishings? Now that Hyundai has expanded to include its premium Genesis brand, we shouldn't expect cloth-wrapped roof pillars and soft-touch synthetics below the belt-line, but the entire dash top is made from a nice pliable plastic, as are the front and even the rear door uppers, along with the door inserts and armrests.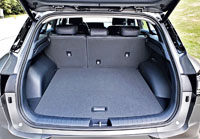 I appreciated the heated steering wheel rim as well, while the inherently comfortable power-adjustable driver's seat was not only three-way heatable, but provided three-way cooling too, not to mention two-way lumbar support that managed to press against my lower spine in just the right spot to alleviate stress.
Additionally, those in back should be comfortable thanks to generous legroom and reasonable width for the class. I think three could sit across the rear bench in a pinch, but I'd rather be back there with just one more passenger so I could enjoy an outboard seat heater and the folding centre armrest with dual integrated cupholders. There's only one three-prong household-style power outlet on the backside of the front console, however (not that I've ever seen more), and no USB ports in the rear, so it's possible that aft passengers will end up squabbling about device charging.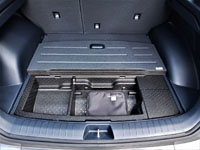 Fortunately, the Nexo's dedicated cargo volume is pretty good at 850 litres (30 cu ft), while it's expandable to 1,600 litres (56.5 cu ft) via 60/40-split rear seatbacks. This said, a 40/20/40 division would've been better, as owners could lay longer items like skis down the middle, while rear passengers enjoy the aforementioned heatable window seats. A mostly level load floor aids usefulness, plus Hyundai includes a bit more storage underneath a carpeted lid.
If you're used to the high prices of EVs, you'd better sit down and buckle up before I mention the Nexo's sticker shocker. This mainstream brand-badged compact SUV starts at a whopping $71,000 plus freight and fees, which will certainly be a deal-killer for anyone that hasn't already priced out a $52,000 Tesla Model Y, or for that matter Hyundai's own $41,599 Ioniq Electric. Truly, the Nexo is purely for early adopters who want to own something completely unique, and are willing to put up with very few places to fill up.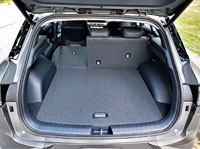 You may already be aware that Vancouver is an anomaly when it comes to retail hydrogen refuelling stations. It's been a hotbed of H2 development for decades (more specifically the suburb of Burnaby), so having an unfair share of H2 stations per capita makes sense. One is in North Vancouver, close to where Toyota houses its local press fleet. I'm quite sure this is just a coincidence, the real reason for the location more likely being its relative proximity to Whistler, BC, a popular destination spot that's well within the Nexo or Mirai's round-trip range. It's also found in the same city as the Hydrogen Technology and Energy Corporation, HTEC being the developer, manufacturer and installer of hydrogen refuelling pump/station hardware, and responsible for setting up the H2 islands around the city, including a Shell station in Vancouver, close to the airport (YVR) and my home.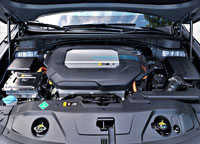 As for the rest of Canada, a fourth station is currently being built on Vancouver Island, with a fifth set to open in Kelowna, BC. After that you'll need to put your H2-powered vehicle on a train if you want to fill up in Quebec City (about 4,800 km away). More are planned, but for the time being it appears that hydrogen is more of a west coast thing.
Speaking of the left, there are 43 hydrogen refuelling stations in California, with the only other two available in the US found in Connecticut and Hawaii (forget the train trip for that final location). Again, there are plans to expand the H2 network in the US, with a supposed "hydrogen highway" eventually connecting California and BC's H2 infrastructure along the US I-5. Being that this has been bantered about for decades, its ETA is anyone's guess, but with powerhouses like Hyundai and Toyota behind the technology, some form of a hydrogen-powered future is probable.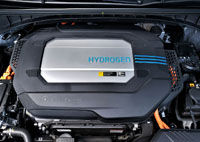 To find out about Nexo trim levels, including the $73,500 Ultimate version tested, plus all the standard and optional features, check out the 2021 Hyundai NEXO Canada Prices page on CarCostCanada, while you can compare this one to the 2020 version that didn't offer a base Preferred trim line (strange name as I'd prefer to have the Ultimate), and was priced $500 lower. Also, you can research the other models mentioned in this story by following the links connected to their names. Learn more about how a CarCostCanada membership can save you money when purchasing your next new vehicle, by keeping you up to date on manufacturer rebates, factory leasing and financing deals, and most importantly, by providing dealer invoice pricing that can save you thousands when negotiating. Also, remember to download the free CarCostCanada app from the Google Play Store or Apple Store, so you'll have all this vital info when you need it most.
Story and photos by Trevor Hofmann