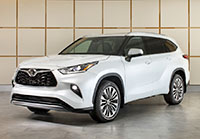 Toyota's Highlander will be saying sayonara to its V6 for 2023, and hello to the same 2.4-litre turbocharged four-cylinder currently found in Lexus' NX 350 and other performance-oriented compacts from the Japanese luxury brand. Lexus announced the same engine swap for its larger mid-size 2023 RX 350 as well, so it's quite possible we're witnessing the dying days of Toyota's venerable 3.5-litre "GR" V6.
In Lexus tune, the 2.4-litre puts out 275 horsepower and 317 lb-ft of torque, which is 20 hp less and 50 lb-ft stronger than the outgoing RX' V6, a fair trade-off that should satisfy the majority of customers when fuel economy savings are factored in. The new Highlander version loses 10 horsepower from the Lexus, understandably, but just eight lb-ft of torque, for maximum thrust and twist numbers of 265 and 309 respectively.
Likewise, the new 2023 Highlander is down on horsepower when compared to the 2022 model's V6, albeit the former is a significant 30-hp less. Fortunately, torque is up by 17 percent and 46 lb-ft, so therefore, with the right gearing it should perform similarly to the 900 cc larger lump. In a press release, Toyota is saying the new engine's increased torque actually makes for "better everyday responsiveness," "especially when taking advantage of the Highlander's 7- or 8-person seating and generous cargo capacity," while the updated model's tailpipe emissions are also cleaner, with more than a 50-percent reduction in NOx and NMOG, plus less CO2.
Fuel economy should cause most 2023 Highlander buyers to smile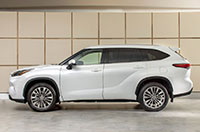 Aside from Highlander owners who love the outgoing model's 295 horsepower and are willing to pay more despite today's unprecedented fuel prices, most consumers will be happy to hear about an estimated rating of 9.8 L/100km combined city/highway. This compares well against the current V6-powered model's 10.3 L/100km rating, while also using standard auto idle stop/start to minimize fuel use and reduce emissions when at standstill.
The new engine is once again joined up to Toyota's eight-speed automatic transmission and standard all-wheel drive, a combination that provides ample efficiency and smooth daily operation with performance-focused gear changes when pushed hard, plus excellent traction in the majority of road conditions, plus most light-duty off-road situations.
Towing capacity remains a Highlander strong point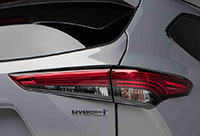 All the extra torque doesn't translate into more towing capacity, but the 2023 Highlander will still haul up to 5,000 lbs (2,268 kg) of trailer, making it ideal for a small boat or camper. It features standard Trailer Sway Control (TSC) too, which utilizes Vehicle Stability Control (VSC) to minimize side-to-side trailer movement.
Of course, the Highlander's best pump gains will be from its carryover hybrid powertrain, which continues forward with the current 2.5-litre four-cylinder engine and dual electric motor-generator set-up. Toyota hasn't mentioned any 2023 fuel economy estimates for the Highlander Hybrid, but it will likely be similar if not identical to the 2022 model's rating of 6.7 L/100km combined city/highway, while its trailering capacity is reduced to 3,500 lbs (1,588 kg).
Of note, Lexus will be introducing the new RX 450h+ later this year, the plus referring to a new plug-in hybrid version of Toyota's well-proven electrified drivetrain, so it only makes sense that a version of this powertrain will eventually find its way over to the Highlander, making it capable of going up against the Hyundai Santa Fe Plug-in Hybrid and Kia Sorento Plug-in Hybrid, amongst others.
Dual 12.3-inch displays come standard in 2023 Limited and Platinum trims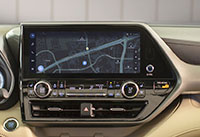 While the Highlander's engine is getting smaller, the standard infotainment touchscreen in upper-crust Limited and Platinum trims will grow by more than four inches for 2023. These models adopt the previously optional, and Platinum-exclusive 12.3-inch display, which is a move up from the regular 8.0-inch colour touchscreen that remains the only centre display available in LE and XLE trims.
Toyota also promises quicker response times to infotainment system inputs and a more intuitive interface layout, with more features as well, such as an intelligent voice assistant, a number of cloud-based functions and services, over-the-air software updates, plus the ability to pair two different smartphones via Bluetooth simultaneously, while content reportedly utilizes the entire 12.3-inch screen, unlike the outgoing version.
Wireless smartphone integration makes better use of improved wireless charging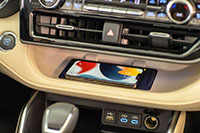 Additionally, the updated infotainment system allows for wireless Android Auto and Apple CarPlay, which means the available Qi-compatible wireless charging tray (currently standard on XSE and above) can now be used together with full smartphone integration. Toyota also made the intelligent decision to move that wireless charging pad from the lower centre console to a device shelf that's long been a clever addition to the Highlander's instrument panel.
Refocusing ahead of the driver, Toyota will be doing away with the 2022 base Highlander LE's remedial 4.2-inch multi-information display when the 2023 model arrives, and replacing it with the 7.0-inch display currently available in XLE and XSE trims. Even better, Limited and Platinum trims will now get a fully digital 12.3-inch driver display as standard equipment, with four visual themes no less, including Casual, Smart, Tough and Sporty.
Additional upgrades round out the 2023 improvements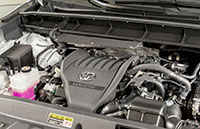 Other upgrades include a standard foot-actuated hands-free power liftgate for XLE models and above, while the sportiest XSE trim now boasts black-painted 20-inch alloy rims inside 235/55R20 all-season rubber, these bolted to the same sport-tuned suspension system from the 2022 model, which still features high-rate springs and a stiffer rear stabilizer bar plus low-friction dampers working together with a specially-tuned electric power steering system.
Once again, the sporty XSE receives an exclusive front fascia design, incorporating a unique grille, an air splitter down below, and modified headlamp clusters, while a special set of rocker panels add more flair to the Highlander's sweptback look. Blackened mirror caps, window moldings and roof rails add to the XSE's performance-first appearance, while the rear design is capped off with dual exhaust tips.
XSE trim also adds a sportier theme inside, where black SofTex seat surfaces with cloth inserts combine with carbon-fibre-look inlays and cool ambient lighting. Additionally, Toyota makes an even more performance-oriented two-tone red and black leather-trimmed cabin available at no additional cost, featuring a red-stitched instrument panel bolster.
Hybrid Bronze Edition makes a return with exclusive Cement paint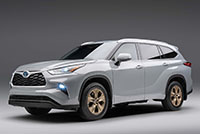 Moving up through the 2023 Highlander line, Limited and Platinum models will receive power-folding side mirrors for 2023, and lastly new Cypress green exterior paint will be available, as will Harvest Beige and Glazed Caramel interior colour themes that now feature Black as the accent colour, instead of Noble Brown.
Last year's XLE Hybrid Bronze Edition makes a return to the electrified Highlander for 2023, along with exclusive Cement, and Wind Chill Pearl exterior colours. The Bronze Edition gets special bronze-coloured accents from front to back, as well as bronze-tone 18-inch alloy wheels. Inside, the Bronze Edition features "mid-century modern-inspired" SofTex-trimmed seats with fabric inserts and bronze-coloured stitching that Toyota says are "like something from a concept car," which is "amplified by the Captain's Chair's layout." Illuminated bronze door sills and special floor and cargo mats embroidered with a unique bronze-stitched logo enhance the "designer look."
Bronze Edition upgrades include rain-sensing wipers, two 120V/1,500-watt power outlets, a hands-free power liftgate, and the list goes on.
New updates should keep the Highlander number one in its mid-size SUV class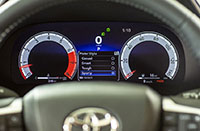 Toyota Canada will release 2023 Toyota Highlander and 2023 Highlander Hybrid pricing closer to the model's availability this fall, at which point the order books will be open. Due to its many improvements, it should remain as Canada's most popular mid-size SUV.
It's held the position of best-selling three-row mid-size SUV for six year running as well, which is an impressive feat considering just how competitive its market segment is. Last year Toyota sold 19,885 Highlanders in Canada, resulting in its best year by a long shot, improving on its second-best sales year of 2020 by almost 21 percent.
The next-best selling Ford Explorer didn't achieve anywhere near the same year-over-year (YoY) growth with sales of just 16,388 units in 2021, while Volkswagen's Atlas came third with 13,491 deliveries last year, although this number also included the German automaker's new five-seat Atlas Cross Sport model, which would be the equivalent of combining Highlander and Venza sales into one, that number being 26,134 units for an even more impressive total.
Competition is heated in the mid-size three-row SUV category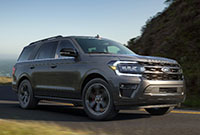 To be fair to Ford, its Explorer and Edge twosome combine for yet more mid-size SUV deliveries at 28,218 units, so the blue oval isn't exactly hurting, and that tally doesn't even include new Bronco sales that totaled 10,204 units last year, compared to 8,293 deliveries for Toyota's increasingly popular 4Runner, which incidentally saw a YoY bump of six percent after its best-ever calendar year.
Additional three-row SUV segment competitors included the Kia Sorento (with 10,275 deliveries in 2021), the Honda Pilot (with 7,398), Hyundai Palisade (6,739), Dodge Durango (5,764), Chevrolet Traverse (4,704), Mazda CX-9 (4,530), Kia Telluride (4,270), GMC Acadia (3,485), Subaru Ascent (3,359), Nissan Pathfinder (3,243), and the all-new Jeep Grand Wagoneer (which was introduced toward the end of the year and therefore only achieved 300 deliveries in 2021).
Three-row SUV alternatives keep getting added to the mix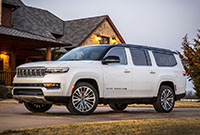 On that note, the Grand Wagoneer and its less luxurious Wagoneer sibling are much larger utilities based on the full-size Ram 1500 pickup truck, so maybe shouldn't be included on this list. Either way, it will be interesting to see how these big three-row prospects fare, not to mention the Jeep Grand Cherokee L, plus the new extended Wagoneer L/Grand Wagoneer L models, just introduced for 2023 a couple of months ago.
The just-noted Jeeps more directly go up against Toyota's Sequoia and Chevy's Tahoe/Suburban, et al, but Toyota is reportedly preparing a larger Grand Highlander to slot in between the current model and just-noted Sequoia, which should more directly take on Hyundai and Kia's respective Palisade and Telluride models. Stay tuned for an update on this new model when Toyota reveals its plans.
Lastly, it should be noted that Dodge's Canadian division sold off its final allotment of 2020 Journey crossovers last year too, that total being 90 units. We can expect something new from Dodge in the mid-size crossover categories soon, not to mention all of the Stellantis brands not yet mentioned, all of which will take their bites out of the total market. Certainly, Toyota's Highlander should continue to do well, but staying number is no easy feat and hardly happens by chance.
Story credits: Trevor Hofmann
Photo credits: Toyota