Power isn't my thing. Most who have it don't know how to wield it, and being libertarian in mindset I truly only want enough power to rule over my personal space. The MX-5, with its modest 155 horsepower and 148 lb-ft of torque, has always fit very well into such ideals. 
Over the years I've heard some complain that its response off the line is somewhat tepid when compared to other sports cars in the category, and when considering these are the same folks unsatisfied with the Subaru BRZ/Toyota 86's much more potent 200 horsepower engine their frustration probably has some merit. I'd rather have high revs and sensational sounds combined with a light curb weight when piloting a four-cylinder powered sports car, yet even with such reasonable expectations the outgoing mill left me feeling a bit flat.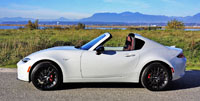 Enter the 2019 MX-5, with a revised 2.0-litre four-cylinder capable of spinning 700 rpm higher before redline, from 6,800 to 7,500 rpm, while power is up 17 percent to 181 horsepower, and torque has increased by 3 lb-ft to 151. 
How did they do it? A few trick engineering tweaks included lighter weight pistons and a redesigned flywheel, plus Mazda also modified the rear differential ratio for quicker response off the line and faster acceleration overall.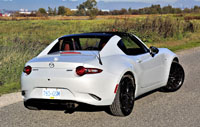 And what about the dull soundtrack? A new sport exhaust system certainly ups the excitement ante, but rather than spill the entire bowl of beans now in this Garage preview I'll go into greater detail about all of the above in my upcoming road test review. 
Until then, here's some background info: a six-speed manual comes standard, while a six-speed automatic featuring manual-shift mode, paddle shifters, and Drive Selection modes is optional. This tester gets fitted with the former, exactly the way I'd choose it if mine, and exactly the way I'll enjoy it best throughout my test week.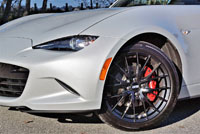 You might also notice a retractable hardtop, this particular MX-5 being the RF version introduced last year, which gets a sharp looking coupe-like all-weather roof that conveniently powers away when you'd rather feel a wisp of mother nature's breath in your hair. It's only slightly easier to live with than the regular soft top, but for those who live, work or just travel through crime-ridden neighbourhoods, it brings an element of security to a car that's never had such locked down advantages before.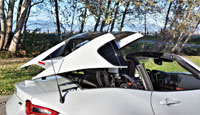 With a focus that's never deviated from performance despite the MX-5 gaining refinements with each generation, even this top-line RF GT weighs in at just 1,118 kilograms with the manual and 1,134 kilos with the auto, which is just 53 kg more than the base soft top. I know, to those autocrossing or racing on the weekend, and there are many MX-5 owners that do, an extra 50-plus kilos of mass exactly where they don't want it, up high over the head, but for the rest of us who simply want to enjoy the fastest way around the highway entrance ramp, it's also a great way to cloak away the noise of the outside world.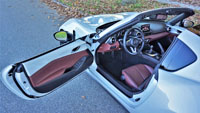 Along with the engine upgrades, Mazda improved the driving environment with a new telescoping steering column, important for setting up your driving position for optimal comfort and control. Continuing on the ergonomic theme, Mazda gave its driver's seat new easier to use adjustment levers, while the door panels and cupholders are redesigned for 2019.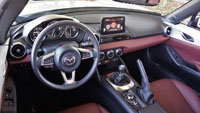 Black metallic painted alloy wheels in 16- and 17-inch diameters are new this year as well, while the 195/50R16 and 205/45R17 tires wrapped around them, the latter standard with the RF, stop better when the MX-5 to new standard Smart City Brake Support (SCBS), while Traffic Sign Recognition (TSR) is also new this year, but requires an upgrade to GT trim. Additional advanced driver assistive systems that are standard across the line include Advanced Blind Spot Monitoring (ABSM), Rear Cross Traffic Alert (RCTA), and Lane Departure Warning System (LDWS), while the 2019 MX-5 continues to come with all the expected active and passive safety features too.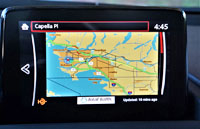 The MX-5 soft top is available in three trims, including the $32,900 GS, $36,900 GS-P, and $39,900 GT, while the RF can only be had in the two upper trims starting at $39,900 and ending at an as-tested $42,900, plus freight and fees of course. See all 2019 Mazda MX-5 prices at CarCostCanada, plus make sure to check the dealer invoice price of the car you choose before buying, as it could save you thousands.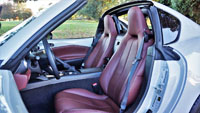 OK, not exactly as tested. My tester also had $200 worth of Snowflake White Pearl paint coating the exterior panels, and instead of standard Black leather with Red Koko stitching, or no-cost Sport Tan leather with Tan Kodo stitching, Mazda had added the $900 Exclusive Package that included a gorgeous caramel coloured Chroma Brown Nappa leather inside plus a contrasting piano black roof top to the exterior. Yes, I think I'd need to spring for this too. 
Interestingly, the aforementioned automatic transmission is a no-cost option despite its many enhancements, with the only other option being a $909 set of 17-inch matte black alloys wheels. 
I won't go into any detail regarding standard GS-P or GT features in this "Garage" review, but instead I'll save such commentary and my driving experience notes for an upcoming review. Until then, enjoy the photo gallery that's a little larger than usual for a Garage story…