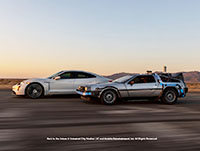 The future is here, or at least Porsche wants us to know they've got our electric recharging needs covered when it comes time for us to invest in a new EV.
The German performance marque has been doing well with their new Taycan four-door coupe and Taycan Cross Turismo five-door crossover, even outpacing sales of Tesla's competitive Model S in Canada this year, with 576 units sold compared to 452 for the American electric brand, so therefore promoting its recharging network only makes sense.
In the case of Electrify America, which is connected to Porsche's U.S. operations via VW Group ownership south of the 49th, your personal benefit may only be realized during weekend excursions across the border or the occasional extended road trip in the same direction.
Either way, when Electrify America's combined capability with its affiliated European network (Ionity, a collaborative effort between BMW, Daimler, Ford and the VW) is tallied up, more than 1.21 gigawatts of fast-charging power is made available to Taycan owners, meaning you'll be able to get where you want to go easier and faster than ever while traveling in the U.S.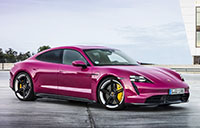 Commemorating this achievement, Porsche produced a humourous short video starring the ultra-modified DeLorean sports car from 1985's "Back to the Future" film (watch it below). Those familiar with the classic comedy might remember a young Michael J. Fox (Marty McFly) playing a video tape of an older Christopher Lloyd (Emmett "Doc" Brown) explaining that he'd need 1.21 gigawatts of power to send the DeLorean back through time, at which point a younger mid-50s-era Doc expressed bewilderment (over and over) that it would take "1.21 gigawatts!" of power to achieve such a feat (enjoy a YouTube video of the scene below).
The two companies make up the largest DC fast charging networks in the U.S. and Europe respectively, with 670 stations to Electrify America's credit, and 372 location under the Ionity banner (so far).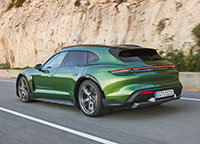 DC fast charging is the best way to refuel your Taycan, being that the 800-volt super-EV only requires 22 minutes to replenish its battery from five to 80 percent. Thanks to the Taycan's 270-kW charging speed, you'll spend "less time spent charging and more time traveling," claimed Porsche in a press release.
Additionally, the Taycan's Plug-and-Charge system, which Porsche jokingly stated is "second only to Mr. Fusion for convenience," all you need to do is plug it in for charging to begin automatically. Better yet, Taycan owners receive "30 minutes of free charging for the first three years of ownership" at Electrify America locations. Porsche claims that it's easy to locate recharging stations too, thanks to a "Charging Planner" featured within the Taycan's Porsche Communication Management (PCM) infotainment system.
Porsche earned over 20,000 Taycan buyers worldwide in 2020, while even better, the sport-oriented automaker had already sold 19,822 of its ultra-quick EVs by Q2 of 2021. With sales growth like that, a growing network of fast chargers will be a necessity.
The Porsche Taycan x Back to the Future (1:00):

1.21 Gigawatts – Back to the Future (6/10) Movie CLIP (1985) HD (3:15):