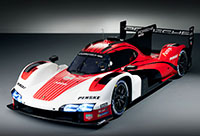 The Goodwood Festival of Speed, based in Chichester, West Sussex, has become the U.K.'s must-go annual event for everything automotive. This year's weekend extravaganza, held from June 23-26, provided the perfect opportunity for Porsche to release its sensational new LMDh class race car as well.
The new LMDh class, which was co-created by the International Motor Sports Association (IMSA) in the U.S., Automobile Club de l'Ouest (ACO) in France, and the Paris-based motorsports regulating and sanctioning body Fédération Internationale de l'Automobile (FIA), will hit the track next year as part of the IMSA WeatherTech SportsCar Championship (U.S.) and the FIA World Endurance Championship (Europe), with Porsche's new 963 joining LMDh competitors from Acura, Alpine, BMW, Cadillac, and Lamborghini.
963 project an international affair thanks to American and Canadian ties
The new 963 will be fielded by Mooresville, N.C.'s Penske Motorsport, one of the best-known names in motorsport. Porsche and Penske previously partnered up from 2005 to 2008, driving the Stuttgart-brand's RS Spyder in bright yellow DHL colours as part of the LMP2 sports car class. This time, however, the 963 will wear Porsche Motorsport's traditional red, white, and black livery.
The new 963's chassis comes from Multimatic in Markham, Ontario, Canada, while the power unit destined to hit top speeds on Le Mans' Mulsanne Straight or around turn 12 and past the finish line of the Daytona International Speedway will be 100-percent pure Porsche, making the new 963 an international project.
That hybrid power unit is an in-house-produced electrified V8, boasting a lineage that goes back to Porsche's 918 Spyder hybrid supercar, which itself is based on the aforementioned RS Spyder. The 918 saw the internal combustion (ICE) portion of its power unit grow from 3.4 litres (in the RS) to 4.6 litres, which is exactly the same displacement as found in the new 963, although the updated V8 ups the performance ante with twin turbos instead of the street car's natural aspiration. The end result is 670 horsepower, which makes it slightly less potent than the maximum allowed output in the new LMDh class.
Strong lineup of Porsche works drivers to target victories and championship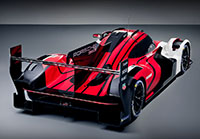 Development driver Frédéric Makowiecki has already driven the 963 some 8,000 test kilometres (4,900 miles), and now Penske Motorsport utilize a team of eight Porsche works drivers for sim and track testing, which will include Dane Cameron, Matt Campbell, Michael Christensen, Kévin Estre, Mathieu Jaminet, André Lotterer, Felipe Nasr, and Laurens Vanthoor. After testing is complete, Team Penske will see how it holds up in a non-competitive outing at the 8 Hours of Bahrain in November, thanks to the FIA allowing 2023 entries to run non-ranked races at 2022 events.
The Bahrain race will no doubt be critical for real world testing purposes and important for team building too, but Team Penske will need to wait until January 21 to 23 at the 24 Hours of Daytona for the 963's first opportunity to achieve points, at which time Porsche has also promised to offer 963 customer cars.
To clarify, the customers in question are independent racing teams capable of competing in the same FIA-sanctioned events, not Porsche enthusiasts hoping for a modified 963 road car.
Story credits: Trevor Hofmann
Photo credits: Porsche