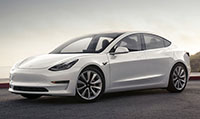 With regular unleaded soaring over $2.00 per litre in some provinces, and expectations for even higher pump prices in the near future, Canadians are starting to get serious about going electric. This brings up the question, which EV is most efficient?
While EVs capable of "going the distance" are impressive, an ability to drive 400 to 500 kilometres on a single charge might not be your best choice unless you plan to travel from Toronto to the Muskokas or Vancouver to the Okanagan on a regular basis. Efficiency, on the other hand, is paramount, because it factors in how much you'll actually be spending. After learning this, you can compare a given EV to the conventional internal combustion engine (ICE) powered vehicle you're driving now.
This formula would normally require the comparison of an EV's Le/100km ranking to an ICE vehicle's L/100km rating, but in this case, we're borrowing info compiled by the U.S. Environmental Protection Agency (EPA), so you'll be seeing MPGe. Either way, it gives us a good indication of the top 5 most efficient vehicles available in a market that's very similar to Canada, plus, as an added bonus, we'll also list off how the "losers" fared.
1) Tesla Model 3: Canada's best-selling electric vehicle for good reason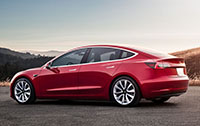 Most popular doesn't always translate into most practical, but in the world of electric cars, efficiency seems to matter just as much as style, performance, luxury features and premium status. The Model 3 has it all, along with best-selling BEV stats and sales leadership in its compact luxury D-segment, beating such perennial all-stars as BMW's 3 Series, Mercedes-Benz C-Class and Audi's A4 (see our Tesla Model 3 sales story here).
At a starting price of $45,099, the all-electric Model 3 is just $109 more expensive than the $44,990 base BMW 330e, which is merely a plug-in hybrid, while last year's M-B C 300 4Matic Sedan (the redesigned one is not yet available) started at $49,500 with no motive electrification at all. Similarly, the 2022 Audi A4 Komfort 40 TFSI quattro incorporates no electric motivation, but at least its $43,800 window sticker saves $1,299 off the top, but that's no small comfort when balancing off all of these German challengers' premium unleaded requirement.
So how do the numbers stack up? As per the EPA, the Model 3 achieves 132 MPGe combined city/highway for a cost of $500 USD per year, or about $635 CAD at the time of writing. After seeing countless social media posts of Canadians filling their tanks well beyond $100 per fill per week, it doesn't take a genius to figure out how quickly a Model 3 might pay itself off compared to the just-noted ICE vehicles it competes with.
2) Lucid Air: Gorgeous newcomer offers a lot for the luxury sedan crowd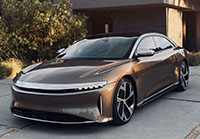 Lucid what? For many, the name Lucid won't ring any bells, but those keeping an eye on the EV scene will already be well informed of this Tesla Model S sized competitor. Designed to compete with Tesla's first practical passenger car (which achieves sixth place on this list), the Air is a much more modern take on luxury, plus its $105,000 entry point is much more advantageous than the Model S' $120,700 base price.
Still, eclipsing the $100k threshold will make Lucid Motors' initial model out of reach for the majority of Canadians, even when considering its exceptional 131 MPGe rating and second-place ranking on this list, the latter matching the Model 3 at $500 USD per year, incidentally, or $635 CAD.
3) Tesla Model Y: An even more practical Model 3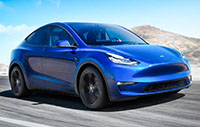 For those wanting a Model 3 but requiring more space, the Model Y provides a sporty crossover alternative featuring more cargo space, a handy liftback design and a slight increase in ride height for better overall visibility.
Starting at $75,700, the Model Y brings EV ownership a bit more down to earth than the Lucid, albeit nowhere near as affordable as the Model 3. At 129 MPGe, however, its annual running costs are identical to the aforementioned EVs at about $500 USD ($635 CAD).
4) Chevrolet Bolt EV: Affordable from the get-go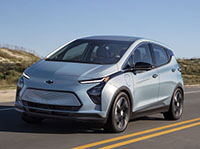 General Motors has been building electric cars longer than the majority of its competitors, giving Chevy a competitive edge that's resulting in strong sales and low running costs.
The Bolt EV achieves a 120 MPGe rating and $550 USD ($700 CAD) per annum running costs, and when including its initial price of just $38,198, becomes one of the more affordable electric vehicles on this list, especially after factoring in any government rebates.
5) Hyundai Kona Electric: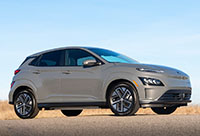 For only five thousand or so extra, Hyundai's $43,899 Kona Electric competes more directly with Chevy's $40,198 Bolt EUV crossover, but challenges the smaller bowtie model for annual running cost kudos at 120 MPGe, resulting in the same $550 USD ($700 CAD) ranking.
In good company, the latter set of numbers allows the Kona Electric and Bolt EV to actually tie with the sixth-place Tesla Model S too, while the new $44,995 Kia EV6 (seventh) and just-noted Bolt EUV (eighth) tie with the Kona Electric and Bolt EV for their $550 USD ($700 CAD) yearly cost, but don't do quite as well in their respective 117 and 115 MPGe ratings.
How the rest stack up…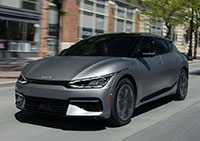 If you're wondering how Hyundai's $44,999 Ioniq 5 fits into the picture, which incidentally is identical under the skin to the less dominant Korean brand's just-mentioned EV6, a ninth-place standing is respectable, plus 114 MPGe rating and $600 USD ($764 CAD) yearly running cost estimate laudable, the two new Korean models making me wonder how Kia will be able to sell any more $44,995 Niro EVs, which sits 10th on this list. That practical crossover manages 112 MPGe, however, for the same annual cost of $600 USD ($764 CAD).
Remember the Nissan Leaf? Not too long ago it was the best-selling electric car in the world, and while it's been knocked from its pedestal it's still a credible performer with a 111 MPGe rating and identical $600 USD ($764 CAD) running cost estimate. It shares the latter a number with the fun-loving Mini Cooper SE that achieves a 110 MPGe rating, plus the new BMW i4 (see our story here that also covers the new iX) that manages 109 MPGe, and the pricier Polestar 2 (a fancier version of the new Volvo C40 Recharge) that's good for 107 MPGe.
Mustang Mach-E is a strong seller despite being less efficient than many EV peers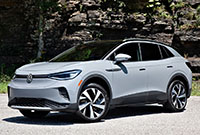 Considering its success on the sales charts, Ford's Mustang Mach-E should seemingly be ranked higher on this list, but its 103 MPGe and $650 USD ($827 CAD) annual running cost estimate won't allow, although it's more or less matched to its main competitor, Tesla's Model X that achieves the same yearly electrical costs, albeit just 102 MPGe. The sharp looking new Volkswagen ID.4 ranks the same for running costs too, but with a 99 MPGe fuel economy estimate.
Those able to afford the new Mercedes-Benz EQS probably won't care that its 97 MPGe rating and $700 USD ($891 CAD) cost per annum ranking put it way down the list, but take note it competes directly with the aforementioned Tesla Model S and Lucid Air that do much better, not to mention the Porsche Taycan and Audi RS E-Tron GT.
Audi's Q4 E-Tron (not to be confused with the larger E-Tron), which ranked second to last, is good for a 95 MPGe rating and the same $700 USD ($891 CAD) yearly cost in both its regular crossover SUV design and the swoopier Sportback, whereas the last-place Mazda MX-30 achieves a 92 MPGe rating and identical $700 USD ($891 CAD) cost.
Story credits: Trevor Hofmann
Photo credits: various