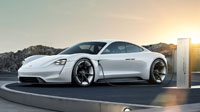 Few electric cars have caused as much excitement as the Porsche Mission E, but consider for a moment that one of the German brand's current hybrids makes 680 horsepower and enthusiasm about an upcoming EV makes perfect sense. 
The hybrid in question is the plug-in Panamera Turbo S E-Hybrid that puts 680 net horsepower and 626 combined lb-ft of torque through four wheels via an eight-speed PDK dual-clutch gearbox on its way from standstill to 100km/h in just 3.4 seconds before a terminal velocity of 310 km/h (192.6 mph). It's the most powerful production Panamera ever made, and is only 20 horsepower shy of the most formidable Porsche ever, the 911 GT2 RS. And you thought the 608-horsepower 918 Spyder was Porsche's most potent hybrid?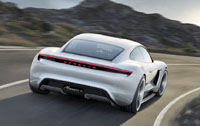 With such an electrified legacy to call upon, thoughts of an all-new fully electric Porsche sports car should cause Elon Musk and his leagues of Tesla faithful to quiver in fear, but first they'll need to learn how to pronounce the new production model's name: Taycan. 
In a recent release, Porsche clarifies that its "Mission E" concept study isn't as much a car as it is a name designed to describe the brand's complete electric offering. This was previously inferred in March of this year when Porsche introduced its Mission E Cross Concept, a crossover-style version of the original 2015 Mission E with a Panamera Sport Turismo style body that Porsche promises to bring to market as well. While we have yet to learn the name of this futuristic electrified SUV, the first of the real-world Mission E offerings will be the Taycan four-door coupe, with series production starting next year.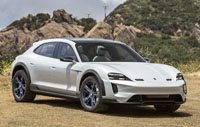 The rough translation of Taycan is "lively young horse" says Porsche, a theme chosen from the Porsche crest that has featured the image of a leaping horse since 1952. 
"Our new electric sports car is strong and dependable; it's a vehicle that can consistently cover long distances and that epitomizes freedom", explains Oliver Blume, Chairman of the Executive Board of Porsche AG. 
In sync with the Panamera Turbo S E-Hybrid, Porsche promises the Taycan will be capable of zero to 100km/h in less than 3.5 seconds, with 200 km/h arriving in less than twelve seconds. 
Such performance will be possible due to a pair of synchronous motors developing more than 600 combined horsepower, while its maximum range will be greater than 500 km in accordance with the New European Driving Cycle (NEDC).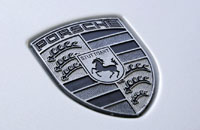 Reports are pegging the strongest Taycan closer to Panamera Turbo S E-Hybrid's net horsepower, while two additional power outputs will also be available starting at just over 400 horsepower and another in the mid-500 horsepower range. 
What's more, the new Taycan will be built off of a unique EV platform architecture dubbed J1, with its lithium-ion battery built right into the floor. 
Additionally, a Mission E photo showing the charge port reveals an 800-volt capability, which if hooked up to corresponding supercharger would mean that 400 km (250 miles) of electricity could be pumped into the Taycan's battery pack in a mere 15 minutes. 
Now we'll just have to wait and see how closely the upcoming Taycan resembles the Mission E prototype. We certainly hope Porsche manages to keep true to the concept car's design roots.