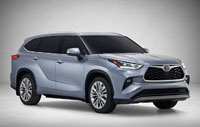 Have you seen the 2020 Toyota Highlander? It's not available to purchase yet, having only debuted at the New York International Auto Show in April, but a quick glance shows that Toyota's crossover SUV division is abandoning its recent Lexus-inspired grandiosity in favour of a subtler approach, much like the 2014 through 2016 Highlander did. 
You might remember that Toyota redesigned the Highlander for the 2014 model year, giving it a lot more character and much more refinement inside, while increasing the maximum seat count from seven to eight, and then after enjoying much success with this newfound mid-size crossover formula the automaker replaced the simpler Toyota truck-inspired front grille and fascia for a ritzier chromed up look just three years later for the 2017 model year, which honestly hadn't hurt sales until recently.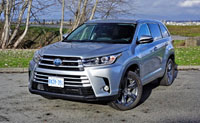 I'm not a fan of all the glitz and glam adorning the face of this otherwise clean, uncluttered and straightforward family hauler (it still looks quite nice from the rear), but possibly due to its new façade and likely more so because of the automotive market's general adoption of crossover SUVs in place of cars, Canadian sales were up by 17.70 percent from calendar years 2016 to 2017, although they dropped by 4.06 percent last year and over the first half of 2019 have slipped another 17.70 percent (bizarre that the model's fall from grace so far this year is in perfect sync with its growth two years ago). 
So why, in a market that's supposedly turning away from traditional cars to crossovers and SUVs, has the Highlander been losing so much ground? Another glance at the stats shows it's not alone, at least amongst mid-size SUV sales that have fallen by 7.66 percent from calendar years 2017 to 2018. In fact, of the 24 crossovers and SUVs currently selling into the mid-size volume segment (including raised wagons like Subaru's Outback, two-row crossover SUVs like Hyundai's Santa Fe, three-row crossover SUVs like this Highlander, and traditional body-on-frame SUVs like Toyota's 4Runner), eight saw positive growth and 10 experienced a swing in the negative direction, with another five seeing only growing due to being completely new models.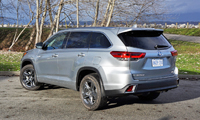 If you're wondering how the Highlander fits into the scheme of things, here's a breakdown ranked in order of popularity with calendar year 2019 Q2 sales and growth/shrinkage rates shown in parentheses: Ford Edge at 8,709 units (+9.05); Hyundai Santa Fe at 8,225 (-11.51); Jeep Grand Cherokee 8,033 (+26.94); Kia Sorento at 6,965 (+0.32); Chevrolet Blazer 6,812 (sales started in January 2019); Nissan Murano 5,062 (-8.00); Toyota Highlander 4,985 (-17.70); Dodge Durango 4,900 (+54.14); Subaru Outback 4,212 (-4.77); Ford Explorer at 4,100 (-45.14 due to a model changeover); Volkswagen Atlas 3,679 (+14.01%); Honda Pilot 3,477 (+22.43); Toyota 4Runner 3,398 (+10.18%); Nissan Pathfinder 2,597 (-10.63); Chevrolet Traverse 2,443 (-16.36); GMC Acadia 1,956 (-3.88%); Ford Flex 1,812 (+115.71, shocking, I know); Subaru Ascent 1,721 (sales started in January 2019); Mazda CX-9 1,573 (-7.58); Dodge Journey 1,488 (-39.19); Kia Telluride 1,072 (sales began in March 2019); Honda Passport 921 (sales started in February 2019); Hyundai Palisade 180 (sales began in June 2019); Volkswagen Touareg 17 (-96.91 because it's a discontinued model).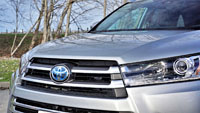 Don't expect to see all of these models in the same order at year's end, thanks to redesigns (the new Explorer should be closer to it's previous third place, and the aforementioned 2020 Highlander will no doubt get a boost too) and all-new models swelling the ranks (the new Blazer's sales are impressive), but the leading brands will likely maintain their leadership for good reason, and one of those leaders has long been Toyota. 
Being the last year of this well-seasoned third-generation K-platform-based (XU50) Highlander (the new model will ride on the GA-K version of the Toyota New Global Architecture/TNGA), Toyota hasn't done much to lure in additional buyers. In fact, it's only added an optional set of LED fog lamps in place of last year's halogens, which look almost identical from a distance.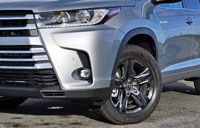 Toyota loaned me a 2019 Highlander Hybrid Limited for my weeklong test, by the way, in the exact same Celestial Silver Metallic and Black perforated leather combination as last year's version, a model I reviewed in detail along with a lovely "Ooh La La Rouge Mica" (that's really the name) painted conventionally powered 2018 Highlander Limited (both models get the LED fog light upgrade this year). 
Updates aside, I still find it shocking that Toyota is the only mainstream volume brand to offer optional electrification in this mid-size class, being that most key competitors have had hybrid drivetrains within their given lineups for decades (although I'll give Chrysler a shout-out for its Pacifica Hybrid plug-in because it's at least spacious enough to compete). More power to Toyota, as this Highlander Hybrid remains the most fuel efficient mid-size crossover SUV available, at a time when our country is experiencing our highest pump prices ever, and no end to the budget gouging in sight if our various governments continue to have any say.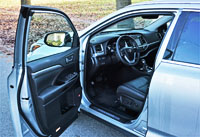 Claimed 2019 Highlander Hybrid ratings are 8.1 L/100km in the city, 8.5 on the highway and 8.3 combined, compared to 12.0 city, 8.9 highway and 10.6 combined for the most similarly equipped mid-range XLE and top-line Limited trims with the conventionally-powered V6, AWD, and upgraded auto start/stop system. 
Before showing you all competitive model Transport Canada fuel economy numbers, it's important to note that both Highlander models offer a lot more standard power. Where the majority of rivals come standard with four-cylinder engines, the regular Highlander now uses a 3.5-litre V6 good for 295 horsepower and 263 lb-ft of torque, driving either the front wheels in LX trim, or all four in LX AWD, XLE and Limited trims, via an eight-speed automatic with available auto idle start/stop, whereas the Highlander Hybrid uses the same engine running the more efficient Atkinson-cycle yet, thanks to its potent electric motor/battery combination, makes 306 net horsepower and an undisclosed (but more than sufficient) amount of torque, which ramps up near immediately due to 100 percent of electrified twist arriving instantaneously.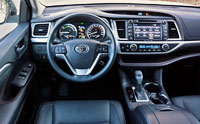 From the list of three-row competitors above, the most efficient (when compared with AWD and auto start/stop if available) rival is Kia's Sorento at 11.2 L/100km city, 9.0 highway and 10.2 combined, but the Sorento is quite a bit smaller than the Highlander and, like its platform-sharing Hyundai Santa Fe that is no longer available with three rows so as to make way for the brand new Palisade, Kia buyers looking for more passenger and cargo room will likely move up to the Telluride. 
Just the same, after the Sorento the thriftiest three-row mid-size SUVs are as follows: GMC Acadia: 11.3 L/100km city, 9.4 highway and 10.5 combined; Mazda CX-9 at 11.6, 9.1 and 10.5 respectively; Highlander V6 at 12.0, 8.9 and 10.6; Nissan Pathfinder at 12.1, 8.9 and 10.7; Honda Pilot at 12.4, 9.3 and 11.0; Hyundai Palisade at 12.3, 9.6 and 11.1; Kia Telluride at 12.5, 9.6 and 11.2; Dodge Durango at 12.7, 9.6 and 11.3; Ford Explorer at 13.1, 9.2 and 11.4; Chevrolet Traverse at 13.7, 9.5 and 11.8; Volkswagen Atlas at 13.8, 10.2 and 12.2; Dodge Journey at 14.5, 10.0 and 12.4; Ford Flex at 14.7, 10.7 and 12.9; and Toyota 4Runner at 14.3, 11.9 and 13.2 respectively.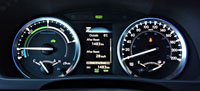 The only mid-size (kind of) crossover SUV that comes close to the Highlander Hybrid as far as fuel economy goes, albeit with only two rows, five passengers, and much less cargo capacity or power is the four-cylinder equipped Subaru Outback, which still comes up short at 9.4 L/100km city, 7.3 highway and 8.5 combined, while more closely sized, but still two-row, five-passenger and four-cylinder equipped options that improve on the V6-powered Highlander's fuel-efficiency include the base Ford Edge at 11.4 city, 8.3 highway and 10.0 combined; the Hyundai Santa Fe at 11.2, 8.7 and 10.1 respectively; and the Nissan Murano at 11.7, 8.5 and 10.3; while just for the sake of finishing the list, the new similarly smaller Honda Passport is rated at 12.5, 9.8 and 11.3 respectively; the new Chevrolet Blazer at 12.7, 9.5 and 11.3, while finally the Jeep Grand Cherokee gets a 12.7, 9.6 and 11.3 respective rating.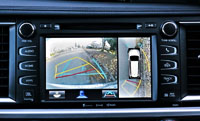 The electromechanical portion of the Highlander Hybrid's drivetrain is made up of two permanent magnet synchronous motors, one for driving the front wheels and the other for those in the rear, plus a sealed nickel-metal hydride (Ni-MH) traction battery. Yes, no lithium-ion battery for this now classic Hybrid Synergy Drive hybrid system, but that's not a bad thing. Consider for a moment that NiMH batteries have been in automotive use since the original Prius went on sale in 1997, and plenty of Prius taxis can be found running around Canadian cities with more than a million kilometres on their original battery packs. NiMH batteries have a proven track record, plus older batteries can be rebuilt using newer modules, as they've basically been the same since 2001.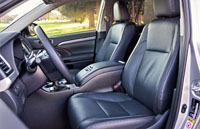 The only negative with the Highlander Hybrid, at least from a driving perspective, is the replacement of the regular model's eight-speed automatic with an electronically controlled continuously variable transmission (ECVT), but it's only an issue when pushing the SUV harder through fast-paced backroads than you will likely ever do. Around town and on the highway both transmissions are wonderfully smooth and easy to get along with, while Toyota gives the ECVT a fairly conventional feel thanks to stepped ratios that mimic a traditional automatic, as well as a sequential shift mode when wanting to get sporty, or merely downshift for engine-braking.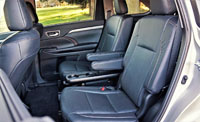 As for the Hybrid's all-wheel drive system, it worked well enough in the rain and even in the mountaintop snow I was able to locate during my test week. Toyota has had a baker's dozen of years to perfect this basic system, moving up from the original 2006 Highlander Hybrid's 3.3-litre V6 to the current 3.5-litre version, but other than that sticking with this tried and true drivetrain formula, and I've never had an issue pulling myself out of sticky or slippery situations, snow banks included. 
Breaking the $50k barrier (at $50,950 plus freight and fees) the 2019 Highlander Hybrid doesn't come cheap in base XLE trim, while this full-load Limited version hits the road for an even loftier $57,260, but then again a similarly optioned 2019 Chevrolet Traverse High Country comes in at an even pricier $60,100, and the only slightly more upscale 2019 Buick Enclave Avenir will set you back a stratospheric $62,100, and they don't even offer hybrid drivetrains, so maybe the Highlander Hybrid Limited isn't so expensive after all.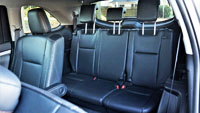 By the way, make sure to check out CarCostCanada for detailed pricing of all cars just mentioned, including trims, packages and options, plus money saving rebate info and dealer invoice pricing that could save you thousands, whether purchasing the new 2019 Highlander, 2019 Chevy Traverse, 2019 Buick Enclave, or any other mid-size crossover SUV (I've got them all linked above if you'd like to know more). 
This is where I'd normally go into detail about those trims, packages and options just noted, but it makes more sense to link to my 2018 Toyota Highlander V6 AWD and Hybrid Road Test review and you can read all about it, because, as mentioned earlier, nothing at all has changed from 2018 to 2019 other than those LED fog lamps.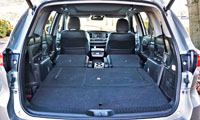 Suffice to say this is a really impressive SUV, with plenty of power, a wonderful ride, decent enough handling, near premium levels of interior quality that even include woven cloth wrapped around all eight roof pillars and plenty of soft-touch surfacing, a nice colourful gauge cluster filled with the types of hybrid controls expected from a partially electric vehicle, a reasonably good centre touchscreen that's now only overshadowed because of Toyota's excellent new Entune infotainment interface, comfortable seating from front to back, loads of cargo space, a great reliability record, and superb fuel economy. 
The only reason not to consider the 2019 Highlander Hybrid is the same factor for getting one sooner than later, the new 2020 Highlander Hybrid that will show up later this year. It promises to be a step up in styling, refinement and performance, which might give pause to anyone buying this tried and tested model, but that said the current version is not only well proven, it should also be easier for your to get a significant discount. Once again, check out CarCostCanada for any rebate info, while it's always a good idea to find out what the dealer pays for the vehicle you want in order to negotiate the best deal possible.