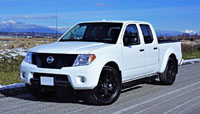 Nissan makes one of the more stylish, technologically advanced, and all around modern mid-size pickup trucks in the world, they just don't bring it here.
The Navara, sold in Asia, Europe, and other global markets, is now in the third year of its third generation, and it still looks fresh and new. It's so good, in fact, that it's the basis for the new Mercedes-Benz X-Class, a luxury truck with no direct rival.
In sharp contrast the North American market soldiers on with Nissan's particularly well-seasoned Frontier, introduced a baker's dozen or so years ago in 2005. While still competent, a claim I'll attempt to prove as this review unfolds, sales haven't grown as quickly as its competitors.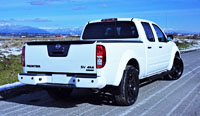 Yes, despite very little in the way of upgrades since inception, the Frontier continues to find favour with plenty of Canadians, its 2017 grand total of 4,260 deliveries actually resulting in its strongest-ever calendar year. That represents a 3.2-percent gain from last year, but more significantly 43.7 percent growth over the past five years and a 97-percent increase since the year before the great recession, 2007 (using depressed 2008 sales numbers would unrealistically skew results).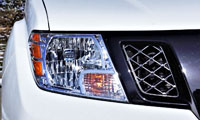 How have others fared? GM, which reentered the market after a short hiatus, is now the clear leader amongst mid-size pickup truck purveyors with 14,320 Chevrolet/GMC Colorado/Canyon sales in 2017 (8,060/6,260), this representing 426.8 percent growth since 2012, the final full year of the previous generation's availability, while sales growth since 2007 has been a more modest 29.5 percent. Toyota, which sold 12,454 Tacomas last year for a slight dip of 1.3 percent from the year prior, was the segment's dominant sales leader up until 2015. Still, the Texan-made trucklet experienced growth of 19.7 percent within the past five years, and 31.4 percent over the decade.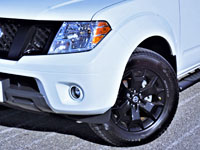 The Honda Ridgeline, which was the only mid-size truck to suffer slower sales than the Frontier last year, despite its completely overhauled second-generation being the newest vehicle in the segment, grew by 76.6 percent to 4,632 units year-over-year, while its five-year gain was 118.3 percent. Even with the update, the Ridgeline's 2017 sales weren't able to surpass the previous generation's first full-year high of 4,988 deliveries, while its sales growth since 2007 is just 2.5 percent.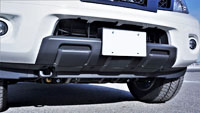 Despite their similar 2017 sales numbers the differences between the Frontier and Ridgeline are night and day, especially when factoring in heritage. Nissan has sold compact trucks since the market segment was conceived, my family having owned multiple Datsun branded 620 series models through my formative years (I'll always cherish the many wonderful memories spent with my dad in our light blue '78), while the original Datsun Truck arrived on North American soil in 1958, that 220 series truck solely responsible for establishing the Japanese brand on this side of the Pacific, but take note that its own domestic market benefited from a Datsun pickup in its ranks since 1938. To be fair I should mention that Honda brought a pickup to market in 1963, but it was never sold here and therefore the brand wasn't able to establish a faithful truck following until the Ridgeline arrived in 2005.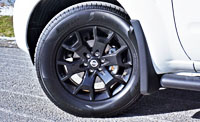 Loyalty is a critical ingredient to success in the truck sector, making it difficult to fathom why both Ford and Dodge (now Ram) abandoned their long-established small truck following six and seven years ago respectively. The former will soon reenter our market with the Ford Australia designed and engineered Ranger, which is currently a best-seller in many Asian markets as well as Europe, so competition within the mid-size truck segment will certainly heat up in coming years.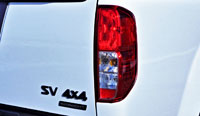 While it would be easy to needle Nissan about its obvious lack of investment in this class, we can simultaneously commend them for sticking it out while others have left. What's more, a sizeable number of Canadians regularly choose to spend their hard earned money on new Frontiers, so the current model clearly has proven appeal. To back this point up yet further, combined January and February year-over-year sales were up an additional 33.1 percent from 2017 to 2018.
The fact is, the Frontier was far ahead of its time when introduced in 2005, allowing it to age well. Certainly, when put next to any of its more modern rivals the Nissan looks a bit dated from the outside and probably more so inside, but unless we start directly comparing their top-line trims it's not as if the newer models are pampering palaces of luxury in entry-level guise.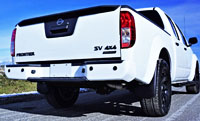 Let's face it. We're talking trucks here, not luxury cars. In fact, you can get into a base 2018 Frontier for just $23,998, plus freight and fees. Before any hate mail from GM zealots starts flooding in, I realize a base Colorado starts at only $22,610 and the Canyon for $23,410, which no doubt has helped propel them up the sales charts. By comparison, the Tacoma begins life at $30,900, whereas the Ridgeline is a rarified luxury truck due to a base price of $37,290, which gives me new respect for the other two Japanese models' sales numbers.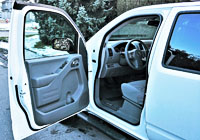 The unibody Ridgeline warrants its loftier base price in refinement alone, its cabin mostly pulled directly over from the near-luxury Pilot SUV. The rest of the segment is comprised of traditional body-on-frame pickup trucks, so even though the Frontier is still filled with durable hard plastic surfaces instead of soft, pliable leather-like synthetics, none of the others are either, at least at the lower end.
On that note, I'm going to guess that none of these trucks sell best in their most humble trims, the 2018 Frontier available in King Cab S, $25,548 King Cab SV, and $31,748 King Cab PRO-4X, while the Crew Cab SV starts at $32,498, my tester's new for 2018 Crew Cab Midnight Edition trim at $35,398, the Crew Cab PRO-4X at $36,798, and top-tier Crew Cab SL at $38,898.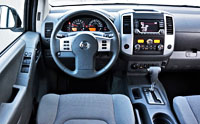 The base Frontier S comes similarly equipped to the rest of its truck-based alternatives, with key features including a direct-injected 2.5-litre DOHC, 16-valve, four-cylinder engine making 152 horsepower and 171 lb-ft of torque, a five-speed automatic transmission, rear-wheel drive, four-wheel disc brakes with ABS, an independent double-wishbone front suspension and leaf-spring, solid axle rear setup, 15-inch steel wheels, an extended King Cab and 1,861 mm (73.3 inch/6.1-foot) bed, a chrome grille, a partial body-colour front bumper and a full body-colour rear bumper, a locking tailgate, a cargo bed light, variable intermittent wipers, illuminated steering wheel-mounted audio controls, cruise control, air conditioning, a hands-free text messaging assistant, a RearView parking monitor (new in standard trim), Bluetooth phone connectivity with audio streaming, 5.0-inch colour display audio with AM, FM, CD, and satellite radio, speed-sensitive volume control, aux and USB ports, fabric seat upholstery, forward-facing rear flip-up seats, second-row under-seat storage, carpeted flooring, tire pressure monitoring, all the usual active and passive safety features, and more.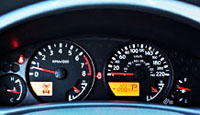 By comparison the GM twins offer more base power yet they charge extra for an automatic, albeit with one more forward gear, while their more modern entry-level interiors feature powered locks and windows, coloured multi-information displays (MID) within the gauge cluster, larger infotainment touchscreens, slightly better audio quality, powered driver's seats, and unique rear bumper corner steps for ease of access to the bed. Likewise, the pricier Toyota features more power yet an optional auto with an additional forward gear, a colour MID, larger infotainment, heated front seats, and a host of advanced driver assistance systems (ADAS) such as auto high beams, adaptive cruise control, autonomous emergency braking with pedestrian detection, and lane departure alert.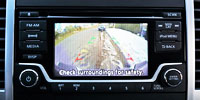 While the Frontier doesn't include any of those ADAS features, loading one up with everything available, such as auto on/off headlights, a leather-wrapped steering wheel, navigation, voice recognition, 10-speaker Rockford Fosgate audio, powered seats, leather upholstery, illuminated vanity mirrors, a garage door opener, a powered moonroof, and more, plus some popular dealer-added accessories, can nudge it over the $40k threshold, but that's still extremely affordable when comparing it to the fully featured Tacoma that hits the road at $47,625, or the optioned out Ridgeline at $57,605, maxed Canyon at $58,365, and ultimate Colorado at $59,740. Of course, it's impossible to compare all of these trucks directly as they offer features not available with the Frontier SL.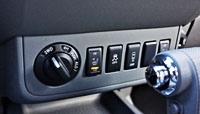 This mid-range Frontier Midnight Edition is more utilitarian than the SL, but I have to say it still looks good thanks to a design that's stood the test of time, further dressed up with plenty of sporty gloss black trim in place of cheaper matte black or ritzier metal brightwork, plus fog lamps up front, black step rails and splash guards down each side, not to mention exclusive Midnight Edition blackened 18-inch alloys circled by 265/60 mud and snow all-seasons. All of this gear gets attached to the larger, more accommodating Crew Cab body, making for a handsomely rugged mid-size truck.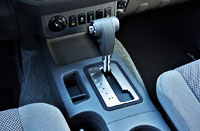 The Midnight Edition model's key features include Nissan's direct-injection 4.0-litre DOHC, 24-valve V6 making 261 horsepower and 281 lb-ft of torque, plus standard four-wheel drive with a switch-operated two-speed transfer case, hill descent control, hill start assist, a front tow hook, power door locks with auto-locking and remote access, powered windows, heated power-adjustable side mirrors, a sliding rear window, rear parking sensors, a factory-applied spray-on bedliner, Nissan's Utili-track Channel System with four tie-down cleats, tilt steering (but no telescopic), micro-filtered dual-zone auto climate control, an auto-dimming rearview mirror, a digital compass, outside temperature display, vanity mirrors, heated front seats, two additional stereo speakers totaling six, and more.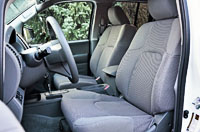 The Midnight Edition doesn't allow for any options packages, but you can get a sliding bed divider for $281 from the accessories catalogue, or a $350 sliding bed extender, $786 sliding toolbox, loads of trailering gear for 2,000-lb, 3,500-lb, 5,000-lb, or 6,500-lb towing capacity depending on trim, plus more.
The interior of my tester was finished in a light, soft grey, which was a pleasant change from the usual dark grey or all black attire of most trucks in this class, and while it's a back-to-basics utility-first workhorse done in the spirit of days gone by, it's nevertheless filled with nice design details like the artistically dimpled shroud over the primary instruments, uniquely rounded instrument panel to each side of the centre stack, and corrugated-style lower dash and glove box lid, not to mention some attractive brushed aluminum detailing on the steering wheel, down each side of the centre stack, and garnishing the gear selector. No one will mistake it for a luxury truck, but some bright chromed detailing of key components adds a smattering of bling, while the seat upholstery looked good.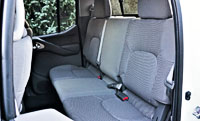 More importantly those seats were extremely comfortable, and despite not having the telescopic steering wheel noted earlier, driver ergonomics are pretty good. In fact, I enjoyed my test week more than expected, partially due to memories of my early years in the auto writing business when I first came across this model and the Xterra that followed (they shared interiors), but also because everything worked well enough, while providing all necessities with few frivolities.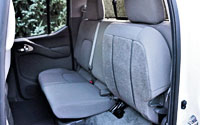 The primary instruments are simple white-on-black dials with a rudimentary trip computer and graphic display for rear- or four-wheel drive engagement, while the small yet efficient colour infotainment touchscreen on the centre stack featured a simple backup camera sans dynamic guidelines, the usual audio functions, phone setup, vehicle settings, and little else.
The switchgear that surrounds it was all tightly fitted and well damped, while the dials and buttons that make up the dual-zone auto HVAC system were well executed. Nissan finishes off the centre stack with a big, meaty rotating dial for selecting 2WD, 4H and 4LO, plus a row of rocker switches for the two-way heated seats, stability control, and parking sonar.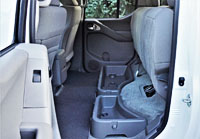 Funny thing about transmissions, it's difficult to notice the difference between a well-sorted five-speed autobox and a six-speed unit. The five-speed automatic in the Frontier shifted smoothly, kicking down to select a lower gear quickly when called upon and moving up through its gears without commotion as speeds increased. It basically goes about its duty without issue with the big V6 following suit, punching out solid power when needed, making a wonderful snarly exhaust note when revs climb, but otherwise comfortably loping along in its highest gear to save fuel, which is rated at 15.8 L/100km in the city, 11.5 on the highway and 13.9 combined as tested, with its best-possible efficiency of 13.6 city, 10.7 highway and 12.3 combined coming from the four-cylinder with its most basic five-speed manual gearbox.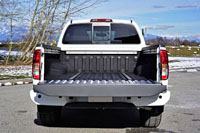 How does that compare to its peers? Both engines are thirstier than all of the mid-size trucks mentioned above, but just nominally. In other words, the amount of fuel the Toyota and Honda save will never make up for the initial savings provided by this Nissan, while the thriftiness allowed by the similarly priced base GM trucks inch them ahead in this respect.
Along with the V6 model's strong straight-line performance, the Frontier also delivers a decent ride. Of course, generous suspension travel helps ease its way over bumps and through ruts or whatever else gets in its way, but lets not forget it's a pretty beefy little truck with rugged off-road capability so we can't expect it to be high on the pampering scale. This said it tooled around town well, was quite smooth on the highway thanks in part to a long wheelbase, and took to reasonably paced corners with fairly confident poise.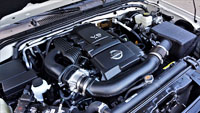 I mentioned a moment ago that the driver's seat was comfortable, but neglected to comment on the rear row. When the seat in front was set up for my unusually long-legged five-foot-eight height, I had about three inches left over ahead of my knees in behind, plus about four inches over my head, while it was a bit tight from side-to-side. There's no flip-down centre armrest in this trim, this reserved for top-line SL buyers, but a set of cupholders can be folded out from the backside of the front console, while the 60/40-split seat cushions can be flipped up and out of the way in order to reveal some useful cargo storage bins underneath, although something more akin to the full-size Titan's optional rear flat load floor would be better, as its bins feature retractable lids that transform into large, flat, carpeted loading areas when the need to keep smaller cargo safe and dry comes into play.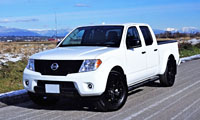 As noted earlier, the newer GM trucks provide better bed access when the tailgate is lowered thanks to more innovative rear bumpers with integrated corner steps, but others make retractable steps available that work just as well, or these can be ordered from an aftermarket parts supplier. When up on the bed, the spray-on bed liner was amongst the grippiest I've ever experienced, which aids safety yet makes it challenging to clean. My broom wasn't able to get all of the fallen twigs and dried leaves from under the tracks of the cargo system either, so I'd recommend you purchase a power washer for such situations. Take note the base Frontier can manage payloads of 404 kilograms (890 lbs) while upper trims are capable of 652 kg (1,440 lbs), making it a capable hauler for work and play, even if it does come up a bit short on creature comforts and convenience items.
Of course, any lack of features in the current Frontier will be remedied when its modernized replacement arrives, but for Nissan's retailers that couldn't come soon enough. After all, Nissan should sell more mid-size pickups than full-size, this being the usual state of affairs for an import brand, but with a recently renewed Titan in its lineup, filled with plenty of body styles, engine choices, trim levels and design options, not to mention thoroughly up-to-date electronics, it currently has the lead.