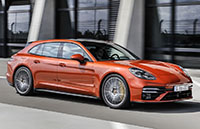 What's the world's best sport-luxury sedan? Many would point to Porsche's Panamera on performance alone, despite not technically being a sedan due to its practical rear hatch and sloping rear deck lid to match. There's even a more useful wagon-like Sport Turismo version that's responsible for many of the Panamera's sales since being introduced for the 2018 model year, so therefore the car more appropriately fits within the alternative four-door coupe category. Still, no matter how you look at it, the Panamera is one impressive sport-luxury offering.
As it is, the Panamera will cruise into 2021 with some modest styling updates and yet bolder drivetrain enhancements, particularly at the top of the range where the new Panamera Turbo S replaces the Turbo, with power moving up from 550 horsepower to 620, a 70-horsepower bump in just one, single refresh. This results in a sprint from standstill to 100 km/h of just 3.1 seconds when Sport Plus mode is selected, all before attaining a top track speed of 315 km/h.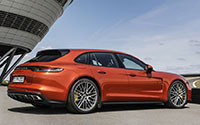 Of note, last year's most potent Panamera was the electrified Turbo S E-Hybrid, good for 677 net horsepower, albeit a zero to 100km/h run of "just" 3.4 seconds, 0.2 seconds quicker than the outgoing Panamera Turbo, but 0.3 seconds off the new Turbo S. That hyper-quick hybrid is at least temporarily gone for 2021, but don't fear hybrid fans as it'll be back soon with even more power.
According to plenty of interweb reports, Thomas Friemuth, who heads the Panamera line at Porsche, has confirmed the electric portion of the car's drive system will produce some 134 horsepower, which means the new Turbo S E-Hybrid, when mated to the new 620-horsepower twin-turbo V8, should put out somewhere in the neighbourhood of 750 horsepower. If you think this lofty number sounds insane, consider for a moment that a key Panamera rival, Mercedes-AMG's fabulous GT 4-Door Coupe, is expected to hit the tarmac soon with more than 800 horsepower.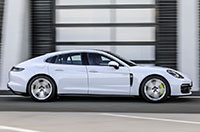 Those satisfied with mere blistering pace rather than ultimate scorching speed, yet still wanting hybrid economy, can opt for the all-new 4S E-Hybrid that comes fitted with 552 net horsepower that propels the big luxury car from zero to 100 km/h in just 3.7 seconds ahead of topping out at 298 km/h. The entry-level 4 E-Hybrid, which only made 462 net horsepower and needed 4.6 seconds to arrive at the 100 km/h mark, is no longer available for 2021.
Benefiting both new 4S E-Hybrid and Turbo S E-Hybrid trims is 30-percent more EV range than their predecessors, all thanks to an upgraded 17.9 kWh battery, an improvement of 3.8 kWh. The hybrid models' control systems and chassis components have been modified too, with next-generation steering control as well as new tires, enhancing comfort and performance.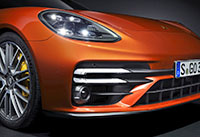 This said, the hybrid isn't the only 2021 Panamera to receive steering and suspension improvements. In fact, the new Turbo S gets a custom tuned three-chamber air suspension, while the top-tier model's Porsche Active Suspension Management (PASM) system and roll stabilization system, the latter called Porsche Dynamic Chassis Control Sport (PDCC Sport), have also been modified to perform at more extreme levels. Porsche Torque Vectoring Plus (PTV Plus) was updated to improve at-the-limit handling as well, all resulting in the best performing Panamera yet, and one of the best performing passenger cars available period.
Proving that point, the automaker took its new Panamera Turbo S to the legendary Nürburgring Nordschleife race course in Germany on July 24, 2020, resulting in Porsche works driver Lars Kern setting a new "executive cars" class record of 7:29.81 minutes over the 20.832-kilometre track. We can hardly wait to see how the new Turbo S E-Hybrid will fare.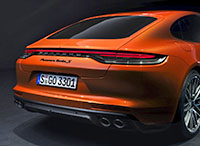 Those wanting most of the Panamera Turbo S' performance for a more approachable price point can opt for the Panamera GTS, which continues into 2021 with the same 473 horsepower 4.0-litre twin-turbo V8 and identical zero to 100 km/h rating of 3.9 seconds. This engine added 20 horsepower over its predecessor when introduced, helped along by a special standard sports exhaust that utilizes asymmetrically positioned rear silencers for an especially exhilarating exhaust note.
Lastly, or more accurately, the first rung on this model's hierarchal ladder is the most basic Panamera, which is the only trim offering rear-wheel drive, all others incorporating Porsche Traction Management (PTM) all-wheel drive as standard. Both the base Panamera and the Panamera 4 include a 325-horsepower twin-turbo 2.9-litre V6 capable of very a spirited 5.6-second zero to 100 km/h sprint with RWD, and an even better 5.3-second run off the line with all-wheel drive.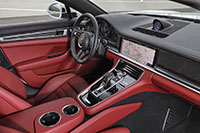 That base Panamera starts at just $99,300 plus freight and fees for 2021, which is unchanged despite its improvements, while a Panamera 4 can be had for $104,600. The rear-wheel drive Panamera only comes with the regular wheelbase and coupe-like liftback, but the base powertrain will all-wheel drive can be had in three body styles, starting with the regular wheelbase liftback before moving up to the longer wheelbase $112,200 Executive and finally the more wagon-like $111,700 Sport Turismo.
The 4S E-Hybrid is next on the financial pecking order at $128,500, or $141,400 for the Executive version and $133,100 for the Sport Turismo, while the 2021 GTS remains priced at $147,400 for 2021, and increases to $154,400 when its cargo compartment is expanded to Sport Turismo dimensions.
Finally, the Turbo S starts at $202,400 for the regular wheelbase model, $214,300 for the Executive, and $207,000 for the Sport Turismo.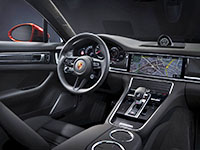 Of course, there's more to any Panamera than mere performance, which means it was important for Porsche to keep the car looking fresh and up-to-date. Therefore, all 2021 Panameras will now come standard with the previously optional SportDesign front fascia design, which includes the brand's new single-bar front lighting module, augmented air intakes, and bigger, more assertively styled corner vents.
The new Turbo S gets some exclusive frontal styling with even larger lower fascia corner vents that adds to its aggressiveness, while some unique exterior paint options help to set this model apart.
Three new 20- and 21-inch alloy wheel sets can personalize any Panamera model further, while the new car's long, body-wide horizontal taillight gets new contours for 2021, while the lenses have been darkened on the GTS model.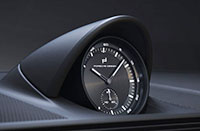 The Panamera's interior remains mostly the same entering 2021, which is no bad thing. Just the same, improvements include new functions and services for the Porsche Communication Management (PCM) infotainment system, such as enhanced Voice Pilot online voice control, Risk Radar for real-time road sign and hazard info, wireless Apple CarPlay smartphone connectivity, and more.
Also enhanced, the 2021 Panamera can be had with Lane Keeping Assist featuring road sign recognition, as well as with the Porsche InnoDrive suite of advanced safety and convenience systems, which includes Lane Change Assist, LED matrix headlights including PDLS Plus, Night Vision Assist, Park Assist with Surround View, adaptive cruise control, and a head-up display unit that projects key info on the windshield ahead of the driver.
The 2021 Panamera is ready to order from your local Porsche retailer now, with deliveries starting in Q1 of 2021. After you make that call, make sure to check out our complete photo gallery above, and then be sure to enjoy the three videos below (which include the new 2021 Panamera Turbo S on the Nürburgring Nordschleife race track), plus remember to go to CarCostCanada's 2020 Porsche Panamera Canada Prices page where you can learn more about the automaker's zero-percent financing offer on all 2020 models, plus access info about manufacturer rebates when offered, and always available dealer invoice pricing that could save you thousands. Find out how the CarCostCanada system can save you money, and remember to download the free CarCostCanada app from the Apple Store or Google PlayStore so you can have access to all this important info whenever you need it.
New Panamera achieves lap record on the Nürburgring Nordschleife (3:09):

The new Panamera – digital world premiere (11:33):

The new Panamera: Highlights (2:13):

Story credit: Trevor Hofmann
Photo credits: Porsche