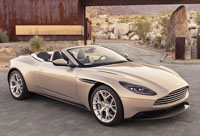 Aston Martin has been revising its entire model range in recent years, with a dynamic new take on its quintessentially British design language and a completely new V8 and V12 engine lineup.
Maintaining its forward momentum, the DB11 Coupe, universally praised after its 2017 introduction, gets a soft-top convertible Volante model for 2018, due to arrive across the country next month.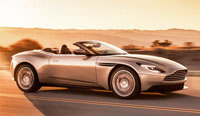 "For many of our customers, indeed many generations of Aston Martin customer, the Volante has always offered something very special: a unique combination of elegant style, innate sporting ability and sensory engagement that lifts it above other open-top cars," said Dr. Andy Palmer, Aston Martin President and Chief Executive Officer. "The new DB11 Volante captures those qualities perfectly and promises the kind of pleasure and enjoyment that can only come from driving an open-top Aston Martin."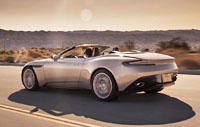 The DB11 Volante replaces the outgoing DB9 Volante, a model that's served Aston faithfully for more than a dozen years. Where the old Marek Reichman and Henrik Fisker designed model has become a modern-day classic, revered by industry professionals and owners alike, not to mention car enthusiasts the world over, the new DB11, once again penned by Reichman, merges all that's good from the past with an edgy new sophistication.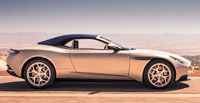 The DB11 Volante doesn't deviate from the DB11 Coupe's successful design below the shoulder-line, a good thing as the model's new take on the trademark A-M grille, striking LED headlamps, elegant single-piece aluminum hood, dramatic front fender vents, muscular rear fender swells, sharply cut trunk lid, ultra-slim 'light blade' LED tail lamps, and diffuser-infused rear apron nears visual perfection. While new forged alloy wheels round out the lower design, the new open-top model gets even better as eyes climb upward. Perched atop a similarly raked windshield and A-pillars to the DB11 Coupe up front, and an artistically reformed deck lid in back, sits a classic retractable fabric roof that melds perfectly into the car's sweptback profile.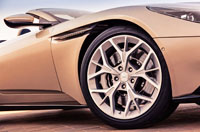 Available in Black Silver, Grey Silver or Bordeaux Red, the all-new eight-layer convertible top utilizes the latest acoustic sound deadening and climate isolating insulation materials, providing four-season comfort and NVH levels, while it powers down to a class-leading stack height in just 14 seconds at speeds of up to 50 km/h with a 50 km/h headwind, plus back up again in only 16 seconds.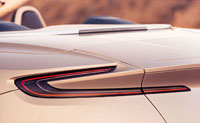 The DB11 Volante offers most of the same standard and optional features as the new DB11 Coupe, including an entirely new configurable digital gauge cluster with superb graphics, clear, crisp resolution, and wonderful depth of colour, plus an equally impressive centre stack-mounted infotainment display controlled by a knurled metal-edged rotating dial and gesture-sensing palm rest on the lower console. Both Daimler-sourced electronic interfaces are filled with the latest features and apps, including full smartphone integration, while the rest of the interior comes finished in the auto industry's best quality materials and most exacting artisanship. Upping its game, the front seatbacks of the DB11 Volante even feature hardwood or carbon fibre veneer panels that easily pull eyeballs when the top is dropped.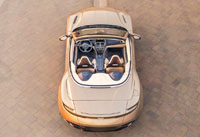 While the standard and optional features list is long and full, Aston makes a special point of noting the DB11 Volante's new heatable steering wheel as an encouragement for all-season open-air motoring (which we wholly support), and also states that new Volante-first rear seat ISOFIX attachment points bring a new level of practicality to owners with small children.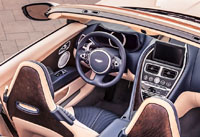 Regarding performance, the DB11 Coupe first arrived with Aston's new V12, which was engineered by a team from the company's UK division yet continues to be produced in the automaker's dedicated Cologne, Germany engine facility, but take note the DB11 Volante won't be available with the V12 at all, at least not at first, but instead will utilize the brand's new 4.0-litre V8, sourced from AMG-Mercedes ahead of fine-tuning by A-M's engine team. The new V8, which makes 503 horsepower, 498 lb-ft of torque, and comes mated to a new paddle shifter-enhanced ZF-sourced eight-speed automatic transmission with incredibly quick yet especially smooth shift intervals, was a new arrival for the 2018 DB11 Coupe late last year, and is an ideal fit for the new convertible.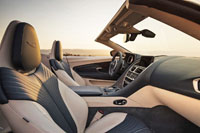 The lighter weight V8 fits further rearward in the car's chassis to aid overall balance, plus performance is also helped by a new DB11 Volante that's considerably lighter and more rigid than the model it replaces, its bonded aluminum body structure carried forward from the DB11 Coupe yet stiffened in key areas to compensate for losing its roof.
"The challenge of creating a convertible car is retaining structural and dynamic integrity," said Max Szwaj, Aston Martin Chief Technical Officer. "To protect the former you need strength and rigidity, but to preserve the latter you need to keep weight to a minimum. With the DB11 Volante we have maximized the advantages of the DB11's all-new bonded structure to underpin our new Volante with a structure that's 26 kg lighter and five percent stiffer than its predecessor. The result is a truly magnificent car. One that combines greater performance and agility with increased comfort, refinement and interior space for occupants and their luggage."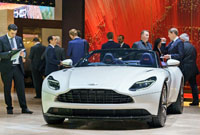 DB11 Volante trunk volume has grown by 20 percent over the outgoing DB9 Volante, while the car's increased cabin space, comfort, plus its reported ride quality and driving ease seem diametrically opposed to its overall improved performance. To this end the new model incorporates three-stage powertrain and chassis modes that are engineered to suit most any driver's mood or road/weather condition, while new electric power steering plus a limited-slip differential with dynamic torque vectoring provide levels of all-season control not possible before.
The new 2018 DB11 Volante arrives at Aston Martin dealerships across Canada next month, although orders are being taken now. Contact your local retailer for details.