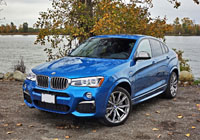 BMW is the ultimate niche filler. Seriously. The Munich-based premium marque manages to create obscure niches within the unique niches few other luxury rivals dare tap into, and when others don't work for their namesake brand they adapt them for Mini or Rolls-Royce?
The X4 was the obvious result of downsizing the already successful X6, the result of which sees even more sales than the larger mid-size model. Last year the X4 found 1,236 Canadians who liked the idea of a five-door sports coupe mixed with a compact SUV, whereas 1,178 BMW buyers chose the larger of the two. These aren't game-changing sales compared to 5,417 X3s and 6,942 X5s sold within the same 12 months, but every little bit adds up, as BMW has also learned with its multiple 3 Series, 4 Series and 6 Series body styles.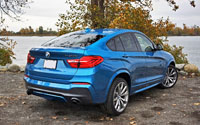 Regarding the five-door coupe-cum-SUV (or whatever you want to call it), a nod should be given to Infiniti for its original FX that more or less originated the idea and subsequent QX70 (still available, albeit rare), while Land Rover's Range Rover Evoque took the concept down one size to the entry-level SUV class, and even went so far to create a three-door SUV coupe and now a two-door convertible variant (it's a lot cooler than it sounds).
Hitting even more at BMW's core, Mercedes recently responded directly with the compact GLC Coupe and mid-size GLE Coupe, while a special mention should go out to Acura and its ill-fated ZDX, a model most people loathed (hence its cancellation) and I happen to still love.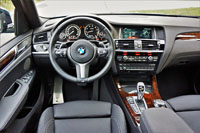 BMW makes two versions of the X4, starting with the more fuel-friendly $48,700 X4 xDrive28i and topped off with the bahn-storming $60,700 X4 M40i. That means the X4 xDrive35i has been discontinued, but due to the latter, which entered the scene last year, no one should shed any tears.
Where the xDrive35i was a blast to drive due to its twin-scroll turbocharged 3.0-litre inline-six that made 300 horsepower and 300 lb-ft of torque, the M40i takes the same engine and puts a much more engaging 355 horsepower and 343 lb-ft down to its four torque-vectoring wheels. Like the less potent model, the M40i utilizes an eight-speed automatic with paddle shifters; a version of that transmission also incorporated into the entry-level X4 xDrive28i, which incidentally is good for 241 horsepower and 258 lb-ft of torque.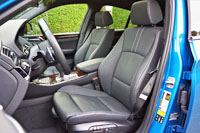 Of course, there's a lot more than extra oomph behind the top-line model's "M" badge. Along with some unique styling details, larger wheels and tires, bigger brakes, a sport suspension, exclusive interior trim, and more, the M40i also includes launch control for a blistering 4.9-second standing start to 100km/h.
Important news that just can't wait for my upcoming review is the inclusion of BMW's latest iDrive infotainment across the line, which features an ultra high-resolution display filled with a completely new menu design, faster processing, and enhanced graphics.
There's so much more to tell you about, so make sure to come back and find out why adventuresome kid-less couples should consider an X4 over an X3…