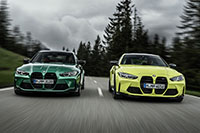 Just when we thought 2020 couldn't get any stranger, BMW created a twitterstorm of its own with the online launch of its most iconic performance model. The Munich, Germany-based automaker took the wraps off an entirely new 2021 M3 sport sedan and M4 coupe on Tuesday, September 22, with the resultant global buzz near palpable.
To merely call them "bold" or "dramatic" would be understating the truth bomb they represent, as the unconventional new designs are at the very least polarizing. Stylistically, the all-new M3 (G80) and M4 (G82) seem to be reaching far back into BMW's history, pulling frontal design cues from the mid-'60s 2000 C and 2000 CS sport coupes that rode on the back of the brand's then New Class architecture, which also included the 1500 and 1600 sedans with similar, albeit smaller grilles. While beautiful from their hood lines and front fenders rearward, plus in fact introducing the beloved Hofmeister kink to the rear quarter windows and eventually resulting in the now iconic and highly collectable E9 range of coupes produced from '68 to '75, the 3.0 CSi being most notable and the CSL most sought after, earlier examples suffered from a deep, rounded bucktooth-like kidney grille that was never as palatable to the majority of collectors as coupe models that followed or came before.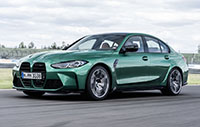 That latter point in mind, the brand's head of design, Domagoj Dukec (and company), may have been looking further back to BMW's 309, 319, 320, 321, 328 and 329 models of the mid-to-late '30s and early '40s, whose tall radiators come closer to matching the size of the new M offerings. Either way, their choices for historical inspiration may cause some would-be M car buyers to take pause.
After all, previous fifth- and first-generation M3/M4 (F80/F82/F83) and original E30-based M3 aside (the former more aggressively penned than its predecessors and the latter whose coke-bottle hips made it stand out from its slab-sided 318i donor), M3s have always been subtle in their approach to styling, preferring moderate visual cues only enthusiasts would notice over the types of radical lower body cladding, ducts and wings found on pumped up versions of some rivals. Not so anymore.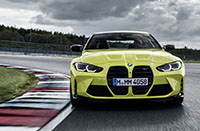 This said, we do love our beavers in Canada, so the new M3 and M4's aggressive overbite could become very popular north of the 49th. Along with the largest twin kidney grille design ever offered on a modern-day BMW product (it might even be larger than the aforementioned '30s-era models), the two new performance cars provide similarly sleek lines to their predecessors from headlamps to taillights, plus key M design elements elsewhere, such as the front fender engine vents, double-post side mirror housings, carbon fibre roof tops, and aggressive rear diffusers.
If it looks fast it better be fast, right? Fortunately, BMW fans have considerably more straight-line performance to celebrate with these sixth- and second-generation M cars, the respective base, or rather "core" M3 and M4 capable of rocketing from standstill to 100 km/h in just 4.2 seconds before attaining a top speed of 250 km/h, or 290 km/h when the M Driver's Package is chosen. Even more importantly the core models can blast from 80 to 120 km/h in a mere 4.1 seconds when their standard six-speed manual transmissions are placed in fourth gear.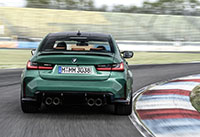 If that's not enough, buck up for one of the even more potent M3 and M4 Competition models to see that zero to 100 km/h time drop by 0.3 seconds to a sub-four 3.9-second sprint, while an unfathomable 1.5 seconds gets axed off the two quicker cars' 80 to 120 km/h passing maneuverability, the feat accomplished in a surprising 2.6 seconds according to BMWblog.com.
All of this speed comes via two versions of a new 3.0-litre TwinPower Turbo S58 inline six-cylinder powerplant, both receiving mono-scroll turbochargers featuring quick-reacting electronically-controlled wastegates as well as highly efficient air-to-water intercooling. Like the outgoing S55 twin-turbo I-6, these are built upon BMW's well-proven B58 engine architecture introduced in 2015. The base engine used in M3 and M4 core models makes 48 horsepower more than their previous generation for a total of 473 horsepower at 6,250 rpm, while faster Competition versions put out an additional 59 ponies for a total of 503 horsepower, also at 6,250 rpm (redline is 7,200 rpm, which is lofty unless you're stepping out of a 2007 to 2013 E90/E92/E93 M3 whose glorious V8 spun up to a stratospheric 8,400 rpm).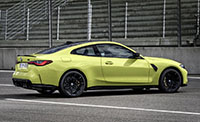 No doubt, the two M models' four 100-millimetre tailpipes will be exhilarating to the ears, but BMW has included electrically controlled flaps via an M Sound button in order to reduce sound levels when wanting more comfort than speed, while choosing SPORT or SPORT+ modes results in the opposite effect.
Allowing the engine to rev freely, wire-arc sprayed cylinder liners reduce friction and weight, while a lightweight forged crankshaft lowers rotating mass, both of which are set into a rigid closed-deck engine block. In the inline-six engine's cylinder head incorporates a 3D-printed core that provides improved coolant flow-through as well as reduced weight.
Torque in core models is the same as with the last iteration at 406 lb-ft between 2,650 and 6,130 rpm (which is a bit higher than the previous model's minimum max torque range of 1,850 to 5,500 rpm), incidentally, but Competition cars get an increase of 73 lb-ft for a new max of 479 between 2,750 and 5,500 rpm, hence the impressive performance mentioned a moment ago.
As usual the aforementioned six-speed manual gearbox comes standard, complete with a rev-matching Gear Shift Assistant to make any driver seem as if they're blipping the throttle like a pro while downshifting, but the move up to Competition trim necessitates the brand's eight-speed M Steptronic automated transmission with Drivelogic. Drivelogic consists of a trio of driving modes including "ROAD", "SPORT" and "TRACK", the latter available after also choosing the cars' M Drive Professional setting. The M Steptronic transmission can be shifted via paddles, of course, while a true manual mode won't allow any automatic upshifts at all.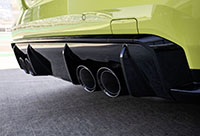 As has always been the case, the M3 and M4 come standard with rear-wheel drive, but for the first time ever new Competition models will also be available with BMW's xDrive all-wheel drive system. The rear-wheel biased AWD design transfers torque to the rear wheels under normal conditions, but the system's Active M Differential will apportion some of that power to the front tires when wheel slip occurs, thus allowing optimal traction while maintaining BMW's acclaimed RWD feel.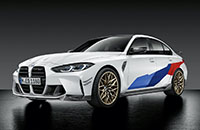 This said, the previously noted sport mode will send more power to the rear wheels more often in order to liven up the driving experience, even allowing for some rear-wheel drift or oversteer, while those who really know what they're doing can turn off traction control to enjoy full rear-wheel drive. All can be controlled via the two M cars' M Traction Control system, which provides 10 different settings from almost total intervention to completely unchecked.
If the new cars look longer, lower and leaner than their immediately outgoing predecessors, take note they receive a 45-millimetre longer wheelbase and a slightly wider track, while the standard carbon fibre reinforced plastic (CFRP) roof panel helps to lower their centre of gravity and achieve 50/50 front to rear weight distribution.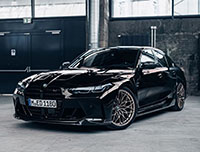 Like the transmission, the M3 and M4's chassis receives three preset settings for optimizing road conditions via an electronically-controlled Adaptive M suspension that includes Comfort, Sport and Sport Plus settings. Along with a progressively stiffer setup, BMW's M Servotronic steering system improves its sharpness for better response, aided by 275/40ZR18 front and 285/35 ZR19 rear performance tires on Core and rear-wheel drive Competition trims, and 275/35ZR19 front and 285/30ZR20 rear rubber on the xDrive Competition model.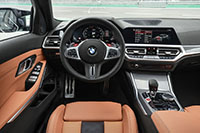 Of course, braking performance has been improved to match the cars' engine and suspension upgrades, with six-piston fixed-caliper binders clamping down on 380 mm discs up front, and single-piston floating calipers with 370 mm disks in the rear. Alternatively, M Carbon ceramic brakes with larger 400 mm front and 380 mm rear discs can be had for optimal stopping power. These reduce fade, improve thermal stability and take a lot longer to wear out, not to mention come with gold-painted calipers instead of the usual stock blue, or optional black or red. Either way, an electric "integrated braking" actuator helps improve braking response.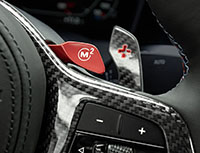 The just noted M Carbon ceramic brakes can reportedly be had as part of an M Race Track Package as well, which also includes light-alloy wheels and lightweight M Carbon front seats. Also mentioned before, the M Drive Professional upgrade, standard with Competition models and optional with Core models, incorporates an M Drift Analyzer that records oversteer and opposite lock incidents, including timed duration, line and drift angle. A driver's personal results are rated from one star to five, with the latter number meaning you need to keep trying.
The new 2021 M3 and M4 will arrive in Canada this coming spring at $84,300 for the sedan and $85,100 for the coupe, with pricing and details for the upcoming M4 Cabriolet arriving sometime in between. A move up to Competition trim appears to be a surprisingly good deal at just $4,000, and for that reason will likely be the most popular choice.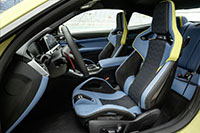 As for how BMW's faithful will accept the M3 and M4's new design direction, it's a mixed bag. All out praise is rare, but some potential buyers seem to love the new models' eye-catching styling. Either way, there's much to be said about standing out from the crowd, and BMW certainly achieves this with their new frontal designs.
Those wanting the performance of a new M3 or M4 yet preferring a subtler look should take note of the sport sedan version wearing all-black (including extra carbon fibre) in a number of images provided for the simultaneous introduction of the two cars' M Performance Parts catalogue. A red and black M3 is shown too, as well as a white and traditionally M-striped M4 with many of the catalogue's new OEM parts shown, the massive rear wing and triangular cluster of diffuser-mounted exhaust ports enough to make a Honda Civic R owner blush from inadequacy.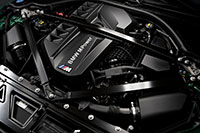 If the new M3 and M4 are too radical for your personal tastes, be sure to check out CarCostCanada that is showing up to $2,000 in additional manufacturer incentives on 2020 models. The 2020 Ms are still incredibly quick and plenty attractive, plus CarCostCanada also provides manufacturer rebate info and dealer invoice pricing that could save you thousands. Learn more about CarCostCanada's many ways to save money on a new vehicle, and remember to download the free CarCostCanada app from the Apple Store or Google Play Store.
BMW Today – Episode 25: World premiere BMW M3 & M4 (13:15):

Story credit: Trevor Hofmann
Photo credits: BMW