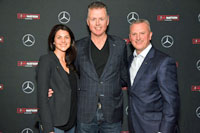 Did you attend last night's Killers concert in Vancouver or the Jimmy Eat World show in Toronto? Planning on taking it to the limit one more time with The Eagles this spring or singing "Stay With Me" at the top of your lungs at the Sam Smith show in the fall? Chances are you won't only be enjoying your favourite songs while taking in some great live shows, but you'll see Mercedes' three-pointed star branding on site as well.
Mercedes-Benz Canada inked a deal with Live Nation Canada earlier this year, which now gives the automaker excellent exposure at fun, uplifting events that are ideal for positive brand association.
Along with other key branding at venues, an animation of colourful dancing concertgoers will appear on digital screens at key points throughout the event (see video below), culminating with an emotive "Be Moved" message.
"This partnership with Live Nation is about celebrating our passion for performance," said Virginie Aubert, Vice President of Marketing at Mercedes-Benz Canada. "Be Moved" plays on both the literal and figurative meaning of the word, making a bold statement about the Mercedes-Benz brand, while also extending an invitation for concert-goers to embrace, enjoy and be inspired by the live music experience."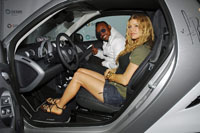 The Live Nation Canada deal allows Mercedes to connect with music fans of all ages, from teens, which will soon be learning to drive, potentially with the brand's innovative Mercedes-Benz Driving Academy, attending Katy Perry's upcoming concert tour, young adults at the same event that might choose to get there and go home using the automaker's forward-thinking Car2go ride sharing program, to parents who may consider one of Mercedes-Benz' wide array of cars and SUVs for their next new vehicle, while the slightly more mature Foo Fighters faithful may need something larger like Mercedes' GLC, GLE or GLS sport utility for their growing families.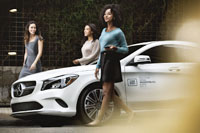 The Live Nation Canada partnership extends for multiple years, "striking a chord with Canadians by celebrating the power of music and live performance," said the automaker in a press release.
Along with sponsorship, Mercedes introduced an exclusive concierge service for its current customers (including Pre-Owned, Vans and Smart cars) dubbed Mercedes-Benz Star Access, which personally assists with ticket purchases between 11am and 7pm ET (8am and 4pm PT) by calling 844-389-STAR or emailing [email protected].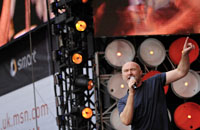 What's more, a separate program called Mercedes-Benz Star Access VIP is designed to "create unique experiences for their customers at Live Nation Canada events across the country." The program reserves blocks of premium concert tickets for its customers, which will be especially helpful at events that only offer general admission tickets otherwise.
"We believe our customers deserve the best," said Brian D. Fulton, President and CEO of Mercedes-Benz Canada. "It's what they expect from our vehicles and it's what we strive for in every customer interaction. Through this partnership, we can now facilitate access to the best live events in the country. Live music has the power to move people. We want to be a part of that fun and excitement."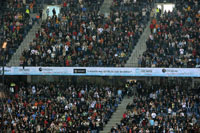 "Live Nation and Mercedes-Benz are both brands that are passionate about performance," added John May, President, Media and Corporate Partnerships, Live Nation Canada. "That passion has made us best-in-class in our respective fields and we're thrilled to now be working together."
If you're already a Mercedes-Benz customer, you can sign up right now at: http://promo.livenation.com/email/setlist/?camefrom=CFC_MercedesBenzCA_website (note: don't include a space with your postal code). Alternatively, we're quite certain your local Mercedes-Benz retailer will be only too happy to tell you how you can gain privileged access to all the special perks just mentioned, which are only available to Mercedes-Benz and Smart owners.
Now, go ahead and check out the Mercedes-Benz and Live Nation Canada "Be Moved" video: