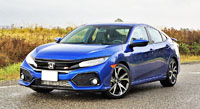 If you call yourself a car enthusiast yet don't have a place in your heart for the Honda Civic Si, you simply haven't spent enough time with one.
I don't care if your personal means allow for an Audi RS, BMW M, Jaguar SVR, Mercedes-Benz AMG, or for that matter multiples from Aston Martin, Bentley, Ferrari, Lamborghini and McLaren, there's something totally unique and extraordinarily special about the Civic Si, not to mention an enviable street and track heritage that spans decades.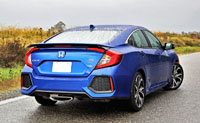 In North America the Si name dates all the way back to 1985 when it was first introduced as a range-topping CRX, that short-lived model now a very collectable two-seat Civic-based coupe. This said the Si that initially won many of us over came along in 1986 as a special sport-tuned variant of the third-generation Civic Hatchback. Both models incorporated a 91 horsepower, 12-valve, SOHC, 1.5-litre four-cylinder engine driving the front wheels through a five-speed manual gearbox, which was a potent package for the era.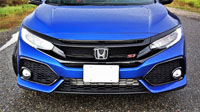 The Civic Si has been available for most model years ever since, growing in power and handling prowess while developing a devoted cult-like following amongst sport-compact fans. The most recent ninth-generation 2012–2015 Civic Si was available in Coupe and Sedan forms and as of 2014 boasted 205 horsepower and 174 lb-ft of torque from a 2.4-litre four-cylinder engine, also driving the front wheels albeit through a six-speed manual that many, including yours truly, consider one of the best of its type available.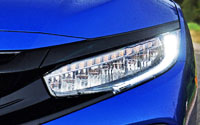 Six forward speeds and an identical 205 horsepower rating remained when the completely redesigned 2017 Civic Si went on sale on May 19th of the same year, but its peak power arrives 1,300 rpm lower in the rev range at 5,700 rpm instead of 7,000, whereas maximum torque was increased by 18 lb-ft to 192, and starts 2,300 rpm earlier at 2,100 rpm compared to 4,400 in the old model, plus it's sustained over 70 percent of the engine's rev range. This makes it a much more tractable car at low revs, which is how most of us drive when going about our daily duties, while the new engine is also a much more capable performer when powering out of slow corners or tackling tight, circuitous auto cross or race courses, where most Si owners dream to be on weekends.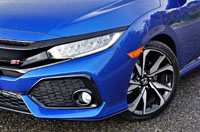 One single word is fully responsible for the boost in performance: Turbo. At just 1.5 litres, the engine is 900 cubic centimetres smaller than the outgoing 2.4-litre four-cylinder, but a turbocharger and direct injection, along with dual variable cam timing, allow for the performance improvements despite much better claimed fuel economy of 8.4 L/100km in the city, 6.2 on the highway and 7.4 combined, compared to 10.8 city, 7.6 highway and 9.4 combined with the old 2015 model.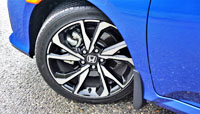 In order to achieve such efficiency figures you'll need to set the new Civic Si's dynamic driving mode to Normal, while this will also allow for a more relaxed, comfortable driving style. Sport mode, on the other hand, extracts all the performance from the powertrain and suspension by enhancing throttle response, sharpening the steering, and stiffening the shocks.
It really makes a big difference, the 2018 four-door sedan tested being the most capable Si I've ever driven through the corners. Full disclosure, it wasn't the most capable Civic I've had the pleasure of piloting, that model being a Type R that I'll be reviewing soon, but as far as Si models go, the latest iteration is a revelation. It comes down to a lighter yet stiffer body shell and a wider track, the Sedan Si having shed eight kilos (17.6 lbs) resulting in 1,341 kilograms (2,956 lbs) of total curb weight.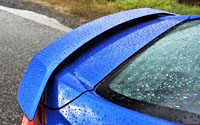 Honda also upgraded the electric power steering to a dual-pinion adaptive system with variable ratios, while two-mode adaptive dampers make the most of the fully independent sport-tuned suspension. A helical limited-slip differential improves power delivery too, while larger 12.3-inch front brake rotors (up 0.5 inches) made sure that stopping performance matched go-fast momentum, all aided by wider 235/40R18 rubber.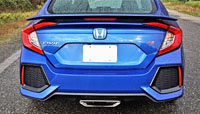 Along with the adaptive dampers, the new Civic Si's suspension received stiffer spring rates, stabilizer bars that are 30- and 60-percent more rigid front to rear, solid front and rear compliance bushings, plus much stiffer front upper control arms pulled from the Type R, while the wheel track mentioned earlier was increased by 34 millimetres up front and 33 mm in the rear to 1,538 and 1,554 mm respectively, which makes for better transitional stability and enhanced cornering capability.
Jump from the previous Sedan Si into the new one and it's be a night and day experience. Don't get me wrong, as I would enjoy any time offered with any generation of Si, as all have proved brilliant fun on road and track. I've enjoyed many such opportunities in earlier examples on some of North America's best racecourses, and all were winners in their own rights, while the final 2.4-litre four, an engine I recently enjoyed once again while testing an Acura ILX, will go down as one of the best I-4s of all time. Still, the new turbocharged mill delivers even greater performance while being easier to live with day in and day out, and such daily livability is really what the Si, especially in sedan form, is all about.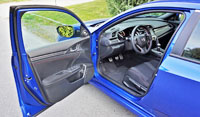 Let's not forget the Civic Sedan Si is based on the best-selling car in Canada, a model that found a phenomenal 69,030 buyers last year for a gain of 6.9 percent over the year prior. To put this into competitive perspective, Honda delivered 37.1 percent more Civics than Toyota sold Corollas, while the percentage gap grew to 49.7 percent when factoring in falling Hyundai Elantra sales. What about the fourth-place Mazda3? It's not even in the same league, with the Civic outselling it by 147.7 percent in calendar year 2017. Basically, Canadians prefer the new 10th-generation Civic over all competitors by a long shot, which makes it the ideal "donor platform" for a performance model.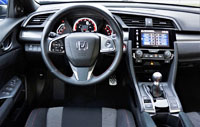 The Civic Sedan and its identically sized Civic Sedan Si counterpart being reviewed here provide a roomy cabin that's capable of fitting up to five adults in comfort. What's more, the interior delivers a surprising level of premium-like quality and refinement when it comes to design, materials used, fit and finish execution, electronic interfaces, and features. You've heard me and many others rave on and on about the new Civic already, so I won't bore you with every detail, but suffice to say the Si gets the same level of high quality finishings as the Civic Touring, plus most of its features along with a few of its own.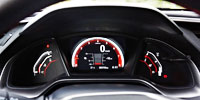 Let's begin with a rundown of the exterior, which adds a more aggressive look up front, starting with the trademark Honda "wing" grille finished in glossy black instead of chrome. This envelops a set of full high and low beam LED headlamps at each corner, the latter hovering above massive black bezeled lower air intakes with mesh inserts, which flank a gloss black mesh lower air intake at centre and a black lip spoiler below that, the frontal view plenty menacing yet not overly dramatic (I'm talking to you, Type R).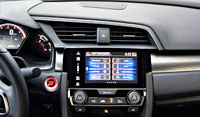 To each side, muscular front fenders bend overtop new 18-inch machine-finished Y-split five-spoke alloys with black painted pockets, these wrapped with low-profile Goodyear Eagle Sport all-season tires, while moving rearward shows a big wing attached to the trailing edge of the Si Sedan's rear deck lid, featuring an LED centre-mounted brake light tucked underneath, and just below that an exclusive lower rear bumper cap boasting sporty faux ducting like the one up front, albeit this time a polygonal chrome exhaust pipe gets positioned in the middle. Of the three Civic body types the sedan is my favourite, and I must admit this sentiment carries over to the Si as well.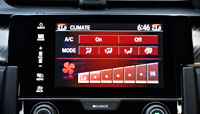 The Civic Si has long included some of the best seats in the sport compact class, and the new 10th-generation's chairs are at least as impressive as in year's prior. As usual, deep sculpting and aggressive side bolstering are part of the package, as is sporty red stitching and embroidered "Si" logos on the upper seatbacks, while the leather-wrapped sport steering wheel, shift knob and boot get the same red thread highlights as well, as do the cloth door inserts. Finally, carbon-look instrument panel inlays and aluminum sport pedals complete the interior upgrades.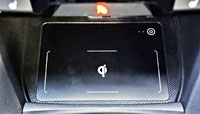 Along with all the performance-oriented styling, the new Si includes all of the same superb electronic interfaces that make less sporting Civics stand out in their compact segments, the new model's TFT gauge cluster and its audio system illumination enhanced with a unique red colour scheme to set it apart from mere mortal Civics.
Better yet, the Si's standard 7.0-inch colour infotainment system includes a throttle and brake app that displays a graphic percentage format, turbocharger boost in pounds per square inches (psi), a race track lap timer, race inspired shift lights, and a graphical G-meter that shows acceleration, braking and cornering forces, all designed to make weekends at the track more fun.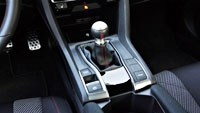 The 2018 Civic Si Sedan starts at just $28,690 plus freight and dealer fees, while on top of everything already mentioned it features standard proximity keyless entry, pushbutton ignition, white ambient LED lighting, an electromechanical parking brake with auto brake hold, illuminated steering wheel-mounted cruise, audio, phone and Driver Information Interface (DII) controls, dual-zone auto climate control, the previously noted 7.0-inch touchscreen infotainment system with Apple CarPlay and Android Auto smartphone integration, a backup camera with dynamic guidelines, navigation, voice activation, Bluetooth phone with streaming audio, wireless device charging, 452-watt 10-speaker premium audio with satellite and HD radio, heatable front and rear seats, 60/40 split-folding rear seatbacks, hill start assist, a convenient capless fuel filler, and much more, not to mention a strong enough body structure and amply stocked suite of standard safety features to score 5 stars overall from the NHTSA.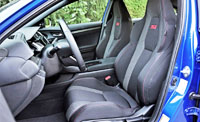 Speaking of safety, keep in mind the Civic Si doesn't include any of the advanced driver assistance systems available as part of the Honda Sensing upgrade on other Civic models, such as adaptive cruise control, forward collision warning, collision mitigation braking, lane departure warning, lane keeping assist, and road departure mitigation, which are available on the regular Civic, as these require an automatic transmission and the Si is only available with the previously noted six-speed manual. Still, along with the segment's usual active and passive safety features the Si includes Honda's amazing LaneWatch blindspot display system, which projects a rearward view of the otherwise out of sight passenger's side on the centre display when engaging the right turn signal.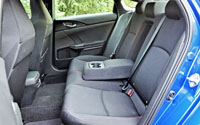 Still, climb into a Civic Si and the last thing you'll be thinking about is playing it safe. Certainly you'll want to keep it within the lines, but the Si was designed for pushing the envelope, and thanks to ideal driver ergonomics, a wonderfully formed leather-wrapped steering wheel, the idyllic shifter now noted ad nauseum, its torque-rich yet still high-revving new powerplant, and brilliantly balanced suspension, this little sport sedan just begs to get into mischief. Yet push it for all you're worth and the Si delivers with exhilarating acceleration, sensational handling, and shockingly capable braking performance, a continual reminder that it's plenty more skilled than most ever give it credit for.
You can spend a lot more to do a lot less from a premium brand, or you can step up to the humble yet legendary Civic Si.