So much has changed within North America's small car categories over the past couple of years, with all three domestic automakers giving up on conventionally powered subcompact and compact sedans and hatchbacks altogether, leaving Japanese, Korean and German carmakers to fight over the still sizeable scraps. 
Kia and its parent Hyundai collectively own the subcompact segment with their Rio and Accent selling 19,371 units in 2017, and Seoul only narrowly missed out beating Honda in the larger compact segment. Last year the two Korean brands managed 67,145 compact units to Honda's 69,030, and while the spread widened during the first nine months of 2018 with Kia and Hyundai managing just 47,978 Forte, Rondo, Elantra, Veloster and Ionic deliveries to Honda's 56,206 Civics and Insights, the latter number lower than expected because of flooding at the Japanese brand's Celaya, Mexico Insight plant, they're still much further ahead than the rest of the pack.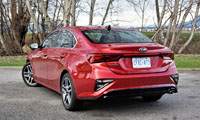 The third-place Corolla (Family) sedan and Hatchback found 50,332 buyers last year and 37,900 so far this year, but Toyota's compact numbers don't add up fairly due to the way the automaker combines all Prius sub-brand sales numbers (made up of the subcompact Prius C, compact Prius and Prius Prime plug-in, plus the mid-size Prius V) into one Prius Family, and while it's safe to say the regular Prius makes up the majority of the three models' 7,977 collective sales last year and 7,241 so far this year, we can't be sure. Then again, even if we lumped all Prius sales with all Corolla sales it would still only total 58,309 in calendar year 2017 and 45,141 as of Q3 2018, which remains behind Hyundai/Kia.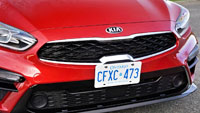 Incidentally, it took VW four models and multiple body styles to achieve 43,469 sales in 2017 and 30,053 as of Q3 2018; it took Chevrolet two models to manage 31,833 deliveries last year and 25,468 over the first nine months of 2018 (the Cruze and Volt to be discontinued as noted); Mazda beat Cruze sales with 27,862 Mazda3s in 2017 yet fell slightly behind with 21,164 through to the third quarter of 2018 (when including the Mazda5 mini-minivan the Japanese brand's compact sales rose to 30,086 units in 2017 and 21,794 over nine months of 2018); Subaru's compact sales dipped slightly to 15,233 Impreza/WRX/STI models last year, but were on a tear as of Q3 2018 with 14,359 already sold (Impreza sales having already surpassed 2017 totals); likewise, Nissan's Sentra and Leaf were lower at 14,829 units in 2017 yet already at 14,540 after nine months of 2018; Ford's 11,937 Focus sales last year and 8,230 as of Q3 2018 show why it's a good idea to update your models more often (with the similarly cancelled C-Max those numbers grew to 13,351 and 8,436 units respectively); Mitsubishi's 5,754 Lancer deliveries through 2017 and 2,012 over three quarters of 2018 make their survival through the next recession seem challenging at best; and just in case you were wondering what happened to the Dodge Dart, FCA delivered a measly 533 through 2017 and a grand total of 4 so far this year (no doubt the final four).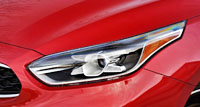 As for the split of Forte and Elantra sales, as you may have guessed the parent brand sold many more of the latter with 46,112 rolling off the showroom floor in 2017 and 33,456 over the first nine months of 2018, while the Forte's numbers were 16,388 and 10,823 respectively, and while this looks as if Kia is lagging behind its rivals take note that it was only narrowly beaten by the aforementioned Subaru Impreza while managing to edge out the Nissan Sentra and Volkswagen Jetta, two big players in other markets. The Forte also handily outsold the Focus, the Prius Family, and plenty of other models that were mostly mentioned already.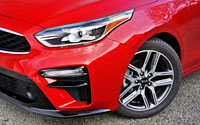 Even more importantly, where most others in this class are losing ground the Forte saw its strongest sales ever last year, with a 33.3 percent gain over 2016, and is on target for a better than average 12 months this year. The only other compact to show sizeable growth from calendar year 2016 through 2017 was the VW Golf, with sales up 15.9 percent, while the Honda Civic saw a 6.9 percent gain, Toyota Corolla Family sales increased by 4.4 percent, the Chevy Cruze grew its numbers by 2.6 percent (only because it lost 16 percent from 2015 to 2016), and the Mazda3 nudged itself upwards by 0.6 percent.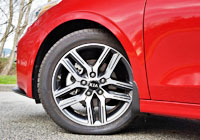 Why all the Kia Forte sales growth? With every new generation the Forte becomes notably better, even so much that it passes right by most of its peers in styling, interior fit, finish and materials quality, standard and optional features, and drivability. This entirely new from the ground up third-generation 2019 Forte is the best it's ever been, with styling that manages to conjure thoughts of sophisticated European machinery (much thanks to its mostly European-staffed design department), a much-improved cabin with new digital interfaces, plenty of normally pricey standard features and Kia's usual unbeatable assortment of options, plus a fresh new transmission. 
The sole 2.0-litre four-cylinder engine remains a carryover of last year's base mill, which is still good for 147 horsepower and 132 lb-ft of torque, and while a six-speed manual gearbox can still be found in the entry-level LX, that trim now gets the option of a Hyundai/Kia-developed continuously variable transmission (CVT) instead of last year's six-speed automatic—the CVT standard with all other trims. I'll report on its performance and refinement in my upcoming road test review, plus I'll talk about ride quality, handling, and everything else normally covered.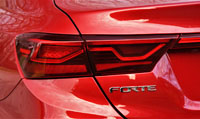 The CVT is a $2,500 upgrade over the base six-speed manual, moving the price up from $16,495 to $18,995 plus freight and fees (make sure to check out complete 2019 Kia Forte pricing of all trim levels, packages and options at CarCostCanada, plus rebate info and dealer invoice pricing that could save you thousands), but along with automatic operation you also get standard Drive Mode Select with default, Eco, Sport and Smart driving modes, plus some advanced driver assistance systems including Forward Collision-Avoidance Assist (FCA), Lane Keeping Assist (LKA), and Driver Attention Alert (DAA), while both LX models also include auto on/off projector headlamps, splash guards, body-colour mirror caps and door handles, heated side mirrors, a heatable leather-wrapped steering wheel, heated front seats, a leather-wrapped shift knob, air conditioning, a new fixed tablet-style 8.0-inch touchscreen infotainment display with Apple CarPlay and Android Auto smartphone integration and a rearview camera with dynamic guidelines, 60/40 split-folding rear seatbacks, USB audio input and charging ports, AM/FM/MP3 radio, Bluetooth hands-free connectivity with audio steaming, cruise control, Hill-Assist Control (HAC) plus all the expected active and passive safety features.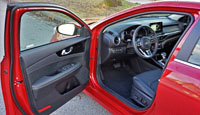 If you want 16-inch machined-finish alloys instead of 15-inch steel wheels with covers you'll need to upgrade to $20,995 EX trim, which also includes LED headlamps, LED daytime running lights, LED positioning lights, turn signals integrated within the side mirror housings, a gloss black grille with chrome accents, chrome window trim, aeroblade wipers, a chrome exhaust tip, satin chrome interior door handles, a supervision LCD/TFT primary instrument cluster, a wireless device charger, rear climate ventilation, a rear centre armrest, tire pressure monitoring, and Blind Spot Detection (BSD) with Rear Cross Traffic Alert (RCTA).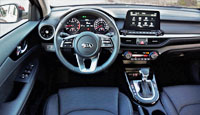 The move up to $22,495 EX+ trim adds a 17-inch machined-finish alloy wheels, LED taillights, LED interior lighting, and a powered moonroof, whereas $25,065 EX Premium trim also includes High Beam Assist (HBA) for the aforementioned LED headlights, proximity-sensing access with pushbutton ignition, adaptive cruise control, an eight-way power adjustable driver's seat, SOFINO synthetic leather upholstery, satellite radio, UVO Intelligence connected car services, a Smart release trunk that automatically opens when you've been standing behind it for three seconds with the key fob in your pocket or purse, Advanced Forward Collision-Avoidance Assist (FCA), and more. 
Lastly, my $28,065 EX Limited tester came with everything already mentioned as well as ventilated front seats, heatable outboard rear seats, an upgraded multimedia infotainment interface with integrated navigation, and Harman/Kardon premium audio.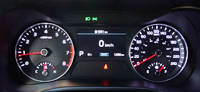 Of course, I'll go on at length about the capability of this sound system, the upgraded infotainment system and all other features in my future review, plus along with my road test notes I'll be filling you in on achieved fuel economy, the new CVT helping the upgraded Forte achieve a better rating of 7.7 L/100km city and 5.9 highway compared to 8.0 and 6.1 respectively. Kia must have rejigged the manual too, because its claimed rating is now 8.6 city and 6.4 highway compared to 9.4 and 6.8, but that's not the real oddity at play here.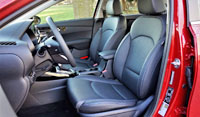 Strangely, the 2.0-litre four that's pulled forward from last year's car is actually the lesser of two powertrains available in 2018, the more advanced direct-injected optional engine capable of 164 horsepower and 151 lb-ft of torque. This may be due to a late arrival option set to arrive along with a redesigned Forte5, the model's five-door hatchback variant still suited up in its previous design and being sold as a 2018. The Forte5 currently uses the upgraded engine for its base powerplant, while offering a turbocharged 1.6-litre four making 201 horsepower and 195 lb-ft of torque in a performance SX trim. 
While we're looking forward to driving either of these hatchback variants when redesigned, we've already got a lot to say about the 2019 Forte sedan. Join us here soon for the full review and we won't hold back…