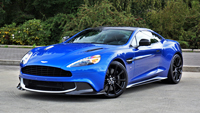 Is there a more beautiful grand touring car on the planet? Certainly the all-new DB11 will be high on auto enthusiasts' lists, but for many sports car aficionados the more classic GT lines of cars like Aston Martin's Vanquish still rule supreme. For this reason it hardly looks dated despite hailing from Aston's earlier design language. 
The second-generation Vanquish arrived on the scene in 2012 for the 2013 model year, so it's still fairly fresh as far as super GTs go, and now the new Vanquish S builds on appearances while upping performance for one of the most enticing models to hit the road last year.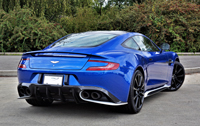 The visual changes are subtle yet effective. A reshaped front splitter, grille surround, and rear diffuser are formed from exposed carbon-fibre, providing reduced frontal lift with minimal added drag. Additionally, dual twin-tip exhaust outlets free up exiting gases and enhance the auditory experience, while options include painted graphics packages, 20-inch diamond-turned five-spoke alloys, and carbon-fibre hood louvres.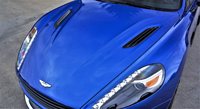 The real meat of the Vanquish S can be found under that long, elegantly domed hood, Gaydon's naturally aspirated 6.0-litre V12 now tuned to 580 horsepower at 7,000 rpm, which due to larger, freer-breathing intake manifolds results in a 12-horsepower gain over the outgoing non-S Vanquish, as well as ultra-quick throttle response. Peak torque remains the same with 465 lb-ft arriving at 5,500 rpm, which is good enough for three-tenths off of the previous 568 horsepower Vanquish' zero to 100km/h sprint time of just 3.5 seconds instead of 3.8, ahead of an identical 323-km/h (201-mph) top speed. Still, there's much more to the Vanquish S performance advantage than mere straight-line acceleration.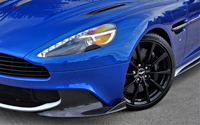 Aiding responsiveness and overall refinement is a more polished eight-speed Touchtronic III automatic gearbox, which in Vanquish S tune provides quicker yet smoother shifts for faster, more positive engagement, while the new model not only improves high-speed handling via aero upgrades noted earlier, but also from a retuned suspension, modified damper internals, revised spring rates, and new anti-roll bar bushings.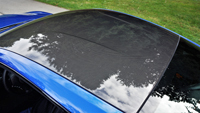 The result is a car that's incredibly strong off the line, the immediacy of its power made even more potent due to the Vanquish S' lighter-weight all-carbon fibre bodywork, which of course does much more than just quicken off-the-line performance. Thanks to that lightness and increased rigidity it aids lateral control too, for a car that feels much more agile than anything so large should when pushed beyond limits that would humble lesser competitors. 
This lightness was most noticeable during fast-paced transitional manoeuvres that can often unsettle large GTs, yet the Vanquish S held its ground so naturally it was if I were Daniel Ricciardo diving down the inside of multiple opponents in his Aston Martin-branded Red Bull Racing F1 car on his way to winning the 2018 Chinese Grand Prix—how I wish. More likely I'd end up taking out my teammate at the first turn, or more precisely on the 40th lap as was the case in the Azerbaijan Grand Prix two weeks later (of course it's unfair to fully blame Danny Ric for slamming into Max Verstappen's gearbox when the latter blocked with an illegal second move).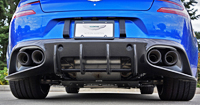 Of course, the Vanquish S is no Formula 1 car, which is a good thing if you care one iota about comfort and bringing along family and friends. It's brilliantly quick for a road car and masterfully adept at keeping within a given lane at extreme speeds, but I give it even higher marks for delivering such off the charts performance while multiple backsides are snuggly ensconced within wonderfully supportive leather sport seats. The ability to power-adjust the driver's seat and manually position the steering wheel for what I found to be ideal ergonomics moved my comfort and control experience up a solid notch too, this not always the case in ultra-premium exotics.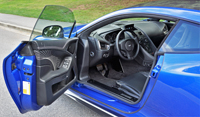 On that note front seat roominess is exemplary, so all but the smallest jockeys and tallest NBA centres shouldn't have a problem fitting in, and even those sized outside of the norm can likely be custom fitted by Aston's bespoke department. As for rear seat accommodations, bringing along two or a maximum of three extra passengers will first depend on whether you've opted for the $5,563 2+2 Seating Arrangement and then on the height of first row occupants, as pushing the front seats all the way rearward completely eliminates second-row legroom. A driver measuring up to my slightly below average five-foot-eight frame will allow for a smaller adult or kids behind, which is a far cry more accommodating than the two-seat version or some other dual-income-no-kids alternative, so I can recommend the Vanquish S 2+2 for a medium-build person or couple with up to two small children. Additionally, the trunk is fairly well proportioned for this class of car, and beautifully finished as you might expect.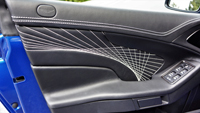 Those kids will feel pretty lucky to climb inside a Vanquish S, and possibly not for the same reasons as you. Looking at the car I was immediately filled with thoughts of 007 remotely piloting an original V12 Vanquish (2001–2005) in the 20th James Bond spy action film Die Another Day (2002), yet once we opened the door and peered inside my considerably younger partner came up with Spiderman, her mind inspired by the beautifully detailed "web" of hand-stitching across the seat inserts, door panels, and even the roofliner. It's actually Aston's $4,632.84 optional Filograph Quilting upgrade, just one of many improvements made to the car I was driving.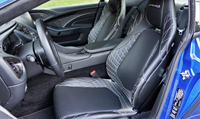 The rest of the interior's leather was stitched in a courser contrasting thread, this a $752.40 upgrade, while the seats had $1,248.50 Micro Perforated Leather inserts. As with all Aston Martins the Vanquish S comes fitted with a level of luxury few peers can match, some additional highlights including an available Satin Chopped Carbon Fibre centre stack panel, included in my tester for $3,904.56, or Bridge of Weir Caithness leather (not included).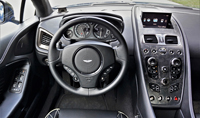 Other interior options that were added to my tester car include an $8,415 Contemporary and Luxury Pack, a $2,105 Interior Shadow Pack, a second glass key at $990, and more, while exterior upgrades included $12,160 for a Carbon Fibre Plus Pack, $5,563 for a Vanquish S Graphics Pack, $2,778 for a Shadow Exterior Pack, $2,105 for black brake calipers, $990 for black mesh grilles on the hood and side strakes, a $361 aluminum fuel filler cap, $177.50 for V12 side badges, and more for a total of $55,979.80 in extras overtop the base Vanquish S' suggested retail price of $352,380, resulting in a grand total of $408,359.80 before fees and taxes.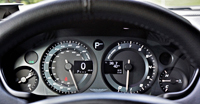 Of course, paying the price of a (very small) Toronto or Vancouver condo for a sports car won't be in everyone's budget, but this inadvertently produces some of its allure, exclusivity. You won't see many of these super GTs driving around the corner, even in the latter Supercar Capital city (although I saw a gorgeous white Vanquish in Richmond, BC last month, tentatively driven by a young 20-something woman), but everyone in the know will know exactly what it is, a Vanquish S commanding immediate respect. There's also a very real cost that comes with engineering and then handcrafting small numbers of cars from carbon-fibre, let alone all the other meticulously detailed handy work found on the exterior and throughout the cabin.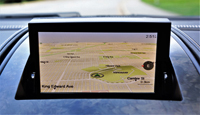 To that end, the Vanquish S uses Aston's proprietary glass key fob that slots into the middle of the centre stack, and gets pushed further to ignite the engine. You select gears via the pushbuttons to either side, this being a basic PRND layout, while manual shifting takes place via paddle shifters to each side of the steering column. These don't rotate with the steering wheel but rather stay fixed in place, which is exactly what's required in a high performance car, as you'll always know exactly where they are when you need to give them a tug. The steering wheel is also a straightforward, uncluttered device, with minimal switchgear. Seat controls are on the transmission tunnel, while most of the buttons on the centre stack are touch-sensitive.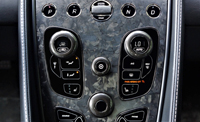 That centre stack will be familiar territory to Aston Martin fans, and looks more boutique than the recently updated DB11 and Vantage interiors, but I love that about it. The four big metal knobs feature knurled edges, and there's a substantive weight to them that most buying into this price class should appreciate, but of course their aluminum construction means they don't really weigh much at all, important for a car with such sporting pretensions. 
Referencing that young woman noted a moment ago, it's easy to appreciate why both sexes are drawn to this car. Vanquish S styling crosses all boundaries: man, woman, young, old, and everyone in between. It's aforementioned stitched leatherwork is artistic perfection, while all metals look and feel as if machined by hand from billet aluminum, the roof pillars are wrapped in suede, the wool carpets and floor mats are richly woven, the entire car impeccably put together.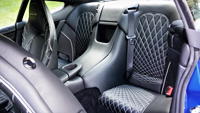 Amongst favourite details, the Vanquish S' analogue gauge cluster spins the tachometer counterclockwise in Aston Martin tradition, just a little nod to the past that any classic car fan will appreciate, while the infotainment display atop the centre dash is easy to use and filled with some of the brand's more recent graphical, system and feature upgrades, the latter including navigation with nice colour mapping, a backup camera and more. Most importantly, though, the young woman just mentioned shows the Vanquish is relatively easy to drive for a super GT, despite its otherworldly performance. Truly, I could live with this car day in and day out, and I would never say that about many low-slung, mid-engine supercars.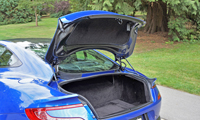 Some might think it difficult to justify the $350k Vanquish S starting price, but compared to many of the supercars in the less comfortable class this Aston Martin super GT is a bargain, but still some without means or appreciation may see it as frivolous. After all, none of us need a car like this, yet even though it's completely out of my personal reach from an ownership perspective I'll appreciate the person who steps up to purchase it, as I'll still be able to enjoy its beautiful lines and sonorous exhaust note whenever it passes by, and that will bring back particularly pleasant memories spent with this Cobalt Blue example. 
If you do have the means, I highly recommend the Vanquish S, as it ideally combines the best modern-day construction technologies with some glorious examples of yesteryear's handcrafted artisanship skills, plus it goes like a bat out of hell.