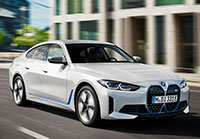 With a focus on having 25 electrified models in its lineup as early as next year, half of which will be fully electric, BMW is wasting no time putting its plans into action. Before we get too excited, however, not all of these BEVs will be sold into the Canadian market, evidenced by the German brand's Chinese-made iX3 crossover SUV only being offered in China and Europe for the immediate future.
Nevertheless, Canada will be the recipient of BMW's new 2022 i4 sport sedan and iX crossover SUV, the former joining the automaker's D-segment-sized 4 Series family, and the latter positioned closer to the popular X5 crossover SUV, while both are based on the brand's ultra-versatile Cluster Architecture (CLAR) platform that underpins everything from the diminutive 2 Series to the executive-class 7, X7 and 8 Series models.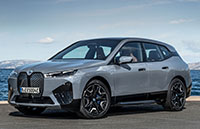 The i4, which utilizes the 4 Series Gran Coupe's four-door liftback body style and starts at $54,990 (not including incentives or destination fees), will be available in two different trims, including the eDrive40 and M50 xDrive. The former uses a single rear-wheel drive (RWD) electric motor good for 335 horsepower, while the latter, which starts at $72,990, combines both front and rear motors for all-wheel drive (AWD) and makes a total of 516 horsepower. Both models come fitted with the same 83.9-kWh battery.
As for performance and range, BMW claims the i4 eDrive40 is capable of 340 km on a single full charge, but not if you're constantly testing its 5.7-second zero to 100 km/h sprint time, while the M50 xDrive will zip from standstill to 100 km/h in just 3.9 seconds and can drive for approximately 510 km after completely recharging. That latter number gets the i4 close to the Tesla Model 3's 576 km maximum range, a car the i4 has clearly in its sights.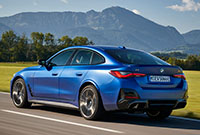 Of note, the similarly sized yet more conservatively penned BMW 3 Series lineup continues forward into 2022 with its 330e plug-in hybrid (PHEV) model, offering an electrified alternative that the Texas-based tech company doesn't.
Likewise, BMW Canada also offers the X3 xDrive30e PHEV, but unfortunately, as noted above, the iX3 won't be giving Tesla's Model Y a run for its money in Canada anytime soon. Moving up a size category, BMW also makes its 389-horsepower X5 xDrive45e PHEV available for 2022, once again offering an electrified alternative not available from Tesla.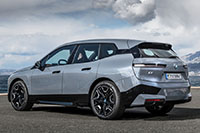 The new iX targets Tesla's Model X directly, however, and while it doesn't offer gullwing doors for rear passengers, it does provide a similarly mid-sized two-row layout for up to five passengers and their gear. A total of three iX trims are dubbed xDrive40, xDrive50 and M60, each of which incorporate standard front and rear motors for AWD.
To be clear, the iX xDrive50 is the only trim available for 2022, which means the xDrive40 and M60 will arrive later this year as 2023 models. The iX xDrive40, which will start at $79,990, makes 322 horsepower, can sprint to 100 km/h in 6.1 seconds, and has a range of 340 km, whereas the current $89,990 xDrive50 makes 516 horsepower, can hit 100 km/h in just 4.6 seconds, and can be driven for up to 521 km before requiring a recharge. Lastly, the 610-horsepower M60 starts at $121,750, can scoot to 100 km/h from standstill in a scant 3.8 seconds, and can cover up to 450 km of ground before recharging.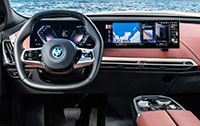 What's more, unlike smartphones, tablets, laptops and plenty of EVs that have been on the market over the past few years, BMW's new BEVs don't suffer from much if any battery degradation, which means the various claimed range estimates mentioned above will still hold up after years and even a decade's use. In other words, the batteries in these new BMW EVs are designed to last the life of the vehicle, or more specifically up to 1,500 full charge cycles, which is enough for more than 500,000 km of driving.
CarCostCanada has full pricing and trim information for the 2022 i4 as well as 2022 and 2023 iX models, including all options that you can build out in their car configurator. On top of this, you'll receive any available information regarding manufacturer rebates, factory financing and lease rate deals (both i4 and iX models currently have in-house financing/lease rates from 4.49 percent), plus you'll receive dealer invoice pricing that can help you negotiate a better deal on any new vehicle. Find out how the CarCostCanada membership can benefit you, and be sure to download their free app from the Apple Store or Google Play Store.
Speaking of money, BMW Canada is also claiming that both i4 trims are eligible for provincial zero-emission incentives in BC, Quebec, Nova Scotia, Yukon and the Northwest Territories, plus the base i4 eDrive40 qualifies for the federal iZEV rebate. Unfortunately, the iX' higher base price disqualifies it from any provincial or national government rebates.
The new i4 and iX will start arriving at Canadian BMW dealerships next month.
BMW Ultimate – Reserve the BMW iX and i4 now! (0:15):

The Power of Action: Meet The First-Ever BMW iX & BMW i4 | BMW USA (0:06):

The Power of Action: Meet The First-Ever BMW iX & BMW i4 | BMW USA (0:15):

The Power of Action: Meet The First-Ever BMW iX & BMW i4 | BMW USA (0:30):

[ SPACE ] by BMW: BMW iX & i4 | BMW USA (1:12):

Introducing the BMW i4 M50: The All-Electric BMW M | BMW USA (2:54):

The First-Ever BMW i4 | The All-Electric Car | BMW USA (0:44):

The BMW Concept i4: New Electric Car | BMW USA (2:01):

The 2022 BMW i4 Models: BMW Review & Walk-Around | BMW USA (2:07):

Introducing the BMW iX | The All-Electric SAV | BMW USA (1:15):

The Electric Mood of the 2022 BMW iX | BMW USA (3:35):

Creating the BMW iX: Behind the Scenes, Episode 1 | BMW USA (2:11):

Creating the BMW iX: Behind the Scenes, Episode 2 | BMW USA (2:11):

Creating the BMW iX: Behind the Scenes, Episode 3 | BMW USA (2:25):

The All-Electric SAV: 2022 BMW iX Walk Around & Review | BMW USA (2:22):

Pioneer of a New Age: The Panoramic Eclipse Roof: The 2022 BMW iX | BMW USA (0:54):

Story credit: Trevor Hofmann
Photo credits: BMW