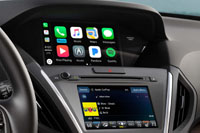 Let's face it. The majority of today's consumers hook up to the digital world through an Apple or Android smartphone, and the ability to use either technology within our vehicles makes life a lot easier.
That's the premise behind Apple CarPlay and Android Auto, the former noted for providing the Cupertino, California firm's easy usability and trademark graphics within various cars' central infotainment displays, while the latter more widely popular Seattle-sourced operating system does likewise, albeit without proprietary visual and functional designs.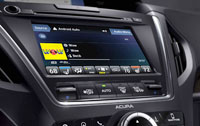 While Honda's namesake models have had Apple CarPlay and Android Auto incorporated within their single-screen infotainment systems for some time, Acura has been patiently waiting to receive them for its unique dual-display setup. The recently updated 2018 TLX received the two technologies earlier this year, so now the 2018 MDX, which was refreshed last year, will benefit from both smartphone-mirroring interfaces.
The TLX and MDX incorporate the Apple and Android interfaces within their larger top displays and leave the lower touchscreen, plus the rotating dial and buttons below, for control.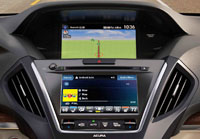 Along with adding the Apple and Android upgrades to the TLX infotainment system it also received improvements to the stock display, with more logically organized functions and quicker response times. These changes will improve the MDX infotainment user experience whether linking your smartphone up to Apple CarPlay and Android Auto or not, plus the smartphone-mirroring technologies will be standard across the 2018 MDX line.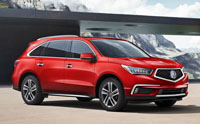 Acura's U.S. division has also shown new colours for the 2018 MDX, which will likely be available here in Canada as well, although the automaker's Canadian division has made no announcements. This said, Basque Red and San Marino Red would be vivid additions to a lineup that only had Dark Cherry Pearl available for red fans last year, the only other colours being Obsidian Blue Pearl and Black Copper Pearl. This is why we mostly see the MDX in shades of Crystal Black Pearl, Modern Steel Metallic (a medium grey), Lunar Silver Metallic, and White Diamond Pearl.
No pricing or other modifications have been announced for the 2018 MDX, but it is expected to move into the new model year unchanged, other than the revisions just noted.