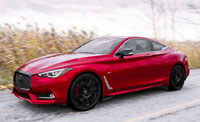 Infiniti showed up at last month's Salon International de l'Auto de Montréal with a new Canada-exclusive "I-LINE" trim upgrade for the sportiest versions of its popular Q50 luxury sedan and Q60 sports coupe. 
Specifically, Infiniti is in the process of replacing the Q50 and Q60 Red Sport 400 models available last year and earlier this year with the new Q50 I-Line Red Sport 400 and Q60 I-Line Red Sport 400, which means that buyers spending the $7,700 needed to move up from the 300 horsepower Q50 3.0T Sport AWD, or $9,500 to do the same from the Q60 3.0T Sport AWD, to get into one of the 400 horsepower I-Line Red Sport 400 models, now get more visual bang for their buck.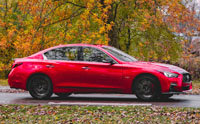 I-Line, which Infiniti says was derived from "Inspired Line," blackens both models' grille surrounds so that they more closely tie in with the glossy black fog lamp bezels and diffuser-style rear bumpers found on the outgoing Red Sport 400 cars, while the rear deck lid spoiler has been upgraded to high-gloss carbon fibre, and wheel wells are now filled with a special "custom imported" glossy black finish set of 19-inch alloys. 
These changes make both I-Line Red Sport 400 models appear as if they have larger more imposing grilles, while the black alloys go further toward creating a more powerful, menacing look. The outgoing Red Sport 400 cars already featured glossy black rear deck lid spoilers, but replacing these composite lip spoilers with more sophisticated carbon fibre ones helps to elevate the two cars into BMW M and Mercedes-Benz AMG territory, befitting of performance models making 400 horsepower apiece.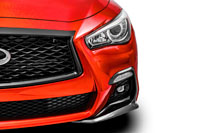 Behind all that thrust is a twin-turbocharged, direct-injection 3.0-litre V6 that also produces 350 lb-ft of maximum torque from just 1,600 rpm, which is connected to Infiniti's "Intelligent" all-wheel drivetrain via an advanced in-house produced seven-speed automatic transmission featuring manual shift mode and downshift rev matching, the latter function rare in this segment. 
"We are delighted to showcase the I-LINE editions which have been created with a vision to be further developed into an INFINITI Canada sub-brand," says Adam Paterson, managing director of INFINITI Canada. "We are building on the Q50 and Q60's award-winning engine and engineering excellence, to add even more eminent style."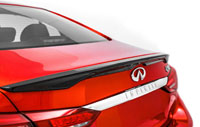 Pricing for the 2019 Q50 I-Line Red Sport 400 sport sedan starts at $56,195, while the 2019 Q60 I-Line Red Sport 400 sports coupe can be had for $65,295. Both models, which are available across Canada this month, can be fully configured at CarCostCanada, with full pricing of trims, packages and individual options available, plus otherwise hard to find manufacturer rebate info and dealer invoice pricing that could save you thousands. 
Also, take note that many Canadian Infiniti retailers will still have outgoing 2019 Q50 and Q60 Red Sport 400 models available, which they'll probably be more than willing to sharpen their pencils on in order to make a deal.