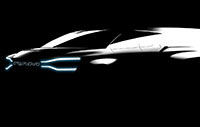 Stellantis, the company most Canadians have never heard of, is planning to build 25 new electric vehicles for North American markets by 2025.
For those who don't follow all things automotive, Amsterdam, Netherlands-based Stellantis is the new (as of last year) multinational automotive manufacturing corporation formed to combine all brands from the now dissolved Italian-American conglomerate Fiat Chrysler Automobiles with additional French PSA Group brands under one umbrella. This means that longstanding American brands like Chrysler, Dodge, Jeep, Ram, and Mopar auto parts are now part of the same ownership family as 11 European brands including Abarth, Alfa Romeo, Citroën, DS (Citroën's luxury division), Fiat, Fiat Professional (a commercial division that makes Fiat and Ram vans), Lancia, Maserati, Opel (previously part of General Motors), Peugeot, and Vauxhall (ditto re GM).
Upon the amalgamation of both automakers within the new Stellantis group, all brands were promised the opportunity to shine (a.k.a. become profitable) before potentially being axed, which was a much-welcome lifeline thrown to a few once revered marques, such as Chrysler, Dodge and Lancia, which had been whittled down to just a few models prior to this new lease on life.
While we may never see Lancia return to Canada, or for that matter Citroën, Opel or Vauxhall (that are little more than Opels rebadged for the UK), let alone any 2022 models from Fiat, a Chrysler crossover SUV would certainly bolster that beleaguered brand's lineup, let alone something new for Dodge. Chrysler deserves kudos for its plug-in hybrid Pacifica minivan, and for its nifty renaming strategy that turned a first-generation Pacifica into a brand-new Grand Caravan, thus providing a third wing-badged model, whereas Dodge has three totally unique models, albeit nothing close to the range of alternatives that Japanese or Korean competitors offer.
Stellantis promises new electric crossovers, pickups and even an EV muscle car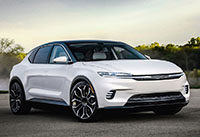 Earlier this month, Stellantis' announced a comprehensive plan that will impact everything from financials to future products right through to 2030, with some of the latter including fully electric models for Chrysler, Dodge, Jeep and Ram. Where the Ram 1500 EV was merely a graphic teaser designed to show Ford, Chevy, GMC/Hummer, Rivian, Tesla and other EV truck producers that Ram is taking the sector seriously, the bright yellow Jeep EV concept already looks promising.
It would be the go-anywhere division's first electric vehicle, although take note that Jeep currently offers their plug-in hybrid 4xe powertrain for the new Grand Cherokee and Wrangler, with Hemi V8 performance from an electrified V6 that puts out 375 horsepower and 470 lb-ft of torque. Such numbers should make any auto enthusiast excited about the Dearborn-based automaker getting hold of a pure electric drivetrain, thanks to a history of cars, SUVs and trucks with tire-scorching straight-line acceleration.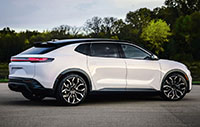 The Jeep EV shown here, which is expected to launch in early 2023, most likely rides on the STLA Small platform, which is capable of accommodating between 37 and 82 kWh of capacity, resulting in as much as 483 km (300 miles) of range. Jeep promises a larger electric "lifestyle family SUV" too, as well as a more off-road capable EV, both for 2024.
Chrysler will get an EV as well. It's based on the Airflow concept introduced last January at the Consumer Electronic Show (CES) in Las Vegas, and sized similarly to Ford's very popular Mustang Mach-E. Due in 2024 as a 2025 model, the new crossover should be good for up to 644 km (400 miles) of range, while also capable of Level 3 autonomous driving capability.
Stellantis to make up to 75 unique electric and hydrogen fuel cell vehicles worldwide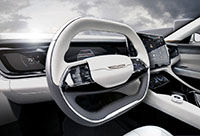 Stellantis' EV push also includes a hydrogen fuel cell contingent, which, together with all of the above and more, combines for a target of net zero carbon emissions by 2038. This means all European vehicle sales and half of U.S. sales (which will likely include Canada) will be electric by 2030, resulting in 75 new electric vehicles in production by the latter year, with at least 25 on their way to North America.
Just ahead of the Ram 1500 EV mentioned a moment ago, which is scheduled to arrive in 2024, Stellantis' dedicated truck brand will launch a fully electric ProMaster van in 2023, which will simultaneously debut a Fiat Professional version. We'll also see an electrified Dodge muscle car prototype later this year, all ahead of the aforementioned Airflow hitting the market.
Chrysler will be fully electric by 2028, so therefore all internal combustion engine (ICE) enthusiasts can give a collective sigh of sadness for the fabulous Hemi V8's demise, while Italian luxury car brands Alfa Romeo and Maserati (also known for their formidable and sonorous ICE's) will completely change over to electric by 2030.
Stellantis sees a future for hydrogen fuel cell tech in the commercial sector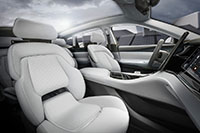 As for hydrogen fuel cell models, Ram is planning a large, ProMaster hydrogen van for 2025, while the same brand should have its heavy-duty 2500 and 3500 pickup trucks hydrogenized shortly thereafter. Hydrogen offers lighter weight than battery-powered EVs, benefiting ultimate cargo capacities, plus quicker refueling than recharging a battery, so H2 may become a better alternative for commercial vehicles as long as an extensive hydrogen refuelling network is made available to support its plan.
Serving both commercial and consumer markets, Stellantis' is continuing to work on autonomous driving aids, such as hands-free cruise control, as well. The automaker is lagging behind others in this sector, but, together with strategic partner BMW, plans to introduce an advanced system in 2024 that won't require a driver to continuously monitor the steering wheel, which is currently the case for most competitive systems.
2022 Chrysler Airflow | Our First Battery-Electric Vehicle (3:16):

2022 CES | Chrysler Airflow Reveal (12:22):

Story credits: Trevor Hofmann
Photo credits: Stellantis